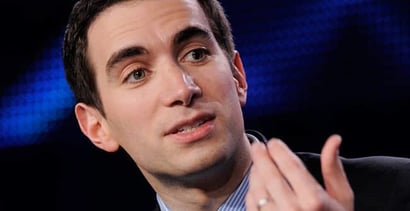 From big names to up-and-comers, BadCredit.org experts share their picks for the top resources in the personal finance industry.
You don't have to go very far to find someone with an opinion on what's going on in the world of business and finance.
However, finding someone with an educated opinion is the real trick. We've saved you the trouble — these are our top picks for the best finance journalists out there.
Trish Regan
host of Bloomberg's Street Smart


Bragging rights: nominated for an Emmy
After graduating from Columbia University, Regan worked at Goldman Sachs. She transitioned from finances into financial journalism while working at CBS, NBC and CNBC. She now works as Bloomberg Television's host for "Street Smart," which airs daily. The Houston Chronicle named her one of 10 women in broadcast news to watch – we agree!
Fun Fact: represented New Hampshire in the Miss America pageant
Social Clout: 16.8k Facebook followers, 36.8k Twitter followers
Twitter Handle: @trish_regan
Jesse Eisinger
senior reporter at ProPublica


Bragging rights: awarded the Pulitzer Prize
Not only does Eisinger cover Wall Street and finance for ProPublica, but he also writes a regular column for the Dealbook section of The New York Times. He has had many major accomplishments, including predicting the fall of the Lehman Brothers and Bear Stearns, as well as having a big part in exposing Lernout & Hauspie's fraud.
Fun Fact: married to Sarah Ellison, a contributing editor at Vanity Fair
Social Clout: 11.6k Twitter followers
Twitter Handle: @eisingerj
Rebecca Jarvis
ABC News chief business and economics correspondent


Bragging rights: finalist on Season 4 of "The Apprentice"
Jarvis attended the University of Chicago, where she studied economics and law. She worked in financial services before pursuing a career in journalism. She has worked for CNBC, CBS News and now ABC. When starting at her current post, Ben Sherwood, ABC's President, said Jarvis would "contribute immensely across every program and platform."
Fun Fact: named one of Teen People's "20 Teens Who Will Change the World" in 2000
Social Clout: 193k Facebook likes, 25k Twitter followers
Twitter Handle: @RebeccaJarvis
Roddy Boyd
launched the Southern Investigative Reporting Foundation


Bragging rights: one of the 25 most feared financial reporters by HuffPo
Investigative reporting is the name of the game for Roderick "Roddy" Boyd. He has worked for Fortune, The New York Sun and The New York Post. He also founded The Financial Investigator, as well as wrote "Fatal Risk," a book about how AIG almost collapsed. His Twitter proclaims he does this "financial muckraking for the public interest," and we thank him for it.
Fun Fact: is a huge fan of musician Mark Knopfler
Social Clout: 2.7k Twitter followers
Twitter Handle: @BoydRoddy
Charles Gasparino
senior correspondent for Fox Business Network


Bragging rights: MarketWatch's "12 Broadcasters Who Are Making a Difference"
A New Yorker by birth, Gasparino has stayed in-state while working at several major news publications. These include Newsweek, The Wall Street Journal and CNBC. Now appearing on FOX's "The Cost of Freedom," he also regularly contributes to Forbes and The Huffington Post while also writing several books on the side. The Daily Beast awarded him a spot on their "Top 15 Economic and Business Commentators" list.
Fun Fact: used to be an amateur boxer
Social Clout: 158 Facebook likes, 39.6k Twitter followers
Twitter Handle: @CGasparino
Gretchen Morgenson
columnist for the NYT's Money & Business section


Bragging rights: won the Pulitzer Prize for Beat Reporting in 2002
The Nation referred to Morgenson as "The most important financial journalist of her generation," and for good reason — she is currently the assistant business and financial editor for The New York Times, though she has also worked for Forbes, Worth and Vogue. In 2009, she won the Gerald Loeb award for distinguished business and financial journalism.
Fun Fact: served as press secretary during Steve Forbes' 1996 presidential campaign.
Social Clout: 326 Facebook likes, 1.2k Twitter followers
Twitter Handle: @gmorgenson
Andrew Ross Sorkin
founder of DealBook


Bragging rights: contributed to or wrote around 2,000 articles for The New York Times
Andrew began working at The New York Times as a student intern when he was still in high school. After graduating from Cornell, he began working there full time and is currently their assistant editor of business and finance news. A Gerald Loeb award winner, he also cohosts CNBC's "Squawk Box" and wrote the book "Too Big to Fail" about the Wall Street banking crisis.
Fun Fact: named a young global leader by the World Economic Forum
Social Clout: 33k Facebook followers, 467k Twitter followers
Twitter Handle: @andrewrsorkin
Laurie Segall
correspondent for CNNMoney


Bragging rights: named one of Forbes' 30 Under 30 for Media
Segall works in New York, where she covers all things innovation and entrepreneurship for CNNMoney. She uses technology to cover breaking news, such as her reconstructing the deleted Instagram account of suspect Dzhokhar Tsarnaev after the Boston Bombing. Mashable said she was one of "seven top journalists to subscribe to Facebook" – we'll nod to that!
Fun Fact: likes to keep busy on Pinterest
Social Clout: 393.4k Facebook followers, 12.4k Twitter followers
Twitter Handle: @LaurieSegallCNN
Tyler Durden
'editor' at Zero Hedge


Bragging rights: has gotten more than one billion views
Chuck Palahniuk may have invented Tyler Durden, but the editors at Zero Hedge use his character as a pseudonym to report on economics and finances. Durden and the Zero Hedge crew are credited with exposing Goldman Sach's flash trading scandal in 2009. Bill Gross, head of PIMCO, has said Tyler is one of his favorite strategists – ours, too.
Fun Fact: is somewhere between four and 40 editors
Social Clout: 9.6k Facebook likes, 202k Twitter followers
Twitter Handle: @zerohedge
Photo credits: speakerpedia.com, moneysmartweek.org, propublica.org, startribune.com, businessinsider, msnbc.com, gordonsgoodreads.com, twitter.com, cnn.com, curezone.org