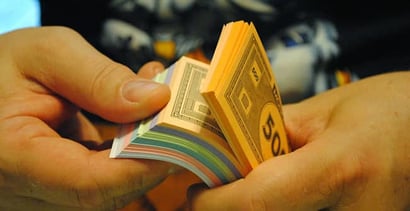 From big names to up-and-comers, BadCredit.org experts share their picks for the top resources in the personal finance industry.
Whether the money is purple, orange or green, games are valuable tools for teaching anyone about the basics of personal finance in a fun, stress-free environment.
Kids and adults alike can learn about investing wisely, planning for the future, budgeting and the harsh realities of the unexpected. These eight games were selected for how well their in-game economies simulate true money management while still providing hours of fun.
Thrive Time
thrivetimegame.com


Bragging rights: a crash-course in financial literacy
Designed by financial literacy authority Sharon Lechter, Thrive Time walks players through all of the major financial milestones in life like going to college, buying a car, using credit cards, starting a business and much more. Every player tries to make their "rent sheet" balance out against very realistic obligations and often on a deadline.
Original edition released: 2009
URL: http://www.thrivetimegame.com


Bragging rights: the classic, quirky life simulator
This strategic life simulation video game kicked off an entire series that remains one of the best-selling of all time. Here players build a character and design a small community for him or her to live. The game rewards players who live within their means and save their money for bills that come in the mail. Fail to pay your debts and your favorite possessions get repossessed.
Original edition released: 2000
URL: http://www.thesims.com
Europa Universalis 4
europauniversalis4.com


Bragging rights: finance and history in one package
In this historically accurate strategy game, players can rewrite history as they take control of any country between 1444 and 1821. Players can pursue their own objectives, such as becoming a papal controller, dominating a continent or holding trade monopolies. The in-game economics are endlessly complex as players have to manage loans, war subsidies, interest rates, trade deals and more. Be careful not to overextend or all of your income will go straight to overdue loans.
Original edition released: 2000
URL: http://www.europauniversalis4.com
Rollercoaster Tycoon
rollercoastertycoon.com


Bragging rights: blending finance and theme park mayhem
Build the ultimate theme park imaginable, all while navigating the ups and downs of your bank balance. Rollercoaster Tycoon offers a fun introductory course of how businesses operate and manage their funds as players must manage capital development, advertising, maintenance, wages and more.
Original edition released: 1999
URL: http://www.rollercoastertycoon.com


Bragging rights: the ultimate urban planning simulator
In this classic city-building simulator, players design and manage their very own metropolis complete with housing, entertainment, utilities, crime and more. Proper management and allocation of resources is the key to success here, offering players a fun way to learn about social economics. Be prepared for surprises, both from Mother Nature and Uncle Sam.
Original edition released: 1989
URL: http://www.simcity.com


Bragging rights: the paycheck-to-paycheck simulator
Payday teaches time and money management unlike any other board game. Designed as a calendar, the game has players decide how many months to play as they race from paycheck to paycheck all while hoping the dice roll won't land them on an incredible financial burden. Whoever finishes with the most money (or the least amount or debt) wins. Savings and loans are essential parts of the gameplay.
Original edition released: 1975
URL: http://www.boardgamegeek.com


Bragging rights: teaching finance since 1933
The cornerstone of money games, Monopoly teaches the value of investments, risks and spending beyond your means. Much like real life, players must balance their spending and saving in order to avoid expected (and unexpected) expenses throughout the game. Newer versions of the game eliminate cash money and rely solely on a credit card system.
Original edition released: 1933
URL: www.hasbro.com


Bragging rights: a entire life packed into one hour
This nostalgic favorite takes players through the ups and downs of life, from marriage and children, to health care issues and an unpredictable job market. From millionaire acres to the poor farm, the wealth divide is all based on how you spin and the choices you make. LIFE offers a great introduction to the many expenses children should expect to see in their future (and reminds us how helpful insurance can be).
Original edition released: 1860
URL: http://www.hasbro.com
Photo credits: moneyspruce.com, mommieswithcents.com, tevice.com, rocketdock.com, wikipedia.org, simified.com, calendars.com, asdfhj.com, boardgamegeek.com