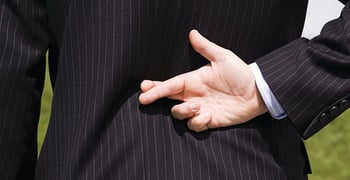 BadCredit.org publishes personal finance studies on the latest trends in the subprime marketplace. Our articles follow strict
editorial guidelines
.
With the holiday season upon us, some couples are more likely than others to feel anxiety and fear around holiday spending.
These feelings can lead to damaging behavior in the relationship, including lying to our spouse about our spending habits.
According to a McGraw-Hill Federal Credit Union (MFCU) study, approximately 34 percent of married couples will be less than truthful with their partner about all of their holiday spending.
"Forty-eight percent of couples

disagree over holiday spending."
According to MFCU President and CEO Shawn Gilfedder, "We find that some couples go into defense mode and avoid difficult yet necessary financial conversations. Avoiding money talk can create tension in relationships that only honest communication and financial education can heal."
Further, couples who disagree about their finances regularly – meaning at least once a week – are 30 percent more likely to get divorced than couples who disagree infrequently.
Fights that occur several times a week increase the risk of divorce by up to 160 percent.
"While everyday financial challenges can lead to miscommunication, procrastination and ultimately some level of anxiety, true financial wellness requires discipline and honesty between both partners in order to ensure harmony," Gilfedder said.
I could not agree more. Setting aside a specific time to discuss finances and spending on a regular basis is a key ingredient to a good relationship and good financial health.
Source: mainstreet.com. Photo Source: www.huffingtonpost.com