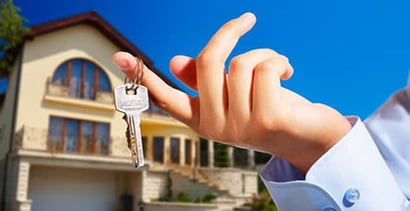 From big names to up-and-comers, BadCredit.org experts share their picks for the top resources in the personal finance industry.
Owning a home can be a daunting undertaking, laced with copious amounts of questions and decisions to make, and it doesn't end once you sign that contract.
Whether you're renting, selling or just looking to broaden your understanding of the real estate market, you've probably got questions.
Are you worried bad credit will keep you from refinancing your home? A home loan for bad credit may be the answer.
We've compiled a list of the brightest in the real estate biz. Their blogs bring with them resources, tools and peace of mind for the reader who's unsettled about real estate endeavors.
Here's the top 10 real estate blogs for 2015:


Zillow allows consumers to network and share vital information before making crucial decisions about their homes, real estate, mortgages and home improvement. Their marketplace includes a database of more than 110 million homes, and they've partnered with Yahoo! Homes to operate the largest real estate and rental advertising network in the United States. Zillow also includes tools and features, such as Rent Zestimates and Zillow Digs, to help you manage and market your personal or professional real estate interests.
Twitter Handle: @zillow
URL: zillow.com

Trulia provides valuable information that home-buyers, sellers, renters and owners seek before making important real estate decisions. With their 15 mobile applications offered across multiple platforms, users can learn about local schools, crime rates and general property information any time or place. By building strategic partnerships to heighten the visibility of franchisers and brokers online, Trulia is constantly expanding their influence to create more value for their customers.
Twitter Handle: @trulia
URL: trulia.com


Bill McBride is an experienced economics, finance and management guru with a full-time passion for bringing readers insight concerning economic development. Once a former senior executive for a small public company, he has since shifted his focus to real estate development, bringing consumers the facts in a concise, informative and understandable bundle. His blog, Calculated Risk, predicts and dissects the ups, downs, ins and outs of the real estate market —followers swear he's rarely (if ever) wrong.
Twitter Handle: @calculatedrisk
URL: calculatedriskblog.com


The Morgage Reports author, Dan Green, is the go-to mortgage market man. With more than 10 years of experience, he specializes in getting all the gritty details of mortgage loans, rates and relevant topics directly to consumers before they even know to ask the questions. His site offers more than a wealth of information — check out TheMortgageReports.com for the Home Mortgage Calculator, Instant Rate Quote feature and more.
Twitter Handle: @mortgagereports
URL: hthemortgagereports.com


President and CEO of Miller Samuel Inc., Jonathan Miller is a certified real estate appraiser, counselor of real estate (CRE) and certified relocation professional (CRP). As one of The New York Observer's "100 Most Powerful People in Real Estate" and Money Magazine's "Best Online Real Estate Expert", Mr. Miller's reputation in realty precedes him. He features his solid understanding of the housing and property market in the Matrix Blog, which was voted by Inman News as one of the top five real estate blogs in the U.S.
Twitter Handle: @jonathanmiller
URL: millersamuel.com


Whether it's interest, investment or interior decorating advice you need, Realty Times has the insight you need to make decisions about your current or future home. The realty-related news they provide is laid out by date, topic and trending status. Their site also offers frequently updated market reports and resources, such as a mortgage rate calculator and comparison feature. Check the market outlook, confide in local agents and get tips on going green all in one savvy source.
Twitter Handle: @RealtyTimes
URL: realtytimes.com


RISMedia provides a monthly online and printed magazine, thousands of archived articles, as well as a monthly e-newsletter, bringing you all the latest tips for real estate market management. They offer consumer engagement tools for brokers and agents and a resource center for questioning consumers. Their easily-updated blog provides consumers with the ability to network and build business with the best.
Twitter Handle: @RISMediaUpdates
URL: rismedia.com


HomeFinder.com offers a user-friendly portal for digital networking and account management. They have revamped the market for home buying and sales and brought high-end customer service to their clients. With rave reviews from Forbes Magazine, New Jersey Realtor Magazine and others, HomeFinder.com is empowering real estate searches for more than 375 newspapers across the United States. Join home buyers, sellers, renters and realtors and gain access to invaluable resources to simplify the stressful home buying experience.
Twitter Handle: @HomeFinder1
URL: homefinder.com


The New England Real Estate Journal (NEREJ) is a consumer-based weekly publication that has delivered real estate reports for more than 50 years. The masthead behind this news source has enabled key players in the commercial real estate industry to make better judgments, which have widespread influence within the market. From construction and design, to finance and property management, the NEREJ shares the facts, fundamentals and fluctuations of the real estate business.
Twitter Handle: @NEREJ
URL: nerej.com
The Phoenix Real Estate Guy


Jay Thompson, broker and co-owner of Thompson's Realty, is a self-proclaimed "man with a blogging problem." In the last decade, Mr. Thompson's discussion of realty current events, trends in the market and relevant issues has made The Phoenix Real Estate Guy one of the most popular real estate blogs in the Untied States. A perfect balance of real estate expertise and "random musings," The Phoenix Real Estate Guy go-to resource for the rules of the real estate game.
Twitter Handle: @PhxREguy
URL: phoenixrealestateguy.com
Photo sources: twitter.com; content.time.com; facebook.com; referenceforbusiness.com