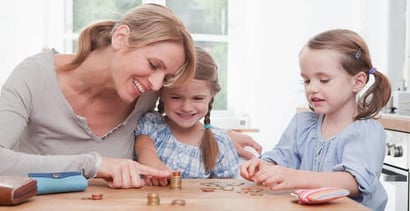 From big names to up-and-comers, BadCredit.org experts share their picks for the top resources in the personal finance industry.
Wonderwoman, Batgirl, Storm and the like may be make-believe female superheroes, but there is one real-life superhero who always saves the day. Most of us call her Mom.
Whether it's working more than 40 hours a week, taking the kids to school, organizing the family finances or all three, our 10 Best Finance Blogs for Moms know how much recognition all the great moms out there deserve.
Money Saving Mom
moneysavingmom.com


Bragging Rights: helping you be a better home economist

Crystal Paine's much-followed site is an encyclopedia of financial advice and wisdom. Tips are offered on everything from coupons to menu planners, with clear guidance on household expenditures and holiday planning. Living a simpler life without having to constantly sacrifice is embraced. Bonus: There's an active community and a considerable social media presence.
Social Clout: 438,000+ likes, 107,588+ followers
URL: http://moneysavingmom.com/
Wealthy Single Mommy
wealthysinglemommy.com


Bragging Rights: the business of building a rich family

Emma Johnson is the spirit behind Wealthy Single Mommy, and she brings a lighthearted approach to the serious business of responsible finances. Included in the content is advice on shopping, career planning, retirements goals and a full archive of her radio show. The site celebrates the goals that are met and rethinks the approach when they falter.
Social Clout: 1,822+ likes, 11,761+ followers
URL: http://www.wealthysinglemommy.com/


Bragging Rights: the latest tips and tricks for saving money

Candace brings a warm and funny voice to better cash management and planning. Frugal Mom is a whole-household affair, with advice on everything from automotive repair to gardening. Holidays and decorating are covered, including content designed to help people find a better route to their personal finances. Recipes and grocery shopping planning is encouraged.
Social Clout: 2,169+ likes, 1,433+ followers
URL: http://www.frugalmom.net/
Rich Single Momma
richsinglemomma.com


Bragging Rights: managing money, momdom and moods

At Rich Single Momma, Samantha brings a no-nonsense approach to increasing income, managing money better and prospering through wise investment. She encourages getting creative and finding those "Side Hustles" to bring in added income. Clear choices are broken down in terms of travel planning, finding quality babysitters and eating well while on a budget.
Social Clout: 984+ likes, 1,936+ followers
URL: http://richsinglemomma.com/
Financial Mom
financialmom.com


Bragging Rights: helping women become investing stars
Wisconsin native Pam shares her buying strategies as she helps other moms find a more solid financial footing. Check out the three-part series "Why Women Need Financial Intimacy" and a host of quizzes and tools to get started. And don't forget about the link to her weekly show "Intelligent Investing" on TogiNet Radio.
Social Clout: 341+ likes, 549+ followers
URL: http://financialmom.com/
Budget Dial
budgetdial.blogspot.com


Bragging Rights: cooking, retirement, budgeting, oh my!

This mother of three looks into ways to budget your way to a more comfortable lifestyle while maintaining a level of luxury. Finding discounts and savings is at the heart of Mom's plan, both in large and small purchases. Meal planning is offered, along with frugal travel tips and a grocery store database of coupons.
URL: http://budgetdial.blogspot.com/
Social Clout: 3,896+ likes
The Busy Budgeting Mama
thebusybudgetingmama.com


Bragging Rights: passionate

It's no surprise this site comes from a graphic designer, with a rich layout of very extensive content. At The Busy Budgeting Mama, Natalie shares her tips for eliminating wasteful spending, better cash management and reaching "Super-Mom Motherhood." DIY tutorials cover everything from household improvements to party planning. The best part is there is a full archive or articles and an active membership.
Social Clout: 1,900+ followers, 10,348+ likes
URL: http://www.thebusybudgetingmama.com/
So Over This
sooverthis.com


Bragging Rights: surviving single parenthood with sarcasm

Admittedly not a guru, this blog's author charts a climb out of debt with straightforward content and easy-to-apply methods. Topics like "The Benefits of International Wealth Management" and advice for "Who Wants to Tackle Their Financial Insecurity?" are offered with wit and wisdom, alongside random musings about ordinary life.
Social Clout: 300+ likes
URL: http://www.sooverthis.com/
The Happy Housewife
thehappyhousewife.com


Bragging Rights: where Martha meets real life

Otherwise known as The Happy Housewife, Toni brings a solidly joyful approach to helping moms spend better and save more. Good home management is key, with categories on living, cooking, homeschooling and deal-finding. Her daily diaries help chart the progress, such as coupon updates and an active social media presence. The blog is funny, friendly and stylish. Could you ask for more?
Social Clout: 31,604+ likes, 15,618+ followers
URL: http://thehappyhousewife.com/
Midlife Mom Musings
midlifemommusings.com


Bragging Rights: finding the balance between life and money
This mom of four started her blog seven years ago as an alternative to a midlife crisis. After escaping debt, she found she had trouble enjoying life due to her guilt over her spending. She resolved to find a balance, sharing the best in content related to controlling spending patterns and making the most of what you buy. Take a look at her list of helpful books for recommended reading.
URL: http://midlifemommusings.com/
Photo source: zelawelakids.com.