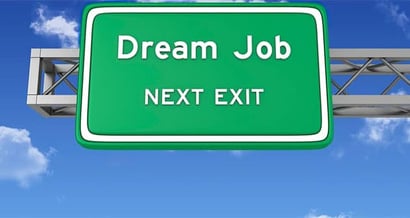 From big names to up-and-comers, BadCredit.org experts share their picks for the top resources in the personal finance industry.
Eat, sleep, work, repeat. Eat, sleep, work, repeat. Eat, sleep, work, repeat.
Just reading it gets boring after a while, doesn't it? For those living that vicious cycle, it's even worse.
If you're stuck in job monotony and need some advice on how to change that, take a look at one of our 10 Best Career Advice Sites:


Using 40 million salary profiles from 11 different countries, PayScale's quick and easy salary review survey will tell you where your current earnings (or potential earnings, since you use it to review a job offer as well) rank. The results, in addition to providing a salary percentile, will also show the best and worst places to work, future jobs if you continue your career path and similar available jobs.
Social Clout: 66K+ Twitter followers; 45K+ Facebook likes
Twitter Handle: @payscale
URL: payscale.com


Most job searches involve you blindly throwing your resume out. Originally designed for jobs paying more than $100,000 but realizing the need for all pay scales, The Ladders helps your searching by providing information about locations and competing applicants. Along with that, there's a mountain of information about every step of the job-search process.
Social Clout: 59.6K+ Twitter followers; 45K+ Facebook likes
Twitter Handle: @TheLadders
URL: theladders.com


There are a lot of advice sites on the Internet that portray themselves as a hermit on the mountain, a sage that has achieved enlightenment and waits for those who can make the climb. The Muse dispels that notion immediately and provides advice like a good friend would, taking an informal — but still informational — tone.
Social Clout: 123K+ Facebook likes; 68.2K+ Twitter followers
Twitter Handle: @dailymuse
URL: themuse.com


Indeed might look like a standard job search site at first, but a little digging uncovers the Indeed Blog, a bastion of short-but-sweet written pieces. Headlines are written to attract employers, but even that knowledge is useful: If you know what advice the people you're applying to are getting, you'll have a foot in the door before your next interview is even scheduled.
Social Clout: 486K+ Facebook likes; 166K+ Twitter followers
Twitter Handle: @indeed
URL: blog.indeed.com


Hannah Morgan, the Career Sherpa, is a one-woman hurricane of tips and tricks to landing a job or starting a career. She dishes out information in quick but hard-hitting tidbits, all so that readers can start or improve their professional life. She has no time for slouches, though, and makes sure you understand that her advice, while informative, is useless without heavy effort.
Social Clout: 30.5K+ Twitter followers; 1,352+ Facebook likes
Twitter Handle: @careersherpa
URL: careersherpa.net


Founded with the idea that "all jobs are temporary," Careerealism is an online magazine chock-full of advice for those with job searching or career questions. Resume tips, interviewing hints and cover letter strategies are regular themes, accompanied by a number of ways to improve them for whatever purpose you're trying to accomplish.
Social Clout: 74.5K+ Twitter followers; 42K+ Facebook likes
Twitter Handle: @CAREEREALISM
URL: careerealism.com


This one's for those of you who have just graduated from a college or university. Lea McCleod recognized that the move from school to work is often challenging, motivating her to create Degrees of Transition. With her site, she explains what most employers will be looking for during interviews and how you can stand out from every other recent graduate gunning for the same job as you.
Social Clout: 4,295+ Twitter followers
Twitter Handle: @LeaMcLeod
URL: degreesoftransition.com


With advice blogs equally dedicated to both searchers and recruiters, Simply Hired has information about any job-related question. Whether you're searching for your first job or making your last new hire before retirement, there's a little bit of everything on Simply Hired for everyone.
Social Clout: 93.6K+ Twitter followers; 61K+ Facebook likes
Twitter Handle: @SimplyHired
URL: simplyhired.com/blog/


Featured by CNN, NBC, The New York Times, Forbes, The Wall Street Journal and more, Lindsey Pollak's selling point is that she's a "millennial workplace expert." Her blog has information for both employers and employees, current and future, that examines current issues and struggles in the professional workplace today and offers advice on how to combat and conquer the problems that arise.
Social Clout: 35.8K+ Twitter followers; 3,924+ Facebook likes
Twitter Handle: @lindseypollak
URL: lindseypollak.com


With 20 years of experience in helping job searchers, Job-Hunt.org is a superb anchor for this Top 10 list. Founded in 1995 and edited by Susan P. Joyce since 1998, the site has basic information for those just getting started in their search, but also has more in-depth information for standard job searches, those who are considering changing careers and those who have just lost their job — including advice on transitioning from fired to hired.
Social Clout: 52.7K+ Twitter followers; 2,508+ Facebook likes
Twitter Handle: @JobHuntOrg
URL: job-hunt.org
Photo sources: huffingtonpost.com; Facebook.com; Twitter.com; payscale.com; degreesoftransition.com.