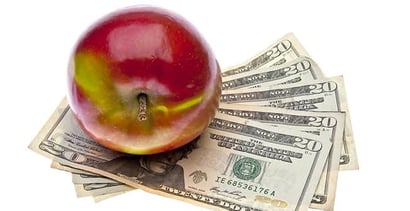 From big names to up-and-comers, BadCredit.org experts share their picks for the top resources in the personal finance industry.
Food is a significant part of any budget regardless of your income level.
Fortunately for you, we've collected the 10 best frugal cooking bloggers on the Web to show you how to eat on the cheap.
$5 Dinners
@5dollardinners


Bragging rights: She offers coupons, recipes and how-to's
Erin Chase is known as the $5 Dinner Mom. After she began couponing in 2008, she realized how much she loved the challenge of getting her meals for a single Abraham Lincoln. She shares her tips in her blog and original cookbooks.
Social Clout: 21,460+ Twitter followers
URL: 5dollardinners.com
Good Cheap Eats
@FishMama


Bragging rights: She "acts her wage" and still eats well
How can you cook for six kids in Southern California on only $800 a month? Just listen to what FishMama has to say. Not only will she teach you how to eat cheap, but she'll teach you to eat well. She even sorts her recipes to make it easy to find what you're looking for.
Social Clout: 7,200+ Twitter followers
URL: goodcheapeats.com
Eating Richly
@EatingRichly


Bragging rights: eat on a budget of $100 each month
When a "freakishly frugal foodie" joins a "wonderfully weird web-implementer," the result is a user-friendly blog that tells you how to eat rich even when you're not. They even offer vegetarian and gluten-free recipe options!
Social Clout: 2,015+ Twitter followers
URL: eatingrichly.com
The Law Student's Wife
@LawStudentsWife


Bragging rights: good for you and your soul
Erin Clarke realized with her husband studying law, she would have to make their dinner budget-friendly. She breaks down her recipes into different meals so you can find something cheap and delicious for any time of day!
Social Clout: 1,545+ Twitter followers
URL: thelawstudentswife.com
Poor Girl Eats Well
@PoorGrlEatsWell


Bragging rights: embracing the "$25 Shopping Cart"
Champagne taste with a "Two-buck chuck budget" could make things difficult. That's why Kimberly Morales is here to share experiences. She knows how to make a good meal out of just about anything, and she'll teach you how to do the same.
Social Clout: 4,145+ Twitter followers
URL: poorgirleatswell.com
Budget Gourmet Mom
@BudgetGourmetM


Bragging rights: She raises her own beef
Four boys and a husband means a lot of hungry mouths to feed, but Krista Dearden makes it look easy. She shares her recipes for different meals – including those 400 calories and under – as well as weekly grocery deals.
Social Clout: 2,070+ Twitter followers
URL: budgetgourmetmom.com
BrokeAss Gourmet
@BrokeAssGourmet


Bragging rights: She has a TV show based off her life
Gabi Moskowitz only posts recipes that cost under $20, so you can treat yourself without breaking the bank. She's also the inspiration for Gabi on the ABC Family show "Young and Hungry."
Social Clout: 5,635+ Twitter followers
URL: brokeassgourmet.com
Hillbilly Housewife
@hbhw


Bragging rights: more than 13,600 likes on Facebook
Susanne knows what it means to be in debt. She actually began eating cheap and cutting her grocery bill so more of her money could go toward other financial issues (which she also offers tips for). If you're looking for a role model, it's her.
Social Clout: 5,920+ Twitter followers
URL: hillbillyhousewife.com
Budget Bytes
@Budget_Bytes


Bragging rights: contributing writer to Parade.com
As a food lover and number cruncher, Beth Moncel likes to keep both her stomach and wallet full. Not only does she offer recipes, but she also provides resources that help beginners make dinner on a dime.
Social Clout: 4,495+ Twitter followers
URL: budgetbytes.com
Frugal Foodie Mama
@frugalfoodiemom


Bragging rights: searchable recipes for easy finding
Carrie R. is a former teacher turned stay-at-home mom and blogger. Learning to live on one income wasn't easy, which is why she shares her recipes and tricks for being not just budget conscious but "fabulously frugal."
Social Clout: 3,420+ Twitter followers
URL: thefrugalfoodiemama.com
Photo sources: 5dollardinners.com, facebook.com, eatingrichly.com, thelawstudentswife.com, budgetgourmetmom.com, brokeassgourmet.com