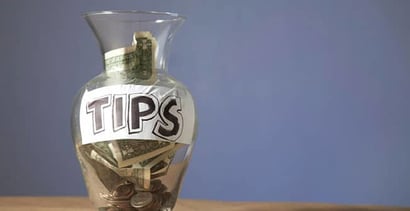 From big names to up-and-comers, BadCredit.org experts share their picks for the top resources in the personal finance industry.
Making life more profitable, in all its riches, is the bread and butter behind the 10 Best Blogs for Quick Money Tips, where careful planning and smart spending are matched to create and meet financial goals for the future.
Cents, Sense and Sensibility
centsandsensibility.ca


Bragging Rights: look after your nickels and dimes first
From Lindsey comes this stylish and clever blog. Cents, Sense and Sensibility helps readers young and old find ways to earn more. Whether it's tips for start-ups, career advancement or trimming the old budget, they have unique sections aimed at each. "Beer Money Budget" and "Life Under Construction" are two good ones to start with.
Social Clout: 1,504+ followers, 180+ likes
URL: http://centsandsensibility.ca/
The Free Financial Adviser
thefreefinancialadvisor.com


Bragging Rights: riches are the result of passion

The Free Financial Adviser comes from "The 2 Guys," one a former adviser and a financial media specialist and the other a CFP. They are all about maximizing opportunities to make profit and build smarter wealth. Posts like "The Power of Big, Fat Audacious Goals" keep you motivated and on track with plenty of feedback from the founders.
Social Clout: 1,267+ likes
URL: http://www.thefreefinancialadvisor.com/
Funancials
funancials.biz


Bragging Rights: improving your money relationship

From someone who truly loves finances comes Funancials, which is aimed at sharper choices in wealth management. Extra income and opportunities are abound, the site reminds us, with topics like "One of the Best Investing Websites I've Ever Seen" and "How Debt Can Affect Retirement." A roster of categories are available to readers, including finding the lighter side of debt management.
Social Clout: 1,165+ followers, 802+ likes
URL: http://funancials.biz/
Money Talks Coaching
moneytalkscoaching.com


Bragging Rights: making a positive impact on your finances

It always helps to have a charming blogger, and Ashley Barnett fits that bill. From the author of "The B-Word," it always comes down to budget. She offers advice for making more and provides free tools that will remind you of your monthly schedule. Money Talks Coaching is loaded with pictures and videos to bring Barnett's strategies to life.
Social Clout: 982+ followers, 163+ likes
URL: http://moneytalkscoaching.com/
My Money Counselor
mymoneycounselor.com


Bragging Rights: for people who work for a living

My Money Counselor is thick with focused content designed to help readers spend less and live more. Advice and insight for maximizing earning potential are covered, as well as planning tools and investment guidance. Nothing is left to chance with posts like "Understanding Your FICO Score" and a "DIY Debt Settlement Guide."
Social Clout: 715+ followers, 160+ likes
URL: http://mymoneycounselor.com/
TeacHer Finance
teacherfinance.org


Bragging Rights: spending. saving. learning. living.
This D.C. high school teacher launched TeacHer Finance more than five years ago, originally more aimed at reducing debt. She has since expanded into educating readers on wise investing and finding money-making avenues early. Negotiating credit card relief and understanding home equity are fully covered, along with guest bloggers offering thoughtful and fresh viewpoints.
Social Clout: 579+ followers, 46+ likes
URL: http://www.teacherfinance.org/
Money Watch 101
moneywatch101.com


Bragging Rights: maximizing opportunity

From rich uncle E.L. comes Money Watch 101, a sizable blog with an extensive archive. Money Watch 101 is devoted to finding smart investment choices with posts like "10 Companies That Might Go Bankrupt" and "Millionaire Goals," as it's never too soon to plan. Time is money and this time is well spent, as the E.L. teaches us.
Social Clout: 342+ followers, 100+ likes
URL: http://www.moneywatch101.com/
Half Dozen Daily
halfdozendaily.typepad.com


Bragging Rights: join her through the ups and downs

Carla's blog covers parenthood and art, but clear focus is also given to money management. In "Budget and Finance," she breaks down advice on all financial concerns large and smaller, from grocery store selection to planning for retirement. The best part? Cost-saving holiday ideas and "Slush Fund" tips are readily available.
Social Clout: 220+ followers
URL: http://halfdozendaily.typepad.com/
Street Smart Finance
streetsmartfinance.org


Bragging Rights: common sense personal finance

Street Smart Finance comes from a U.S. immigrant who spent two decades in the states building personal wealth. The author wants to share the American dream with others, including advice on greater earning potential, a closely-watched budget and an eye for value. Much of the content is entirely original and very inspiring.
Social Clout: 39+ likes
URL: http://www.streetsmartfinance.org/
Money Management Blog
moneymanagementblog.org


Bragging Rights: investing, banking, taxes and more!

Working in accounting, this blogger brings hands-on experience in understanding money management and building new wealth. Quick money-making tips are balanced with sage investment advice, including categories on mutual funds and retirement planning. Great tips on negotiating fees, understanding how interest rates move and organizing your taxes are sprinkled throughout.
URL: http://moneymanagementblog.org/
Photo source: bp.blogspot.com.