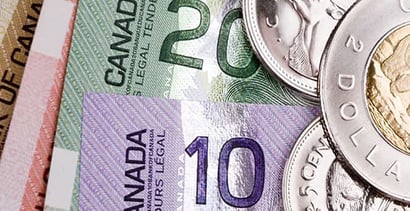 From big names to up-and-comers, BadCredit.org experts share their picks for the top resources in the personal finance industry.
Whether you buy with loonies, toonies or American greenbacks, these 10 Canadian bloggers have financial knowledge that can benefit everyone.


Run by financial analyst Tom Drake, Canadian Finance Blog aims to be the Canadian resource for personal finance. He discusses RRSPs and TFSAs (two popular Canadian savings plans) from time to time, but everyone can appreciate the insight he offers on more universal subjects, like saving money and reducing investment fees.
Social Clout: 1,035+ Facebook likes; 11,680+ Twitter followers
Twitter: @CanadianFinance
URL: canadianfinanceblog.com
The Pa$$ive Income Earner


While we may not know who the passive income earner is, we do know he has a lot to offer in terms of personal finance and investment. He created his blog to provide resources to others and to regularly check progress on his dividend income goals.
Social Clout: 1,290+ Twitter followers
Twitter Handle: @DividendEarner
URL: thepassiveincomeearner.com


Sun Life Financial presents how to live a brighter life, focusing on different aspects of money, working life and retirement. They offer tips and tools on how to manage all of this, as well as family and health. From budgeting to saving, this blog will show you how to invest in a brighter future.
Social Clout: 25,730+ Facebook likes; 6,145+ Twitter followers
Twitter Handle: @brighterlifeCA
URL: brighterlife.ca


After reading David Chilton's "The Wealthy Barber," Mark Seed began an investment journey of his own. Along the way, he's come to realize nobody cares more about his money than he does – and you should feel the same! He'll help you find your own financial freedom by chronicling his own way there.
Social Clout: 495+ Facebook likes; 2,565+ Twitter followers
Twitter Handle: @myownadvisor


With her last name being Moorhouse, Jessica grew up being teased that she had more houses. Not the best joke, but she was inspired to save up for the future (and houses) she's always wanted, thanks in part to her frugal upbringing. She chronicles her journey, sharing how everyone can bring home the bacon and eat it, too.
Social Clout: 1,750+ Facebook likes; 4,120+ Twitter followers
Twitter Handle: @momoneymohouses
URL: momoneymohouses.com


This young Canadian set out with the goal of reaching a net worth of $1 million before he turned 35 – and he did it. He not only documents how he got there, but he also offers lots of advice on personal finance and investing. He'll teach you how you can become a millionaire without winning the lottery – just like he did.
Social Clout: 1,175+ Facebook likes; 4,605+ Twitter followers
Twitter Handle: @frugaltrader
URL: milliondollarjourney.com


If you want to learn about managing your personal finance and living a more frugal lifestyle, Mr. CBB (or Mo, as he sometimes goes by) will show you how to do it. With free money-saving tools – including the infamous Grocery Game Challenge – you'll figure out a way to find your financial freedom.
Social Clout: 6,475+ Facebook likes; 3,155+ Twitter followers
Twitter Handle: @CanadianBudgetB
URL: canadianbudgetbinder.com


When you want all things finance in one spot on the Web, you should check out the Canadian Capitalist. He maintains a bookshelf tab of great money reads, as well as thorough archives that cover all financial matters. There's even access to a forum for you to discuss anything from real estate to taxation.
Social Clout: 2,270+ Twitter followers
Twitter Handle: @CCapitalist
URL: canadiancapitalist.com


Cait Flanders was maxed out with only $100 to her name and $28,000 worth of debt. She created this blog to track her spending, offer advice on what works for her and hold herself accountable. She paid off her debt and continues to track every penny that goes in and out of her hands — the key to financial independence.
Social Clout: 3,310 Twitter followers
Twitter Handle: @blondeonabudget
URL: blondeonabudget.ca


As a best-selling author of 14 books on finances, Garth Turner definitely knows what he's talking about. He uses his wealth of knowledge to teach others through his blog. He posts daily, so you'll always have something new to learn from him.
Social Clout: 190+ Facebook likes; 6,600+ Twitter followers
Twitter Handle: @garthturner
URL: greaterfool.ca
Photo source: plus.google.com, twitter.com, facebook.com, canadiancapitalist.com, greaterfool.ca, vdma.ca