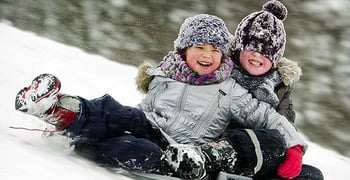 Our popular "How-To" series is for those who seek to improve their subprime credit rating. Our articles follow strict
editorial guidelines
.
The holidays have come and gone, which means now we are stuck in the middle of winter.
This can be a depressing time of year, as the days are colder and shorter. Plus, you need to start thinking of ways to pay off your holiday shopping bills.
To help you get the year started in good financial shape, here are a few tricks you can use to save money this winter.
1. Look for ways to bring down the thermostat.
Your heating bill is going to be one of your bigger expenses during the cold winter months, especially if you have a big house to warm up.
The temperature you set your thermostat to makes a big difference on how much you will pay. Even taking down the temperature by a few degrees will help.
Consider keeping warm by wearing a sweater in the house rather than using the extra heat from your furnace. Another good strategy is to cool off your house when you sleep, since you will be keeping warm with your blankets.
If you really want to commit to this strategy, you could invest in a programmable thermometer. This device lets you schedule when to heat your home so you will not waste energy when you are out of the house during the day.
2. Avoid losing hot air through the doors and windows.
After spending time out in the cold, getting hit from that rush of hot air from your house is a nice feeling.
However, do not spend too much time enjoying it because that is heat leaving your house and adding to your electricity bill.
Make an effort to keep windows and doors closed during the day to avoid wasting electricity. Go through each section of the house and check for leaks or cracks.
If you find any, be sure to caulk them up so you don't waste money on your heating bill.
"Work hard and you should

have a cushion in the spring."
3. Plan your day to avoid ATM fees.
This includes trips to the ATMs in your bank's network.
While it is tempting to just make a withdrawal from an out-of-network ATM, remember it could be costing you $5 or more in fees each time you cheat.  Do this a few times per week and it will add up.
Plan your day so you can always time your withdrawals by your bank's machines and keep more money in your account.
4. Use the cold as an excuse to stay in.
It is tough to get motivated to go out during the winter, and this isn't a bad thing if you want to save money.
Instead of going out for dinner, make plans to cook at home. Instead of going to the movie theater, see what's on TV.
Each time you stay in, you are saving money over more expensive plans.
Plus, you probably won't hear too many complaints from your friends and family, who also don't want to battle the cold.
If you can follow this advice this winter, you should start seeing a difference in how much you save each month.
Work hard enough and you should have a nice little cushion when things finally warm up in the spring.
Photo source: picc.it