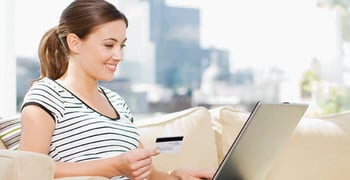 Our popular "How-To" series is for those who seek to improve their subprime credit rating. Our articles follow strict
editorial guidelines
.
Who doesn't love saving money?
You can ask anyone whether they would rather pay full price for something or get a bargain. Guess which they will choose?
Even those fortunate enough to have plenty of money would not pass up the opportunity to save a few dollars. We live in a time when great bargains are as easy to find as turning on a computer.
The Internet offers us opportunities to save money online that were not available even a generation ago. With online shopping, price comparisons, coupon sites, discount sites, auction sites and more, it is easy to save money online.
Since there are so many ways to save money online, I will focus on the most commonly used and most effective ones in this guide. I also will outline some of the top money-saving opportunities and list the best ways you can use them to your advantage.
1. Online coupons
Never pay the retail price. That is the motto of true bargain shoppers. There is almost always a coupon to be found online for what you want to buy.
You can find coupons and print them out, or just send them to your smartphone to use in the store.
2. Discount websites
Numerous sites allow you to shop for discounted and overstocked products. You may be getting last year's model, but if that does not bother you, you can score a great bargain.
3. Price comparison websites
Depending on what you are shopping for, there are dozens of great websites that allow you to compare prices on similar items.
"Many sites will compare

prices on just about anything."
4. Travel websites
If you are planning a vacation, you are in luck. Travel websites offer bargains on anything from cheap airline tickets and cruises, to entire vacation packages.
5. Promotional codes
If you are ordering directly from a retailer's online website, don't forget to search around for promotional codes you can enter when you check out.
Promo codes are intended to reward loyal shoppers and certain groups but can be used by anyone if you can locate one.
6. Local sale listings
Don't forget about websites that list products for sale in local areas. Craigslist is the most famous of these services, but there are others as well.
Also look at sites like Recycler, Oodle and Hoobly for great listings of sales and services near where you live.
7. Referral websites
Do not forget about saving money on services and repairs by finding the best local contractors and repairmen in your area. This can save you time, money and headaches.
8. Do-it-yourself websites
Finally, there may be no better way to save money than by doing it yourself. There are plenty of websites that describe in detail how to do things like common home or car repairs.
Try YouTube or simply type the repair you want to do into Google, followed by the keyword DIY, and you will find plenty of tips.
Saving money online has never been easier. You can actually turn it into a real challenge by seeing just how much you can save on just about everything you buy.
Happy online shopping!
Photo source: womansday.ninemsn.com.au