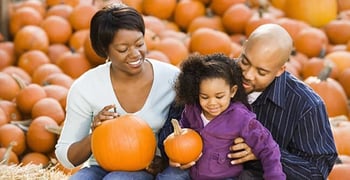 Our popular "How-To" series is for those who seek to improve their subprime credit rating. Our articles follow strict
editorial guidelines
.
When it comes to enjoying fun fall festivities this year, there is no need to spend a bundle. Fall is one of those times of year that lends itself to activities that do not cost a lot.
With a little thought and planning, you can have a family outing for a lot less money than you might imagine. Wherever you happen to live in the country, there are dozens of events, festivals and celebrations of the fall season's bounty.
Do not forget all of the fun things you can do without even leaving home. Here are just a few suggestions:
1. Road trips.
Pile the kids in the car and head out to go apple picking. There is no more iconic fall activity than picking fresh apples from the tree and taking them home to make apple pie.
Or, if you are not in apple country, head out to the local pumpkin patch for a day of inexpensive fun.
The fall colors can be spectacular in certain areas of the country. Pack a picnic lunch and go see all of the majestic beauty nature has to offer. There are many websites that will show you just where the best viewing is for your area.
Fall is also football season, but you do not have to shell out big bucks to watch a professional team play. There are numerous college and even high school teams that can be exciting to watch.
Although some festivals charge admission, many do not. Check your local newspaper or online source for the events and festivities that celebrate autumn in your part of the country. Many harvest festivals have free activities like pumpkin carving and bobbing for apples.
"Head out to a local game

for some frugal fun."
2. Around the house.
Fall can be a great time to enjoy activities around the house. With some imagination and a few inexpensive supplies, you can have hours of fun and create some amazing treats, too.
Bake some pumpkin cookies or an apple pie. Bake and decorate sugar cookies in Halloween or harvest shapes.
Carve your pumpkins for Halloween, and do not forget to roast the pumpkin seeds. You can season them with salt and a little chili powder for an extra flavorful treat.
Make crafts using things from the yard or around the neighborhood. These can be leaves that are pressed between wax paper sheets, pine cones that are decorated, gourds you can paint or any number of Thanksgiving centerpiece creations.
If you have leaves to rake, why not use them to stuff a scarecrow? Get some old clothes, a hat and a broomstick to stand him up on, and then fill the clothes with leaves. It makes a fun yard decoration.
Make caramel apples, caramel popcorn and apple cider to share with friends and neighbors.
As you can see, there are dozens of activities that can keep your family entertained without breaking the bank this year.
Being frugal can sometimes mean using a little extra imagination, but what better way to spend time with your loved ones than by doing activities that are fun and inexpensive?
Photo source: mommynoire.com.