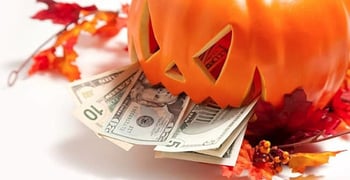 Experts share their tips and advice on BadCredit.org, with the goal of helping subprime consumers. Our articles follow strict
editorial guidelines
.
Halloween has amazing transformative powers, allowing people who struggle financially to morph into rich celebrities and rock stars for just one night.
But on the morning of Nov. 1, reality crashes through the door like a hung-over zombie: unpaid bills, mounting debt and collection agencies.
You can run from bad credit, but you can't hide. This year, put as much thought into fixing your credit score as you do your Halloween costume.
There is no silver bullet to repair your score quickly, but since credit reports are updated every 30 days, there are a lot of little things you can do to get one step ahead.
1. Challenge errors.
Mistakes on credit reports directly impact credit scores. Order a free credit report from annualcreditreports.com to hunt down errors on payments, balances and judgements.
Even a misreported credit limit could impact your score, so report mistakes immediately.
2. Pay bills on time.
Payments make up 35 percent of your credit score and lenders report your information to credit agencies every single month. Pay bills on time between the closing date and the due date to stay one step ahead.
3. Pay down debt.
Paying off debt can be harder than stopping a zombie apocalypse, but it will change your life. Total debt makes up 30 percent of your FICO score, so get credit card balances below 30 percent of your limit for the biggest impact.
"If you start now, you can get

ahead of those financial zombies."
4. Pay revolving accounts.
Credit card debt has a bigger impact on credit scores than installment loans like student debt and car loans. Pay down credit card accounts that are closest to maxing out first.
5. Keep old credit lines.
Fifteen percent of your credit score is based on the length of your credit history. Keep credit cards open and use them occasionally. Older accounts will be given more weight if they are active, but canceling them can lower your score.
6. Ask forgiveness.
A zombie won't listen to your hard luck story, but some lenders will. Many banks are even willing to forgive the occasional late payment, which could boost your credit score.
Pay on time for 12 months in a row and some lenders will even wipe out previous payment problems.
One of the best things you can do to increase your credit score is to pay off debt to collection agencies. It could take several months to impact your credit score, but it will be a huge boost in the long run.
Keep in mind major financial setbacks, like a foreclosure or bankruptcy, will keep your credit score in the basement for years. If you are climbing up from underground, you need to take many small steps and look at the big picture.
The perfect Halloween costume takes time to craft. So does good credit. If you start now, you can get one step ahead of those financial zombies.
Photo source: creditsesame.com.