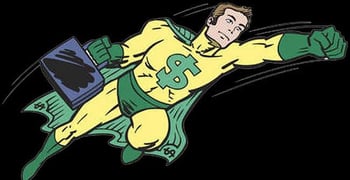 Experts share their tips and advice on BadCredit.org, with the goal of helping subprime consumers. Our articles follow strict
editorial guidelines
.
Are you an avenger of your family's finances? Have you struggled and sacrificed in order to make sure you have a good credit score?
Maybe you have done some super-human juggling of your budget so bills get paid, kids are clothed and food is on the table.
For those of us who have fought the good fight against bad credit and won, here are some fun ideas for how to show off your amazing superpowers this Halloween.
1. Credit Crusader. 
A masked superhero that fights against bad credit scores, negative ratings and over-stretched credit card limits. The great thing about this costume is it can look like anything – although a mask is necessary.
A stenciled logo on the front saying "Credit Crusader" will complete the ensemble.
2. Debt Zombie. 
Show your neighbors what effect bad debt can have on a person. It turns you into a debt zombie!
Dress as you would expect a zombie to look like – ragged and torn clothes, disheveled hair and white face – only instead of blood all over you, stuff credit cards into your pockets. Use as many cards as you can find and have them flowing out of your shirt pocket, front pockets and anywhere that is visible.
Oh, and be sure to moan "debt…need money…too much debt…"
3. Supermom. 
This one is a no-brainer. Supermom wears whatever she wants to, with a big pink "S" on the front of her outfit. A mask might be nice, but it isn't required.
Supermom shouts things like "budgets beware" and "debt buster at your service." Of course, she hands out coupons and financial advice instead of candy.
"Having fun this Halloween can

be creative and educational."
4. Budget Juggler. 
Grab that colorful clown or jester costume and get ready to decorate it with dollar signs. Cut out different sizes of dollar sign symbols and glue them onto the outfit.
Then, whether or not you can actually juggle, grab some colored balls and label them as parts of your budget. Bills, mortgage, car payment, food, savings – you get the idea.
It would be great if you actually could juggle them, so a little practice may be in order.
5. Finance Firefighter. 
A fireman's hat and coat are all that is required for this costume. You will want to dress it up with a badge that indicates you are fighting against high credit card fees and overdue payments.
Do not be afraid to rescue the occasional credit score that got chased up a tree.
Having fun this Halloween can also be creative and educational. When someone asks you about your costume, take the opportunity to share a little financial and credit knowledge.
By spreading the word about building and maintaining good credit, you can be a bad credit badass this Halloween.
Photo source: illustrationsource.com.