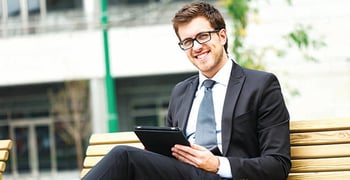 Experts share their tips and advice on BadCredit.org, with the goal of helping subprime consumers. Our articles follow strict
editorial guidelines
.
As any business owner can tell you, the entrepreneurial life is both rewarding and challenging. Building a business and watching it grow can be an incredible feeling.
Entrepreneurs also know there is far less support and very little downtime when compared to a 9 a.m. to 5 p.m. job. Because of this, the holidays can seem especially challenging.
The trick for entrepreneurs is to discover the positive side of what the holiday season means for small businesses – a perspective that can actually benefit your company and your attitude.
That is why I have put together these five tips, designed to help entrepreneurs make the most of the holiday season and help you and your business thrive.
1. Communicate effectively with your clients
Letting your clients and customers know of your holiday schedule far in advance will ensure that you all have the same expectations.
This is also a good time to review what your turn-around time is for projects. Communicating clearly and effectively can help you avoid costly misunderstandings.
2. Set boundaries
Although it may be tempting to meet all of your clients' year-end demands, the fact is this may be an unreasonable request.
Communicate with them in advance about what your schedule will support and what you will – and will not – be able to accomplish.
Do not let them pile on work simply because their projects may be overdue. Learn to set boundaries and it will reduce a lot of stress.
3. Use your time wisely
Chances are you will not be bringing in much money during the holiday slowdown, but that does not mean you can't invest some of your time in building your business.
4. Review and reflect
Be sure to take some time during the holidays to just review and reflect on the past year. Did your business grow as you had expected it to?
Think about both your big accomplishments and your challenges. Are there things you would do differently next year?
5. Plan for the future
The end of the year is the perfect time to develop your plan for the coming year and beyond. Update your business plan with any new information or data you have collected during the year.
Set measurable goals for yourself and your business. Be sure to make your goals realistic and attainable, but do not be afraid to dream big.
Take advantage of the break the holidays provide to rejuvenate both yourself and your business. A successful entrepreneur is one who makes the most of every opportunity.
By using these tips to turn the holidays to your advantage, your business will be off to a great start in the new year.
Looking for more business tips? Check out EGFS' Five Tips for Boosting Your Small Business Credit Score.
Photo source: www.huffingtonpost.com