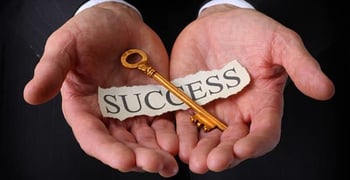 Experts share their tips and advice on BadCredit.org, with the goal of helping subprime consumers. Our articles follow strict
editorial guidelines
.
During a recent interview, the interviewer asked me, "Harv, what is the one key element of success for entrepreneurs?"
He was thinking I was going to say it is who you hire, your team, the support and which marketing technique you use, but I said, "Do you want me to tell you the biggest one?"
He said, "Yes, what is the biggest one?"
I said, "Without this, none of the other stuff could possibly work. By far, the number one key to financial success is who you are."
I've said this before and I'll say it another hundred times. You are the root of your success, happiness and unhappiness. You are the root whether you are a millionaire, a billionaire or broke. It's you.
You can have every single technique in the world, but if you put the best tools in the hands of a bad carpenter, you're going to get a bad job with bad results.
I read hundreds of questions that ask about being successful: "What do I have to do for this and that?" That's a really important question because you've got to get those skills. That's a given.
The issue is we're so focused on that we have a tendency to forget where the real action is. It's the root. It's you.
"The most direct way

to success is you!"
Can you grow yourself in character, virtue and mindset?
Can you control your own mind? Unless you can, the chances of you making a big improvement to your financial life are very slim.
You want the answer. I gave you the answer. It's you. Grow you. Work on you.
You are the software. Remember the computer is like a piece of metal and plastic nothingness with a screen. It does nothing without the operating system and the software.
If you want to make a change as to what you see on the screen, it doesn't matter what the hardware is. It matters what the software is. The thinker determines the results.
Do you think by turning your screen pink or green that all of the outside world is going to make it better? No. If you've got a flaw in the software, it comes up with the same mistake every single time.
Go where the action is, my friends. The most direct way to success is you!
Photo source: fitnesspluscentral.com