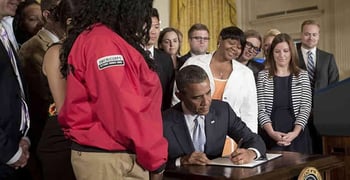 Experts share their tips and advice on BadCredit.org, with the goal of helping subprime consumers. Our articles follow strict
editorial guidelines
.
WASHINGTON, D.C. — U.S. President Barack Obama signed an executive order Monday capping student loan payments at 10 percent of an individual's monthly income. An extension of the "Pay as You Earn" repayment program, individuals also will be able to write off outstanding debts after 20 years of repayment.
"I'm only here because this country gave me a chance through education," Obama said. "We are here today because we believe that in America, no hard-working young person should be priced out of a higher education."
Part of the order stipulates that borrowers began taking out federal loans after October 2007 and continued taking out loans beyond October 2011. However, the new order won't take effect until December 2015.
The order sets the stage for a new Senate bill making the rounds on Capitol Hill that would allow borrowers to refinance their loans based on current lower interest rates. The bill also includes new taxes on the nation's wealthiest residents, making its future in a tax-averse Republican-controlled House unclear.
---
Associated Press contributed to this story.
Photo credit: Pablo Martinez Monsivais/AP