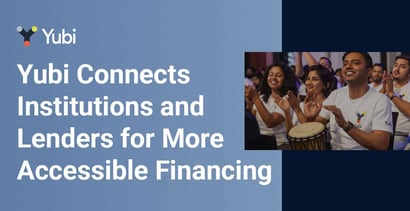 Experts share their tips and advice on BadCredit.org, with the goal of helping subprime consumers. Our articles follow strict
editorial guidelines
.
In a Nutshell: Yubi provides an innovative debt marketplace platform that benefits financial institutions, lenders, and borrowers. Financial institutions can connect with lenders from across India so they can provide more accessible options to businesses looking for debt capital. The platform's technology connects lenders and borrowers to enable an ideal lending solution. Yubi aims to reduce the lengthy processing time it takes to sign loans and plans to create a smarter collections system that boosts collection success rates.
Starting a new company is an exciting time for any entrepreneur. A good businessperson can turn an innovative idea into a company that earns money.
The dream of creating a startup is rapidly growing across the planet. One of the largest growing markets is in India, which has emerged as the third-largest startup ecosystem in the world.
The country features more than 100 unicorns, or startups that are worth more than $1 billion. 2021 saw 44 new entries in India's unicorn club, with several more startups right under the $1 billion evaluation mark.
While coming up with a great idea and a plan to execute may seem easy, the process to reach a startup's end goal typically requires plenty of funding. Without proper funding, even startups with the best ideas can find themselves closing before making any real impact.
Unfortunately, acquiring funding in India is not so simple. With global markets facing losses across the board, investment groups are hesitant to purchase equity in companies as values continue to drop.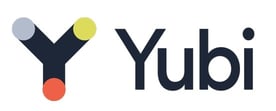 For years, India had no universal method for startups to apply for loans. But the founders of Yubi saw the need for a platform where lenders and financial institutions can provide loans to growing companies.
Yubi facilitates loans between financial institutions and borrowers through a debt marketplace where borrowers and lenders can find an ideal match for their financing needs. The process brings lending into the 21st century with modern technology that was previously reserved for equity markets.
"If we can build the infrastructure where credit underwriting and execution become very easy with integration of documentation, collaboration, and workflow, then this marketplace can revolutionize the way people and financial institutions work," said Sudha Rangarajan, Senior Vice President, Strategy and Capital Raise, Yubi.
Providing Capital Through a Marketplace Platform
Yubi said there are two main problems when it comes to applying for capital in India. There is a loan market that is not very deep, and the process does not leverage existing technology.
The loan application process requires borrowers to call and send emails and data exchanges that slow down the process unnecessarily, keeping businesses from growing and lenders from earning money.
Yubi standardizes the debt market to make raising capital easy. Yubi built the infrastructure for its platform and created the loan marketplace to solve problems businesses and financial institutions face.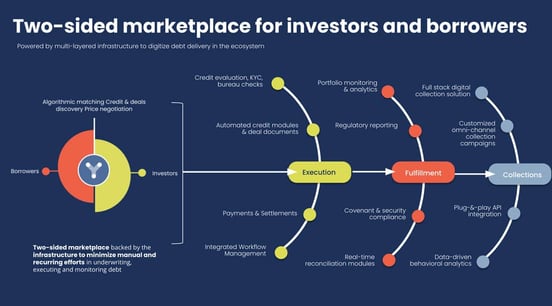 The marketplace supports lenders, financial institutions, and borrowers. The platform helps borrowers find lenders who will give them capital, and Yubi helps lenders vet borrowers so they can feel more secure in their investment.
Not any financial institution can sign up for Yubi's debt marketplace. The company has to invite institutions to the platform to ensure each lender has a customized profile that suits their specific needs.
"We showcase the capabilities of our platform to institutions, get them on board, understand their preferences, and show them deals and names tailored to their preferences," Rangarajan said. "We don't want borrowers to see thousands of companies of varying quality, we are showcasing the information borrowers and lenders want to see."
Aiming to Significantly Reduce Processing Time
Yubi's debt marketplace facilitates loans for amounts as large as $50 million and as low as $2 million. Yubi is looking to go even lower than that in the near future to help more people who don't need as much capital.
The company partners include the State Bank of India, which is the largest balance sheet in India. Yubi leverages its partnerships to provide streamlined processes across its platform.
Co-lending on Yubi's platform, Yubi Co.Lend, brings smaller lenders into partnerships with larger lenders to create joint loans. Smaller lenders have the backing of larger lenders to sign the loans, which also helps larger lenders with a last-mile presence to provide a more local feel with communities.
One of the issues plaguing the debt market in India, however, is the long processing times that keep co-lenders from quickly sending funds. The framework currently has operational complexities that keep customers from receiving their funds.
Co-lender integration currently takes anywhere between three to six months. Yubi Co.Lend integrates the loan processes into its platform so co-lenders can go through the procedure much faster.
Yubi said the integration between co-lenders takes so long because of legal, operations, and security reviews that need to take place between both lenders. Yubi cuts down the timelines so lenders can start signing loans to borrowers who need the funds.
"Co-lending is a best use case of making it easy for people to connect and create joint loans," Rangarajan said. "Co-lending makes it easy for the network to come together to provide the full benefits to all the connected parties."
Yubi: Innovations Can Save Institutions Money
Yubi's ultimate goal is to increase efficiency for lenders and financial institutions to sign loans and make returns on investment. The current process to sign loans is slow and requires staff to physically go out and seek institutions who can help move them through the procedures.
Yubi's platform is fully digital, and the matching system works to connect borrowers, lenders, and financial institutions at scale. Financial institutions will find that customer acquisition and conversions go up because Yubi uses analytics to find the most likely matches to sign a loan.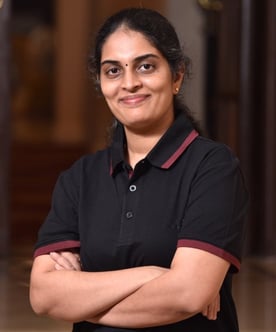 Once lenders show interest in providing funds to a borrower, Yubi provides them with the borrower's private information so the loan application process is faster. Because Yubi invites every financial institution to the platform, each lender has an application format specific to them to streamline the process.
After signing a loan and sending out the funds, Yubi continues to support lenders and financial institutions by monitoring efforts to ensure borrowers pay back their loans. 
Yubi's collections offering, spocto, helps lenders reach out to customers through digital means, which costs a fraction of what other collecting services cost. Yubi hopes to evolve the platform so it becomes a collection intelligence marketplace in the future.
Multiple lenders would be able to access the marketplace and choose the collection agencies with the best success rates. Yubi uses artificial intelligence so its collection platform develops the best methods to receive payment from specific customers based on their information.
"We want to show lenders the best channel to collect for their customer demographic," Rangarajan said. "We look into if calling is better than visiting the customer in person, or if a legal notice is better. We show the best times to reach out based on sleeping or working hours. And we help craft the message that will have the most impact on the lender's customer segment."