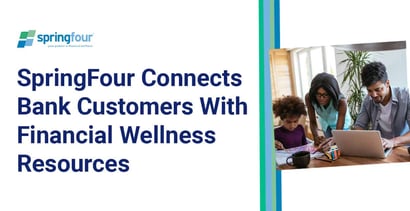 Experts share their tips and advice on BadCredit.org, with the goal of helping subprime consumers. Our articles follow strict
editorial guidelines
.
In a Nutshell: SpringFour helps families navigate financial hardship with compassion and understanding by connecting consumers to trusted local nonprofit and government resources that can help them regain their financial footing. Consumers can access SpringFour's database of nonprofit assistance and government programs through their bank's website. SpringFour's platform also allows bank customer service representatives to suggest assistance programs when customers call in. The company constantly monitors and vets programs on its database to ensure it has the latest information when it comes to helping people find financial resources.
Finding the money to make ends meet can often seem overwhelming for many individuals and families. And taking the first step to address financial hardship may be the hardest part.
A recent study showed that 64 million Americans have debt in collections, demonstrating that many don't know where to turn to when their bills begin to pile up. In addition to significantly dropping credit scores, carrying excessive debt may also keep Americans from pursuing their dreams of buying a home or a car.
Money issues can also be a point of embarrassment for many consumers, often discouraging them from seeking relief. One well-known study showed that nearly 40% of Americans were more embarrassed over their credit card debt than they were about their weight.
Many people struggling with financial issues are unaware of the free resources available that may help put them back on the right track.

That is the problem SpringFour aimed to solve when it launched in 2005. Its founders had experience working in community development and affordable housing and wanted to increase the public's access to nonprofits and financial resources that could better inform their financial decisions.
And the key to SpringFour helping people with their finances starts with the banks that provide their financial products. The company maintains a database of nonprofit organizations and government programs that are available to step in to help with a wide range of issues and challenges.
"We knew that there were a lot of great nonprofits that existed," said Rochelle Gorey, SpringFour's Co-Founder and CEO. "We wanted to figure out how to connect people to those resources and make sure they connect to people whose mission is to help in their time of need."
SpringFour provides consumers with a self-service database of trusted local programs that can help them. Bank customer service representatives can also provide resources.
Each organization and program on SpringFour's database goes through a rigorous vetting process to ensure it provides quality resources. And SpringFour routinely updates its database to ensure information is accurate and resources are available.
Eliminating Stigma of Asking for Help
SpringFour found its calling in the late 2000s when the housing market crashed and foreclosures skyrocketed. Among the causes of the mortgage crisis were the rise in subprime lending and the increase in housing speculation. 
This fed into a broader trend of lowered lending standards and higher-risk mortgage products that contributed to U.S. households becoming increasingly indebted. As adjustable-rate mortgages began to reset at higher interest rates causing higher monthly payments, mortgage delinquencies soared and so did bank foreclosures.
At the time, many people turned to companies preying on those at risk of foreclosure by claiming that they could renegotiate mortgages in exchange for thousands of dollars in fees. Homeowners fell into the traps not knowing that many of those resources were available for free.
SpringFour said its mission is not only to connect consumers to resources, but also to remove the stigma associated with seeking help. A successful approach to achieving that is to  reach out to consumers through their own banks.

"We want to change the way banks deal with delinquent borrowers," Gorey said. "We're finding that people get back on track with their payments if we offer them empathy and assistance. When we address the underlying causes for their delinquency, we empower them to find resources that can help them."
As the pandemic recedes, many Americans need help in boosting their financial health. SpringFour said most people are just a day away from a financial emergency or hardship.
SpringFour's database ensures that there are tools and strategies available to Americans to improve their financial situation. In getting banks to help deliver that message, the company said it can also educate consumers on other bank resources that rebuild credit or offer low interest rates on loans.
Banks do not need to update the database on their own or add more local entities. SpringFour does all of the vetting and updates to the system to make it as seamless as possible for banks.
"We are the experts and we've been doing this for a long time," Gorey said. "Our entire team is rooted in the community, and I'm very proud of that. We have a data team that curates and vets all the resources, checks in with organizations, and our team has experience working in community development, nonprofit, and social service organizations."
Approaching Financial Matters With Compassion
SpringFour's systems are compatible with every type of bank system, no matter how large or small. The company said its platform is scalable with an easy onboarding process for banks.
SpringFour built a contact center solution that walks banks through onboarding, bringing the company's resources to bank portfolios easily and efficiently. The platform allows banks to join the system within 30 days through a digital solution on the cloud that requires no direct integration from the bank.
Every party bears some responsibility when a client defaults on a loan. SpringFour understands that, and believes banks need to help its customers facing financial hardship connect with nonprofits.
Most nationwide institutions can't keep track of every local nonprofit that provides assistance. SpringFour developed the technology that makes it easy for banks to have access to that curated list of nonprofit resources.

"The banks played a role in this, and we believe they needed to be part of this solution," Gorey said. "From day one, we knew this could be big. We wanted to help banks who had these ginormous portfolios."
After a bank signs up with SpringFour's system, the bank and its customer representatives take over to offer assistance to clients who need it. Local banks provide the feeling of community and understanding, and the database of financial resources helps banks bring compassion to collections.
SpringFour's S4direct tool allows customers to find help on their own through a portal on the bank's website. Banks usually put the tool on their website under resources or payment assistance.
The self-service platform is helpful for people who feel embarrassed to reach out for help. Customers can search for resources on their own on the bank's website any time of day.
Offering a Variety of Emergency Resources
SpringFour wants banks to work with clients to make sure they listen to borrowers and understand the problems they are dealing with. The company developed its S4pro tool with customer representatives in mind.
S4pro provides customer service representatives access to all of SpringFour's resources. When customers call in with their concerns, customer representatives can steer them toward the specific resources that can help them.
SpringFour's platform is about helping people with any issue they have. For people who need to pay other bills before paying their loans, bank's can direct customers to resources that provide assistance in those specific areas, including food banks, utility assistance, and more.
Emergencies happen, and SpringFour wants to normalize that hardships can pop up at any time. When people feel embarrassment over their debt situation, they are less likely to seek help.
SpringFour curates the resources on the platform to ensure they are accurate and up to date so they can direct people to organizations in their own neighborhood. 
The company only refers people to nonprofit organizations or government resources that pass the vetting process. If SpringFour sees demand spike for certain resources, the company will research more organizations in that space and add them to the database.
"We have a disaster recovery resource category that ensures we're adding resources when a hurricane devastates an area. One thing we learned is that typical disaster recovery resources come to neighborhoods, but it isn't sometimes until a couple of months after a natural disaster that we see a lot more resources coming online. We make certain to keep track of that and add and take off resources as people need them."
SpringFour does not charge nonprofit organizations to be on the platform, nor does it charge bank customers who use the resources. The company's goal is to be a neutral, trusted source for information.
If an organization temporarily runs out of resources or shuts down, SpringFour updates the platform to show other options. For now, the company is looking to continue to enhance its current product offering and looking for opportunities to further help people.