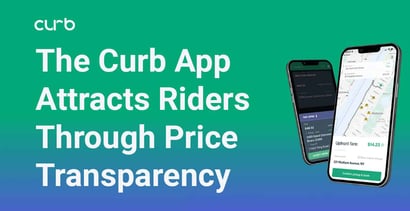 Experts share their tips and advice on BadCredit.org, with the goal of helping subprime consumers. Our articles follow strict
editorial guidelines
.
In a Nutshell: It's no secret that popular ridesharing apps have reduced the demand for traditional taxi services. But those services have downsides, including a lack of availability during peak demand and higher prices. The Curb app unifies taxi fleets to create a more consumer- and driver-friendly ride-hailing experience in more than 65 American cities and counting. With Curb, riders enjoy the convenience of an app but can save money consistently with lower fares even when demand is highest.
When ridesharing services Uber and Lyft first entered the market, they seemed to solve many problems associated with the traditional taxi industry. They made finding a ride easier by allowing drivers to set their hours and enabling riders to pay conveniently through a mobile app.
At first, the differences seemed to create a lasting advantage for the rideshare industry because local transit regulators govern taxi company owners and fleets. They set licensing standards for drivers, establish maximum fares, mandate vehicle makes and identification badges, and limit the number of taxis on the road to reduce congestion.
In contrast, ridesharing services treat drivers as freelancers who own their vehicles, and as long as they pass minimum standards, they're free to compete individually for fares.


But consumers have discovered that ridesharing isn't perfect. At peak usage times, availability plummets and fares skyrocket because prices aren't regulated. Inexperienced, part-time drivers come and go, relying on GPS without learning the best routes through the city. And many customers have realized that ridesharing services reduce service quality by compromising on professionalism and predictability.
Those realities led Curb to develop an app that aimed to reclaim a significant share of the ridesharing business on behalf of the taxi industry. Curb services are available in more than 65 US cities, and the app fixes traditional problems around hailing and paying for cabs by building on rideshare innovations. 
But because it's an app for taxis, prices can't go any higher than the rules allow.
"What riders like most about us are transparency and price consistency," said Curb VP and Head of Mobile Jason Gross. "You can have some of the benefits of rideshare, but you don't have to give up some of the consumer and driver protection standards of taxis."
A Rideshare App Designed for Taxis
In many large urban markets, ridesharing quickly appropriated most of the consumer base traditional ride-hailing taxis once claimed. Seemingly overnight, a generation of consumers began using ridesharing services without understanding how they differed from taxi services.
As demand for taxis dwindled, taxi companies looked to Curb to help them offer services that were competitive with consumer expectations. Because of Uber and Lyft, consumers rightfully expect to connect with a driver quickly and know their ride is approaching.
They also expect to know how much they'll pay. Curb does it by combining drivers from multiple fleets under one app. And because of its intermediary status between regulators and fleet operators, it demonstrated to both sides how to do upfront pricing that is transparent to the driver and the rider.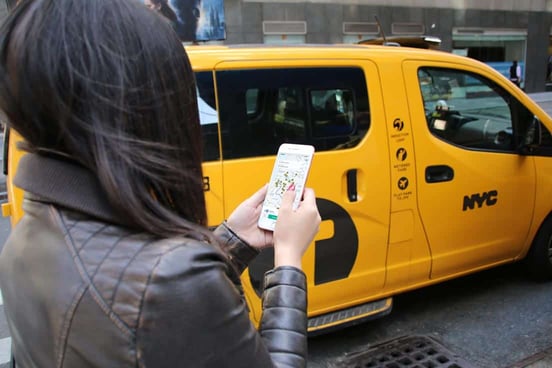 "We needed to band together," Gross said. "Instead of having 10 companies and 10 phone numbers, we needed to get organized, so the closest available taxi gets dispatched to the rider regardless of which fleet it belongs to."
At the end of a traditional, old-school taxi ride, the rider has to punch a screen, enter a tip, swipe a card, and wait for a receipt to print. While the entire process may take as little as a couple of minutes, that time seems like an eternity compared to the rideshare experience.
With Curb, it's different. The rider punches a code, and the app knows what card to use, how much the rider wants to tip, and where to send the receipt. Drivers are happy because they're immediately available to take their next fare. And riders are delighted.
"You just want to get out," Gross said. "At the end of a ride, who wants to sit for another few minutes to process a payment?"
Drivers Licensed Through Local City Transit Regulators
Curb benefits drivers while preserving their status as professionals providing a higher level of service than that offered by ridesharing services.
Drivers still work for the companies that hired them. But when they use the Curb app, they operate as if they were on a rideshare service, setting their hours and tracking their earnings in real-time.
But they also enjoy the rights and privileges of licensing and working within the traditional regulatory environment. In some large urban taxi markets, Curb adoption rates are through the roof.
"We have about two-thirds of the drivers in New York, about 90% of the drivers in Chicago, and 100% of the drivers in Philadelphia and New Orleans," Gross said. "Sometimes taxis and fleets want to get on the platform faster than we can handle them."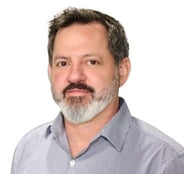 Curb creates positive benefits in the industry, particularly where taxi businesses function effectively as part of the public transportation infrastructure. The companies are private businesses, but they're heavily regulated. In those markets, taxis are icons that help differentiate the city and give it an identity.
At the same time, the fleets own the vehicles, not the drivers. Curb installs equipment regulators require for the fleets to operate compliantly. And when licensed drivers hop into a vehicle with Curb equipment, they're Curb drivers once they log on.
Curb then offers a trip to the driver for a trip, telling them the pickup point, the dropoff point, and the price they're going to be paid for the ride. If the driver accepts the ride, they know what they're getting into.
"And because they're taxi drivers, regulated and licensed by the city, we don't score them down if they don't accept a job," Gross said. "The service quality riders receive has increased in taxis while it's simultaneously decreased in rideshare."
Curb: Bringing Tech Innovation to the Industry
Riders get the same transparency benefits, including the upfront fare and all mandated taxes and surcharges. Ironically, there are no surprises except that the controls around what the taxi industry can charge have brought additional consumer benefits.
From the consumer's point of view, the rideshare industry is like the Wild West, where supply and demand govern availability and pricing. That worked well during rideshare's initial growth phase when it took market share away from taxis.
But the onset of the COVID-19 pandemic in 2020 created rideshare driver shortages, and in big urban markets where rideshare had taken hold, pricing and wait times increased beyond what the taxis could charge. Suddenly, the taxis had an advantage that led to widespread consumer adoption of Curb in those markets.
The bottom line for riders is that Curb provides a viable alternative in the form of a professionally licensed, regulated, insured taxi driver in an identifiable vehicle. Curb drivers make a living, not a second income, with their services.
And now, riders receive an upfront price that, in many cases, turns out to be far less than the price of a rideshare trip.
Riders choose Curb as transportation at the end of the workday and to ferry them around after hours. Curb is winning because it can offer more predictable, lower pricing than the rideshare apps.
And Curb continues to innovate, introducing QR coding for easier booking and multiple profiles within the app so riders can separate personal and work expenses. The future is bright for a leading-edge app designed to expand a traditional industry into new markets.
"We're reducing barriers," Gross said. "We want to make it as easy as possible for people to choose taxis as their form of transportation."