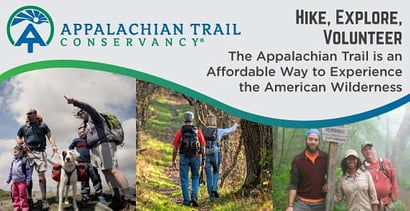 In a Nutshell: Since 1925, the Appalachian Trail Conservancy, its partner organizations, and hordes of enthusiastic volunteers have helped hikers enjoy an unparalleled experience of the diverse wilderness in the eastern US. Extending over 2,000 miles along the Eastern seaboard, the Appalachian Trail presents an opportunity to take an exciting, personal journey through nature and to reflect on one's own path in life. Preparation is crucial for anyone setting out on the trail, whether for a weekend walk or for a trek along its entire length; but any hiker willing to take on the trail's challenges will be rewarded with a unique, fulfilling, and affordable adventure.
Around 1950, while reading National Geographic Magazine, Emma Rowena Gatewood discovered the Appalachian Trail.
Gatewood was no stranger to walks in the woods; a former victim of domestic abuse, Gatewood often retreated into nature to find respite from worldly troubles. In 1955, at the age of 67, Gatewood decided to hike the entire Appalachian Trail. Her trek received national attention from the Associated Press and Sports Illustrated, making her an icon of extreme and ultra-light hiking. Gatewood made the journey again in 1957 and traversed another section of the trail in 1964.
Grandma Gatewood (as she was known on the trail) passed away in 1973, and she left behind a legacy of love for the Appalachian Trail. The trail's nearly 2,200-mile span attracts over 3 million hikers each year, more than 1,000 of whom are thru-hikers like Gatewood: they start at one end of the trail, in Georgia or Maine, and trek to the other end. Many other others prefer to take what is known as a "flip flop," where they tackle the trail in non-sequential order.
"We do have the people who do all 2,190 miles, and then we have some people who go out and walk around for the afternoon," said Jordan Bowman, Public Relations and Social Media Manager for the Appalachian Trail Conservancy (ATC). "They have an incredibly fulfilling experience, as well."
For nearly a century, the ATC has spearheaded the trail's upkeep. The vision for the trail started in 1921 with the article "An Appalachian Trail: A Project in Regional Planning" by Benton MacKaye, a forester who wrote his original plan for the trail after his wife died in 1921. MacKaye's article was published in the Journal of the American Institute of Architects and quickly gained support.
"By 1925, the Appalachian Trail Conference (the name was amended to Appalachian Trail Conversancy in 2005, when the organization shifted focus to preservation) was created," Bowman said. "And since then, we've been charged with building, maintaining, and protecting the AT pathway from there."


Fortunately, the ATC doesn't shoulder this task alone. "We work with 31 trail-maintaining clubs that go all the way up the Eastern seaboard," Bowman said.
These groups help keep the trails clear of obstructions, preserve the natural setting, and maintain the shelters along the route. "Beyond that, as a conservancy, we also make sure that we are advocating for greater trail protection," he said.
Thanks to these efforts, the Appalachian Trail is open to anyone who wants to spend a weekend (or more) enjoying nature and exploring the American wilderness. The trail passes near some of the nation's largest cities — including Atlanta, Washington, DC, and Baltimore — making it easily accessible to a large number of US residents.
If you live on the Eastern seaboard and have a pair of sturdy hiking shoes, you could be mere hours away from your own Appalachian Trail adventure.
Ample Access to Adventure
If you don't feel like starting in Georgia or Maine, several hundred other entry points are available to start hiking the Appalachian Trail.
"I think, on average, there's an access point every five miles or so," Bowman said. "That obviously varies based on where you are. But there are tons of access points where people can get on."
You may not even have to go far out of your way since the trail passes through several towns.
"A great example of that is Damascus, Virginia. The AT goes right up Main Street, and you'll see businesses that are built up around that," Bowman said. "There are outfitters, hostels where people can stay for cheap, and a lot of outdoor-oriented businesses that are catering to that community — not to mention good restaurants. That's something people definitely come to value after being in the woods for a few days."
Hiking the Appalachian Trail also gives visitors the opportunity to experience other national parks. "The AT goes right through the middle of the Great Smoky Mountains National Park and Shenandoah National Park," Bowman said. "Those are always very popular, and there's a decent number of access to points where they can get on and off if they need to."
Numerous other parks dot the trail's path; you can see them all on the ATC's interactive map. All along the trail, hikers are treated to the breathtaking natural scenery. One such locale is the Roan Highlands of Tennessee.
"Just getting up above the treeline, you can see for dozens and dozens of miles. It's a very beautiful spot," Bowman said. "My personal favorite is in the Maine territory — just thick evergreen woods for miles and miles. Those parts can get a little bit more isolated, just because there are fewer roads up there. But, if you can get there, it's absolutely worth a trip."
Aspiring hikers should be aware that the trail's terrain can vary drastically from place to place. "Some sections are certainly harder than others," Bowman said. "One place that comes to mind is the White Mountains in New Hampshire."
But according to Bowman, if a hiker can handle the first 30 miles of the trail through the North Georgia Mountains, they'll be able to traverse the whole thing. "There are sections that are rough and rugged, but as long as you're not trying to run through them, usually you can overcome that challenge," he said.
Anyone who accepts that challenge will enjoy a continuous but diverse experience of the American wilderness. "We're one of the very few national parks and other parks around the world that travels through several entire regions," Bowman said. "The areas in Georgia are much different than they are in Maine."
Thanks to its exceptional length, the Appalachian Trail offers a unique experience of North American nature. And, while this is the main draw for many hikers, they quickly discover that the trail offers a rich, internal adventure, as well.
A Chance to Escape the Everyday World
In 2014, Bowman thru-hiked the Appalachian Trail after retiring from teaching. He said many hikers are like him: They come to the trail as a way of working through major life transitions.
"Either they've retired, or they've just graduated, or they're in between jobs," he said. "And this is a way of transitioning to that next stage of their life. That's a very common theme."
Alongside the experience of nature, the trail also provides the opportunity for self-reflection. "There's going to be other people out there, but while you're hiking and no one's talking because they're out of breath, you're there with your thoughts," Bowman said. "There's a lot of time for introspection and reflecting on who you are and where you're going next — literally and metaphorically."
To facilitate this experience, many hikers adopt a trail name. "Everyone who wants one usually gets one. It's kind of a tradition with thru-hikers that you abandon your real-world name and adopt a trail name," said Bowman, whose trail name is Yo Teach. "I was an English teacher. Apparently, I had a tendency to lecture when I was hiking. That one stuck pretty quickly."
Even if you're not a thru-hiker, you can still take a trail name, either by choosing your own or letting other hikers find one that fits you. Either way, picking a trail name enhances the hiking experience. "It's that separation of your real life from your trail life — a little bit of a romantic vision, but a unique one."
Volunteerism Keeps the Trail Free and Open
By maintaining the trail and facilities, the ATC works to preserve this unique trail culture and experience — but they can't do it on their own.
"We work with our membership to make sure we are getting that valuable funding we need to make sure we're actually able to pay for the maintenance of the trail," Bowman said. His work, and the ATC's, is possible thanks to the support of some 600,000 people from all 50 states, as well as 15 countries around the world.
Of course, not everyone who wants to support the ATC is able to make a monetary donation, but the organization and its partners always welcome volunteers. These groups make monthly trips — especially in the spring, summer, and fall — to maintain the trail, pick up litter, clear fallen trees, and survey sections of the trail. Bowman told us the ATC has approximately 6,500 volunteers per year.
Watch on
"We couldn't do it without our volunteers," Bowman said. "They're really what the AT was founded on. It started construction in 1925 — a little bit earlier than that in some sections — but it was all volunteer effort."
Joining one of these volunteer crews is a great opportunity to see the trail and support the ATC's mission.
"They're always looking for the extra help. It's a great opportunity both to give back to the AT and also to get outside and be with people who are like-minded and enjoy hiking," Bowman said. "We have the best community out there. You will rarely find a more devoted person than an AT fan — someone who has fallen in love with this trail."
Planning Ahead Helps You Get More Out of Your Trek
Before setting out on the Appalachian Trail, Bowman encourages hikers to do their research. To this end, the ATC offers a comprehensive hiking primer on its website.
"If you go in prepared and knowing what to expect, the chances of you having a happy experience is much, much higher," he said. "The more preparation you can do, the better."
The ATC website has a library of resources to help ambitious hikers prepare. Bowman also recommends The Appalachian Trail Thru-Hikers' Companion, which is useful to any hiker regardless of how much of the trail they plan to cover.
"Know what you're going into," he said. "I always tell everyone, 'It's not going to be a Disney movie so set your expectations appropriately.'"
Bowman also reminds hikers of the ATC's Leave No Trace policy: take nothing from the trail and leave nothing behind. Abiding by these guidelines, hikers can help the ATC keep the trail healthy and beautiful. The hiker coming along right behind you certainly will thank you — and so will all the others who will be coming down the trail for many years to come.
Advertiser Disclosure
BadCredit.org is a free online resource that offers valuable content and comparison services to users. To keep this resource 100% free for users, we receive advertising compensation from the financial products listed on this page. Along with key review factors, this compensation may impact how and where products appear on the page (including, for example, the order in which they appear). BadCredit.org does not include listings for all financial products.
Our Editorial Review Policy
Our site is committed to publishing independent, accurate content guided by strict editorial guidelines. Before articles and reviews are published on our site, they undergo a thorough review process performed by a team of independent editors and subject-matter experts to ensure the content's accuracy, timeliness, and impartiality. Our editorial team is separate and independent of our site's advertisers, and the opinions they express on our site are their own. To read more about our team members and their editorial backgrounds, please visit our site's About page.