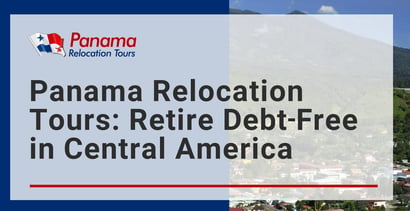 In a Nutshell: When people think of retiring and moving somewhere warm and sunny, they may not think of Panama first. However, Panama Relocation Tours is changing that by showcasing the country's social, natural, and economic value. Multiple visa options allow for a cost-effective, fast relocation to the country which has a strong, stable economy and a low cost of living for expatriates. While the culture and daily living may be different, locals welcome newcomers, making it easy for them to adapt and settle in.
Jackie Lange and her husband lived in Texas in 2008. That year, the state experienced 100 straight days of temperatures above 100 degrees Fahrenheit — even at night. That made Lange decide it was time for a change, so she researched, shopped around, and visited a few attractive locales. Today, she lives full time in Panama, and she's not the only one who's made the move.
"A lot of people are discovering the subtle paradise down here," said Lange, Founder of Panama Relocation Tours, an organization that highlights people the benefits of moving to the Central American country.

Panama Relocation Tours started as a one-time tour for real estate investor friends who were intrigued by Lange's decision to move to Central America. Soon after, she started getting calls from other people who had heard about the informal tour.
"They said, 'When's your next tour?' or they said, 'The guy I work with went on your Panama trip. When are you going to do another one? I want to go the next time,'" Lange said. "I had no plans to move here and start a trip business, but it just happened that people were interested, and I have a passion for Panama now that I love to share."
And there's a lot about Panama that inspires passion. The nation boasts a stable economic environment with affordable living costs and even tax exemption for foreign workers.
That makes it easier for the people who move there to avoid debt and save money.
It also offers opportunities to live on — or near — the beach, in the mountains, near vibrant urban areas, or in rural towns. Panama has scenery and a pace of life to suit every taste. And with Panama Relocation Tours, people exploring the possibility of relocating there also have a local expert who can walk them through every step of the process.
Affordable Visas Help With Residence and Discounts
Panama offers emigrants several types visas that will allow them to live indefinitely in the country.
A popular one is the Pensionado Visa, a permanent residency visa also known as the retiree visa. To qualify, people must prove they have $1,000 or more per month in lifetime income, such as from Social Security or a pension. It also offers discounts on products and services. It saves visa holders 25% off airfare to anywhere in the world, making it easy to visit home or take a vacation. They also receive 25% off their electric bill, and 20% off trips to restaurants and movie theaters.
All of those perks allow emigrants to get more out of life without accruing debt in the process.
Watch on
"My whole tour focuses on educating people about relocating here and the things they need to know," Lange said. "How to buy a car, where to buy health insurance, and how to get your fur baby into the country in the easy way. The whole emphasis is showing what it's like to live here and what they need to do to have the smoothest and easiest transition to moving here."
Another residency visa option is Panama's Friendly Nations Visa, which is for people who are not retired and/or cannot prove a lifetime income from Social Security or a pension. This visa allows the holder to get a work permit to be legally able to sell products or provide a service in Panama. The applicant is required to make a bank deposit of $5,000, with an additional $2,000 for each additional dependent.
Panama Relocation Tours attorneys charge between $1,700 and $2,600 for a Friendly Nations Visa. Applicants also need to set up a corporation — for a $1,400 additional fee — if they don't own property in Panama. This still makes it equally easy to keep more monthly income and avoid debt.
"You still get all the discounts, and you get your permanent visa, usually, in a couple of months," Lange said. "So it's really fast and easy to get a visa."
Economic Conditions Facilitate a High Quality of Life
"One of the important things to take into consideration is the stability of the economy and the government," Lange said. "Panama shoots right to the top of the list whenever it comes to that, especially after the COVID-19 pandemic. Panama's doing great, and so many other countries are having severe financial problems."
In addition to the nation's economic stability, emigrants won't have to deal with an international currency conversion rate. Panama uses the U.S. dollar alongside coins called Balboas, and the value of both can go a lot further, depending on where you live.
No matter where people live, though, costs are fixed based on average Panamanian income of about $24,000 per year.
"If you live in Panama City or if you live right around the Coronado area, it's quite expensive there. I would say it's comparable to Dallas, where I moved from," Lange said. "But if you live in other locations, the cost will be significantly less. For example, someone from my tour just rented a two-bedroom, two-bathroom house on the ocean just outside Las Tablas for $650 a month. And it's furnished with all utilities included, with a swimming pool on the beach. Try getting that one anywhere."
Other costs, including food and healthcare, are also cheaper. Health insurance, for example, costs about $100 a month for someone age 60 to 70 and significantly less for younger people. People may opt to forego coverage since a doctor's visit costs around $15 with no insurance.
Even luxuries like manicures and pedicures run only $20. Lower costs like these make it easy to pay bills, live well, and enjoy luxury without worrying about debt. And the climate makes energy costs cheaper.
"I live in the mountains, where I don't even have an air conditioner or a heater, and I don't need one," Lange said. "Daytime temperatures are right around 75, maybe a high of 80, and it never gets below 65 at night. The big plus of that is that my electric bill is rarely over $25 a month."
Panama's foreign-earned income tax exclusion also makes it an ideal location for remote workers and freelancers. The first $107,600 of income is tax-free, so anyone earning less than that annually won't owe any taxes to the U.S. or Panamanian governments.
People can keep more of their earnings, pay less in living expenses, and avoid harmful debt while doing so.
Friendly Culture and Low Language Barrier Ease Transitions
Daily living in Panama may take some getting used to. People are less rushed than they are in the United States, and they prioritize socializing above other things.
"Things are done differently in Panama, and at different times," Lange said. "If you go to the grocery store, you're probably going to see five people you know. Take time to visit with them, and if you have to stand in line, visit with the people around you. Even if they're Panamanian and you don't know them, just ask them how they're doing. Start up a little conversation."
Depending on people's proficiency in Spanish and the place where they choose to settle, that conversation may be more or less easy to strike up. Some emigrants may not speak Spanish or have trouble learning new languages. But that won't be a problem if they move to the right place.
"They start teaching English in schools here in Kindergarten, so a very high percentage of the population already speaks English," Lange said. "But with just a few words and a big smile, you can get by just fine without knowing Spanish because so many people do speak English."
That is especially true in large urban areas that attract more expatriates and international visitors. In rural, out-of-the-way towns, the language barrier may be higher, but even that won't stop people from making friends and quickly settling in.
"If you move into the neighborhood, people are going to be bringing you some blueberry muffins and a cake, and they're going to invite you over to the birthday party that weekend even though you're brand-new and you might not speak a word of Spanish," Lange said. "They're going to welcome you with open arms."
Panama Relocation Tours: On-Site and Virtual Visits Help Emigrants Find Their Forever Homes
Lange offers three tours per month for prospective emigrants. Due to the popularity of Panama and the demand for her expertise, tours are booked solid until June 2022.
In the meantime, anyone interested in moving to Panama can take a virtual tour. Virtual tours are a good option for anyone on a fixed budget or schedule. While they are conducted online, they offer all the same information. People can also book private, specialized tours.
"Some people know they don't want to live at the beach, so I do private tours where I just show mountains," Lange said. "Or they know they want to be by the beach, so we only do the beach."
Whether someone leans toward the mountains or the beach, a rural town or an urban center, they should do their research. There's a lot to discover about locations, work opportunities, and especially the climate.
"There's not a hot or a cold part of the year," Lange said. "But we do have two different seasons. There's the dry season and the rainy season. In our rainy season, we can get a lot of rain, especially in October. And then in the dry season, which we're in right now, is much more windy."
Lange and her team have a combined 65 years of experience showing people who are considering relocating to Panama everything the move entails. Panama Relocation Tours teaches prospective emigrants what they need to know about life there and helps them make an informed decision.
"We still offer handholding before, during, and after they move here, too," Lange said. "So they have that reassurance."
Advertiser Disclosure
BadCredit.org is a free online resource that offers valuable content and comparison services to users. To keep this resource 100% free for users, we receive advertising compensation from the financial products listed on this page. Along with key review factors, this compensation may impact how and where products appear on the page (including, for example, the order in which they appear). BadCredit.org does not include listings for all financial products.
Our Editorial Review Policy
Our site is committed to publishing independent, accurate content guided by strict editorial guidelines. Before articles and reviews are published on our site, they undergo a thorough review process performed by a team of independent editors and subject-matter experts to ensure the content's accuracy, timeliness, and impartiality. Our editorial team is separate and independent of our site's advertisers, and the opinions they express on our site are their own. To read more about our team members and their editorial backgrounds, please visit our site's About page.