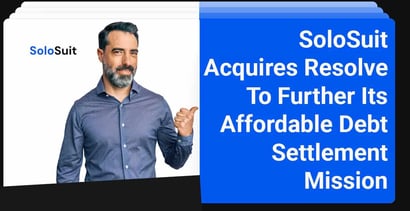 Experts share their tips and advice on BadCredit.org, with the goal of helping subprime consumers. Our articles follow strict
editorial guidelines
.
In a Nutshell: Most consumers are unprepared to handle the complexities of a debt lawsuit within the 14-30 days usually offered. Since 2018, SoloSuit has helped thousands promptly answer debt lawsuit complaints to avoid automatically losing by default judgment. But the company hasn't rested on its laurels. Through SoloSettle, SoloSuit provides an automated solution to save while settling with debt collectors. And by recently acquiring the Resolve financial education platform, SoloSuit rounds out its product offering with content on debt resolution. SoloSuit empowers people struggling with debt to solve their problems and forge a brighter future.
America is a litigious society, so it may surprise some that debt lawsuits are the nation's largest civil case category, according to a 2020 study by The Pew Charitable Trusts. While some people fall into unmanageable debt through misspending, many living from paycheck to paycheck suffer sudden financial setbacks that lead to a debt spiral and legal action.
Card companies and other lenders may have the law on their side in dealing with customers who can't pay back what they owe. They also have legal resources ready to extract every penny from debt holders in financial trouble, no matter the consequences.
On the other hand, most consumers don't know how to answer a debt collection complaint and have few legal resources to fight back. Since 2018, SoloSuit has helped more than 167,000 respond to debt lawsuits to prevent paying unnecessarily. A SoloSuit response may even lead to dismissal because many debt collectors drop the case after receiving a reply.

With SoloSettle, SoloSuit extends its coverage through an automated tool to settle cases that move forward. SoloSettle makes an offer to begin negotiation and automatically arranges payment when the consumer and debt collector agree to an amount.
However, SoloSuit realized it also needed to empower consumers proactively to prevent debt spirals and legal action from occurring. It acquired the Resolve financial education platform in 2023 to give consumers tools to improve their financial standing, consolidate or pay down debt, and understand the debt collection process.
"Resolve's mission is to provide affordable solutions to people trying to manage and get out of debt," said SoloSuit's Co-Founder and CEO, George Simons. "It's a great website with lots of content for people looking to move forward."
Resolve Acquisition Guides Consumers To Financial Health
As of summer 2023, Americans now hold more than $1 trillion in credit card debt, according to the Federal Reserve Bank of New York. That's a small fraction of total household debt, which the Fed pegged at $19.9 trillion at the end of 2022.

Given those big numbers, common sense says that some of it will inevitably go bad. Simons said SoloSuit has found that most Americans want to pay the debts they owe, which accounts for the company's favorable marketplace reception.
"If they feel they legitimately owe part of the debt, they want to settle it," Simons said. "But sometimes there's a disconnect between the collector and the consumer."
Enter Resolve, SoloSuit's effort to provide greater consumer financial insight through education. With the Resolve website proclaiming debt is stressful, the aim is to cut through the clutter and give well-organized, unbiased information on various debt topics.

A Debt 101 learning portal carries readers through debt analysis, bankruptcy, budgeting, improving credit scores, and paying down debt, among many other topics. The section on bankruptcy tackles sensitive issues around when it works to the consumer's financial advantage to declare financial hardship, and the section on improving credit scores explains how the numbers work and presents step-by-step guidelines for moving them upward.
Meanwhile, the home page presents similar information in a topically organized fashion, making helpful information accessible for readers with different research styles. Resolve covers all the bases to help consumers locate the information they need whether it's credit scores, budgeting, boosting income, debt management, or negotiating with creditors.
That makes Resolve an ideal first step to reduce debt burden or eliminate the need to protect against legal action.
"We're carrying on the mission of Resolve to help people affordably settle their debts," Simons said.
SoloSettle Automates Debt Collection Settlements
In most situations where a consumer legitimately owes an outstanding debt, the best scenario is to settle, and that's where SoloSettle comes to the fore. Obtaining a quick resolution stops the stress-causing debt collection process, and because debts settle for 71% on average, there's room to come out ahead.
"We see it as leveling the playing field for people," Simons said. "Big banks are some of the world's largest and most powerful corporations. Going up against a large corporation alone creates a huge power asymmetry."
It's also simple to use. After the consumer receives notification of a lawsuit and uses SoloSuit to file a response, it's time to use SoloSettle to make an offer to begin negotiation. The platform uses an automated negotiation methodology until the lender and the consumer reach an agreement. Many save thousands in addition to finding relief from debt collectors.

Simons said SoloSettle is free to use until the settlement occurs. Then, the consumer pays a 19% commission on the total debt. The arithmetic works in the consumer's favor.
Simon said a recent example illustrates the power of the platform. A consumer who experienced financial fallout from the COVID-19 pandemic was the defendant in a lawsuit for $26,000 in outstanding credit card debt. She used SoloSuit to respond to the lawsuit and SoloSettle to negotiate a settlement.
She ended up settling for $6,000. After paying the SoloSettle commission, she ended up saving about $15,000.
The secret is that SoloSettle offers a highly competent presence in debt negotiation, one that would be hard for most average consumers to match on their own.
"We're bringing the parties together and establishing ourselves as a trusted mediator between both," Simons said.
Empowering Consumers to Navigate Debt Disputes
The result is a solution ecosystem — from Resolve through SoloSuit and SoloSettle — that can prevent financially struggling consumers from getting in even further over their heads.
It's important because when a lender sues for debt, the costs often balloon over the course of the lawsuit. It's not uncommon for the SoloSuit team to see a debt of $1,000 balloon to $2,000-3,000 after the judgment. That's not the end of it by any means — the cost of the lawsuit and the debt can increase dramatically even after the decision.

The system can produce meaningful gains by eliminating some or all of that ballooning effect. For example, post-judgment or statutory interest can add up to 10% or more to the final settlement amount. The result can be dramatic on a card debt with 22% interest.
Plaintiff's attorney's fees also increase the cost of the original debt. Some states don't limit how much attorneys can charge.
"Usually, attorney's fees need to be 'reasonable,' but we see some pretty hefty amounts," Simons said. "It's not uncommon for us to see figures up to $1,000."
When consumers lose a debt lawsuit, they may also see their wages garnished. With the federal limit on wage garnishment at 25%, it can result in an additional significant expense. In some situations, a 25% garnishment doesn't cover the interest growth on the debt, which sets people up for permanent garnishment.
Counterintuitively, debt lawsuits dropped during the pandemic as consumers used stimulus funds, student loan deferments, and rent moratoriums to pay down debt. With those protections in the past, Simons foresees a lawsuit uptick. For folks facing financial stress and the possibility of a debt collection episode, there's never been a better time to consult Resolve, SoloSuit, and SoloSettle to gain peace of mind.
"We're ready to help," Simons said.