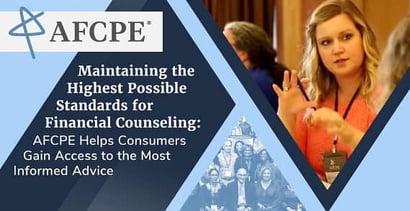 In a Nutshell: It's natural — and sometimes necessary — to seek advice when it comes to your personal finances. But it can be difficult to know who to turn to for expert guidance. There is a common misconception that financial advisors, counselors, and coaches are resources typically reserved for the wealthy, but that just isn't the case. Upholding high-quality service in the industry, the nonprofit Association for Financial Counseling and Planning Education (AFCPE) sets the standards by which financial professionals are held to ensure money experts are giving everyone — not just the rich — the sound advice they need to find long-term financial health.
With an abundance of online information at your fingertips, it's now easier than ever to educate yourself. Whether you're looking for a rental car or a new dentist, you can now independently arm yourself with knowledge before you ever spend a dime.
But when it comes to personal finance, things get a little trickier. Topics, like interest rates and investment strategies, can be difficult to dissect and understand, no matter how much independent research you do. When you need professional financial advice, you can always turn to a financial professional for help. Most people automatically assume that these financial experts are only available for the wealthy, but that's not the case. In fact, people in financial trouble often need professional help more than anyone.
The nonprofit Association for Financial Counseling and Planning Education (AFCPE) sets the guidelines by which all financial counselors, coaches, and educators are held. AFCPE makes it possible for people from every economic background to access quality financial advice.
We recently spoke with Rebecca Wiggins, Executive Director of AFCPE, who told us the organization's mission. "Our belief is that all people deserve that highest level of professionalism when it comes to their financial health, not just what you expect for the wealthy," Wiggins said. "We're bringing that same sense of high standards to the areas of financial counseling, financial coaching, and financial education."
The high quality and accountability that AFCPE requires of its certified financial professionals give consumers an added sense of security. Unethical financial advisors prey on anyone, regardless of how much is in their bank accounts. And, more often than not, the victims are the elderly or poorly informed.
Financial professionals certified by AFCPE are held to the highest professional standards. As we'll explain below, the AFC mark is something every consumer should look for and insist upon when they seek out professional financial advice.
Why Consumers Should Insist Financial Advisors Hold and Maintain Proper Accreditation
Most professionals working in the financial advice industry want to help folks save, invest, budget, and so on. Unfortunately, there are more than a fair share of bad actors looking to take advantage of consumers.
High-profile cases, like the Bernie Madoff Ponzi scheme, the largest financial fraud in US history, is estimated to have embezzled a whopping $64.8 billion in client assets. To be clear, Madoff was conducting a scheme involving mostly wealthy investors, not everyday folks looking for sound advice. But, as we've mentioned, no one is safe from predatory advisors.
Experts agree the industry has a subset of firms that prey on customers, primarily the elderly and uninformed. Some of the most common scams involve a misrepresentation of credentials or promising higher than market returns on investments of many kinds.
These are cases in which an individual blatantly lies about his or her qualifications or experience and deliberately offers false information, gaining the trust of consumers before walking away with their money. That's why requesting proof of a financial advisor's credentials is so important.
When shopping for a financial advisor, Wiggins suggests "consumers find out where [an advisor] got their certification. And what did it require? Is it just a certificate? Did they go through a one-time workshop, or is it a certification that has oversight and disciplinary structures and continuing education mandates? That's what we do as an organization — make sure that all of our professionals meet the highest standards, abide by a code of ethics, and maintain continuing education requirements."
Watch on
One of the reasons it's so important to demand proof of accreditation from organizations like AFCPE when choosing financial help is the unfortunate proliferation of people conducting businesses without proper credentials.
"There are definitely people advising consumers without being certified. If you're in the field, you should look for a certification that is reputable and committed to upholding the highest standards — that's what everyone deserves, regardless of income," Wiggins said. "It's not enough to say, 'Well, I took a budgeting course here or there, and I know how to manage my money, so I can help you with yours.' Finance is much more complex than that, it's not one-size-fits-all, and the AFCPE wants to ensure that we are setting the highest standards and that more consumers know to demand that."
An Eclectic Mix of Professionals Representing Many Financial Sectors Ensures Inclusive Advice
The world of finance can be bewildering to many, simply because there are so many facets of personal money management. Mortgages, credit cards, student loans, military benefits, state and local taxes, investment banking, hedge funds, insurance coverage, retirement — the list goes on and on.
Within each of these areas, there are countless subcategories. And each of these has its own nuanced rules and regulations — most of which are extremely difficult for the average person to comprehend.
One of the great (and unique) things about AFCPE is the diversity of the people in the organization who provide a well-rounded and comprehensive breadth of knowledge on financial matters.
"We have very diverse professionals in every sense of the word. And that's special about our organization; we are bringing together professionals who are at that highest level of skill and knowledge from different areas of the personal finance profession," Wiggins said. "Military and credit unions, nonprofits, community-based organizations, academia, research, and education — there are a lot of different people from different backgrounds but all with the same mission of providing high quality standards."
So, no matter where consumers are coming from in their financial lives, there is an AFC or FFC professional out there who aligns with their goals — professionals who understand the unique circumstances that affect their clients' lives.
"AFCPE professionals are there to help people get established or get their heads above water and feeling like they are able to start planning for the future — no matter what their background is," Wiggins said. "That is where our sweet spot is — helping establish those healthy financial management pieces and addressing the emotional side of money."
Rigorous Standards and Accountability Ensure Adherence
As we've noted, AFCPE requires its certified professionals to achieve and maintain a high level of competency and adherence to its established guidelines. AFCPE certified professionals are not only expected to show proof of their capabilities, they must maintain their credentials.
If doctors are required to obtain recertification to practice in their designated fields — something consumers have come to accept and demand — it makes sense to expect similar recertification requirements from financial professionals who advise consumers financially.
"One of the things that is setting the standard on our programs is competency. For example, our Accredited Financial Counselor (AFC) certification has become the standard. It is the only financial counseling certification to earn NCCA accreditation," Wiggins said. "We have rigorous competencies that you have to go through in order to be an AFC. This is to make sure that professionals are trained beyond basic budget counseling. We train them on all other facets of personal finance to ensure they understand the whole life cycle of how one thing impacts another in a consumer's financial life. And this isn't just a one-time thing. They must maintain their credentials."
Competency is just one layer of accountability that AFCPE holds its professionals to. If there is a consumer complaint against an AFCPE professional, the matter is thoroughly investigated, and if warranted, disciplinary action is taken, which can result in revoking their certification.
"We have a certification council that oversees all disciplinary matters," Wiggins said. "If someone has a complaint about a professional, a complaint is filed, and there is a very specific process of what happens and how that is reviewed by the council. There is certainly a chance that someone might lose their designation, depending on what the charges are and what the investigation shows."
AFCPE is Willing to Help Consumers Find Sound Financial Advice — Regardless of Income
For over 30 years, AFCPE has overseen the field of financial counseling. In setting its policies, the nonprofit organization has worked closely with a number of organizations to establish guidelines that are sensible and highly effective.
But one of AFCPE's important tenets is instilling in its professional community the core values that motivate them to help everyone get the financial advice they need.
"We believe in helping anyone who is not finding what they need on our site or with the resources available out in the field. And we're happy to do so," Wiggins said. "Also, if consumers are interested in personal finance and they want to be connected to the network, they can become members providing them with access to materials and resources that can really empower them. I think that's a big part of it — making sure people are getting the tools, materials, and education they need to have real financial security."
One such resource for consumers is Money Management Essentials, a course available to people looking to enhance their knowledge of a broad field of financial fundamentals. The course is 10 hours long and is open to both those looking for a career in financial counseling and everyday consumers striving to be smarter with their money.
All of these measures serve to give consumers looking for reputable financial advice the peace of mind that those financial advisors holding the AFC are the best in the business.
Advertiser Disclosure
BadCredit.org is a free online resource that offers valuable content and comparison services to users. To keep this resource 100% free for users, we receive advertising compensation from the financial products listed on this page. Along with key review factors, this compensation may impact how and where products appear on the page (including, for example, the order in which they appear). BadCredit.org does not include listings for all financial products.
Our Editorial Review Policy
Our site is committed to publishing independent, accurate content guided by strict editorial guidelines. Before articles and reviews are published on our site, they undergo a thorough review process performed by a team of independent editors and subject-matter experts to ensure the content's accuracy, timeliness, and impartiality. Our editorial team is separate and independent of our site's advertisers, and the opinions they express on our site are their own. To read more about our team members and their editorial backgrounds, please visit our site's About page.