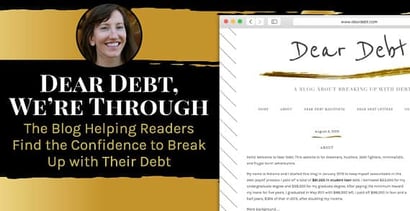 In a Nutshell: Growing up, our parents and teachers all tell us the same thing: go to school, get your degree, and you'll get a good job. But when it comes to actually getting that job, not all of us have the same luck. When Melanie Lockert started her Dear Debt blog, she was working a seasonal temp job — despite her master's degree — and struggling to make headway with her remaining $57,000 in student loan debt. Dear Debt chronicles Melanie's journey through debt repayment, and provides awareness of the emotional impact of debt anxiety through the "Dear Debt" letters, written by those inspired to break up with their own debt. Melanie and Dear Debt are helping others find the confidence to end their bad debt relationships — for good.
I remember very well how I felt when I finished my last exam, and left the hallowed halls of higher education behind. I was exhausted, yes, but also exalted, and excited for the future.
That lasted a whole three weeks. My little bubble of optimism was effectively burst by the force of the deafening silence that met each résumé I sent out. The bills for my student loans were rolling in, but my career wasn't going anywhere.
As time passed, I began to feel somewhat cheated by the whole process. I had gone to college, gotten my piece of paper. Where was the wonderful job that fancy degree was supposed to get me?
Melanie Lockert had many of the same thoughts when she started her blog, Dear Debt, in January of 2013. After graduating from NYU with her master's degree, she had amassed around $81,000 is student loans — and, despite having been making payments for nearly five years, she still had over $57,000 to go.
To top it off, Melanie couldn't find full-time work in New York City. She moved to Portland to live with her partner, hoping the job scene would be better. It wasn't.
"I was having trouble finding a job there, as well. I started my blog when I was making $12 an hour, working a seasonal temp job," she said. "I felt overwhelmed and depressed, and anxious about my debt. I thought, 'I need to do something to take back my sanity.'"
Melanie made the decision to make her debt the priority, choosing to dedicate all of her time and resources to paying it off as quickly as she could. Dear Debt starts with Melanie's promise to herself, a declaration to pay off her debt:
"In my dreams, I will be debt-free in four years. It's an ambitious goal and with my current income, absolutely not possible."
Reach Debt Freedom by Making Debt a Priority
With her declaration made, Melanie focused on her debt with fervor, starting by attacking her expenses. "I cut my budget to the bone," she said. "I didn't have cable, or even a TV. I didn't have a car — I pretty much walked everywhere. Basically, any extra perk you can think of, I didn't have it."
After shrinking her budget as far as it would go, Melanie still wasn't making the progress she wanted to see on her debt. Knowing she needed to increase her income, she entered the world of side hustles.
"I worked as a house cleaner, a brand ambassador, a pet sitter. Pretty much anything I could be hired to do. I utilized nights, weekends, early mornings. Any time I could be making money, I tried to do so."
Every spare dime went toward Melanie's debt, including tax returns and bonuses. She was also smart about how she used her payments, focusing on her most expensive loans first.
"My graduate loans were carrying a 7% interest rate — costing me around $11 a day in interest. It made me sick to think about how much money I was spending on interest."
While Melanie did eventually find a salaried job, with benefits and all, her habits didn't change; if anything, they intensified. With each increase in her income, Melanie funneled more money into her debt. Then, when she was able to strike out on her own, her income increased yet again — and so did her payments. At one point, she was literally putting thousands a month toward her loans.
And her entire journey, from low-income hourly temp to full-timer making rapid progress on her debt, has been shared with her Dear Debt readers.
End Your Bad Debt Relationship with a "Dear Debt" Letter
When Melanie started Dear Debt, she was fed up with being in debt. Her declaration, her decision to pay off that debt at any cost, was the first step to her new life. In effect, Melanie broke up with her debt that day.
Over the years, Dear Debt has become home to dozens of others who have made the same decision to end their bad debt relationships, with "Dear Debt" letters. "It's a sort of catharsis for people who are in difficult emotional places with their debt," explained Melanie.
"Dear Debt,
F@#% off. It's time for you to go." – Lindsay
The letters, which are essentially "Dear John" style break-up letters, can be sent in by anyone and get published to the site. While the tones range from humorous to heart-wrenching, all of the letters are sincere, and completely untouched. "I don't edit the letters at all. They're perfect already."
Melanie hopes letter-writers and readers alike can take solace in the Dear Debt letters, finding the confidence to rise above the guilt, shame, and anxiety of being in debt. "It lets people know they're not alone in the debt-payoff process," said Melanie. "And, that these emotions are normal, even though no one talks about them."
"Dear Debt,
It's been a roller coaster ride with you, but it's time we part ways." – Pamela
Having been inspired to start the blog by her own desperate feelings, Melanie is especially sensitive to the emotional impacts of debt. She's working to open a larger conversation about debt anxiety, and, particularly, to draw attention to those who are so overwhelmed by their debt, they consider suicide.
"Debt is not a death sentence," she stressed. "It's important for people to realize, it can feel hopeless, like you'll never get out of debt. But though it may feel endless — and it definitely does — even if it takes 10 years, it won't be forever. There is hope."
Say "Arrivederci!" to Debt & "Hello!" to the Financial Future
If anyone can speak to the possibilities of successfully breaking up with debt, it's Melanie. Not only did she manage to pay off her substantial student loans, but she did so an entire year before her self-imposed deadline.
"I achieved my goal of being debt-free in just three years," she said. "2016 was the first time, in my entire adult life, that I have been debt-free."
So, what do you do when you've been working nonstop to pay off debt for years, and finally run out of debt to pay? Well, you go on vacation, of course. "I celebrated being debt-free by taking my mom to Italy," Melanie revealed. "She had never been there, and it was really awesome."


Dear Debt not only helped keep Melanie on tack, but the blog has helped her launch a career. All the skills she picked up during her debt-paying days have allowed her to work full time as a writer and finance expert, and she's fully embraced the self-employed life. She even wrote a book about her experiences, Dear Debt: A Story About Breaking Up With Debt.
For Melanie, breaking up with her debt was the beginning of a journey, one she never could have taken without the confidence to declare the end of her bad debt relationship. "The most powerful thing you can do on your own journey is believe that you can get out of debt. It may sound like new-age crap, but that belief is key."
Advertiser Disclosure
BadCredit.org is a free online resource that offers valuable content and comparison services to users. To keep this resource 100% free for users, we receive advertising compensation from the financial products listed on this page. Along with key review factors, this compensation may impact how and where products appear on the page (including, for example, the order in which they appear). BadCredit.org does not include listings for all financial products.
Our Editorial Review Policy
Our site is committed to publishing independent, accurate content guided by strict editorial guidelines. Before articles and reviews are published on our site, they undergo a thorough review process performed by a team of independent editors and subject-matter experts to ensure the content's accuracy, timeliness, and impartiality. Our editorial team is separate and independent of our site's advertisers, and the opinions they express on our site are their own. To read more about our team members and their editorial backgrounds, please visit our site's About page.