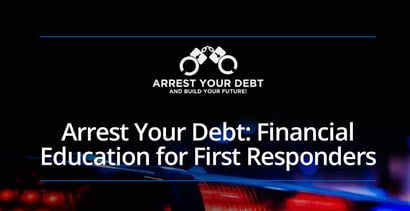 In a Nutshell: Ryan Luke, now a police lieutenant, struggled for many years with his personal finances and an unsustainable lifestyle. After changing his own behavior, he started the Arrest Your Debt blog to share what he learned with other public servants wrestling with their finances. He helps readers address specific financial challenges, including on-the-job injuries and pension concerns. But the blog and its resources are also useful to many others, as Luke provides financial advice and information to help everyday consumers reduce their debt.
Ryan Luke became a law enforcement officer in 2004 when he graduated from the police academy at age 21. By his own admission, he was terrible with money at the time. He carried a significant amount of debt, fueled partly by multiple vehicle loans and purchasing his wife's engagement ring with a credit card.
When the bank foreclosed on his home, Luke realized that his financial situation wasn't working — for the short term or the long term. So Luke buckled down, educated himself on personal finance, and put his knowledge into practice by drastically changing his financial habits. Eventually, Luke realized he could help people by sharing his expertise with other public servants struggling with their financial situations.
"I decided I was going to write a book because I like books," said Luke. "It was called 'Arrest Your Debt: How to Build Wealth on a Public Servant's Salary.' I was writing the book and was pretty well into it. But then, I talked with some younger cops, and they don't read books. They read blogs."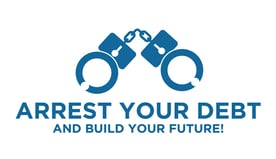 So, instead of finishing his book, Luke redirected his labor into the Arrest Your Debt blog. It is primarily aimed at helping other public servants reduce and avoid consumer debt and build their wealth.
However, the blog isn't limited to that audience; its lessons are useful to anyone seeking to eliminate debt, reduce spending, and increase savings.
"This is a whole new avenue for me," Luke said. "I take my credibility as a police lieutenant, and the experience and my financial knowledge and success, and put them together."
First Responders Often Face Unique Financial Challenges
First responders and public servants deal with day-to-day financial challenges just like everyone else, but they also face obstacles specific to their line of work.
One of these is learning to live solely on a base income. Police officers, for example, work four consecutive days of 10-hour shifts. On their three-day weekends, many will work second jobs to earn extra income.
"The problem is, as police officers, they tend to use that off-duty money as regular income, as base income. That is an issue because, if you break your leg on duty, you can't work off duty," Luke said. "You can make more money by working overtime, but you're one injury away from bankruptcy."
Luke's lesson here is clear: build a budget around base income, not overall income. That way you live within your means on your base income and save any income from a secondary source for retirement or for emergencies, including an injury that could sideline you.
Another issue for long-term public servants is a pension. Many put money into pension funds but not into a retirement plan. Luke sees that as a problem for many of his peers when retirement rolls around.
"There are many cities, many examples of pensions being underfunded, pension reform, pensions going bankrupt. Cities can't pay for them," Luke said. "And these guys have no backup plan. Many agencies in Arizona don't pay Social Security, so that's not even a backup. If we lose our pension, we don't even have Social Security."
Luke encourages people not to place all their retirement eggs in one basket. Instead, he advises readers to invest as if they don't have a pension coming — because they may not.
Finally, one of the most significant challenges facing public servants is a lack of financial education.
"There is a void, as far as finance," Luke said. "First responders focus heavily on how to deal with trauma, substance abuse, and suicide prevention. But they receive little to no financial training."
Luke said the only financial advice he received during his career was when one of his training officers told him to put some money into deferred compensation.
"That's a 457b account we have. He didn't tell me how much, so I put $50 in there every paycheck, and I thought I was good," Luke said.
Articles and Tools Offer a Range of Financial Knowledge
Luke quickly discovered he was not, in fact, good. Outside of that tidbit in training, he didn't get much other financial education. Early in his life, Luke's mother told him not to spend more than he earned, and Luke heeded that advice. He kept $2,000 in his checking account, but he had no other savings. After his home foreclosure, he and his wife decided they needed to reevaluate their lifestyle and financial choices.
"I remember the transition moment," Luke said. "We were sitting in Applebee's, and she said, 'Do you have any idea how much you spent last month eating out at restaurants?' She showed me. It was $1,000."
Although he enjoyed dining out, Luke realized he simply wasn't getting enough value from that expenditure. That was the critical moment that led him down the path of financial self-education. He started reading books on finance, including ones written by author and radio host Dave Ramsey and motivational speaker and author Tony Robbins.
He explored various other writers and specialized topics to help him change his habits and achieve financial security — even without a substantial income stream. One of his early goals was to conquer retirement investing.
Watch on
"We were getting raises at that time when I was an officer, so I decided every year I would get a raise, however small, I would put that percentage into retirement," Luke said. "We budgeted off of my base pay, and we lived off that dollar amount. I was promoted from an officer to a sergeant. I put all that money from that promotion into my deferred compensation, and then I was promoted from sergeant to lieutenant — same thing."
That strategy is one of the many topics he explores through Arrest Your Debt. The articles are the collective fruit of all of Luke's learning and his firsthand experience in investing and other financial matters.
The blog's topics include budgeting, debt, saving, earning, family, and retirement, among many others. In addition to instructional articles, Arrest Your Debt also offers financial tools, including calculators, budget templates, and a guide to the cash-envelope wallet system that helped Luke and his wife start saving and developing more resilient financial practices.
"We still live off an officer's salary, even today," Luke said.
An Interest in Finance Leads to New Income Opportunities
"I still work an off-duty job. No lieutenants work-off duty jobs," Luke said. "I do it because it pays for our vacations and a lot of other stuff. It's just changing how people think you're supposed to live."
Technically, that off-duty job is only one of Luke's secondary income streams. The other is Arrest Your Debt itself, which has grown into a successful side gig. Luke invests about 20 hours per week in developing content for the site.
"A lot of my afternoons when I come home from work, I'll hang out with the kids and the family, and then I jump on the blog for an hour or two," Luke said. "My weekends, I'm normally spending most of Saturday or Sunday doing it. It's very time-consuming."
Arrest Your Debt first went online in September 2018 as a way for Luke to share the financial knowledge he'd gained through study and practice. But the blog has had a broader financial impact.
"My blog was not profitable for the first eight months of me working every single day on it," Luke said. "Now it is, and I have all kinds of opportunities that come with it."
Those opportunities include sponsorships and requests for reviews, webinars, and freelance writing. Luke has discovered a vast array of new opportunities by educating himself and sharing what he's learned.
"I don't have enough time to do it all," Luke said. "It is a whole new world that you may not realize. By following a passion and being invested in it, doors will open."
Arrest Your Debt, Build Wealth, and Gain Financial Health
As of August 2020, Luke has been in the police force for 16 years. He owns his own home, and he carries no debt. He's on track to have over $1 million saved at retirement in addition to his pension.
He said he achieved all this through education, discipline, and diversified income streams. And he's not going to stop teaching others about these opportunities through Arrest Your Debt — and other venues.
Luke also partners with the 100 Club of Arizona, a nonprofit organization dedicated to helping firefighters and police officers who have been injured on the job. Luke conducts training sessions for first responders and their families as part of that partnership. Although these were previously presented as in-person seminars, they are now taught virtually.
Luke said he is hard at work on new content for Arrest Your Debt. One upcoming offering is an Excel budget spreadsheet that serves as a digital replacement or supplement for the printable ones currently available. He is also developing online financial courses for his followers — though his readership may have to wait a bit longer before these become available.
"I am working on some classes, but I'm hesitant because I've taken a lot of online classes that were underwhelming," Luke said. "I don't want to just throw another financial class out there that's not solid. So I'm doing plenty of research on the best ways to get people's attention, not waste their time. Everyone's time is precious, so I want to maximize people's time and give them the best bang for their buck."
Advertiser Disclosure
BadCredit.org is a free online resource that offers valuable content and comparison services to users. To keep this resource 100% free for users, we receive advertising compensation from the financial products listed on this page. Along with key review factors, this compensation may impact how and where products appear on the page (including, for example, the order in which they appear). BadCredit.org does not include listings for all financial products.
Our Editorial Review Policy
Our site is committed to publishing independent, accurate content guided by strict editorial guidelines. Before articles and reviews are published on our site, they undergo a thorough review process performed by a team of independent editors and subject-matter experts to ensure the content's accuracy, timeliness, and impartiality. Our editorial team is separate and independent of our site's advertisers, and the opinions they express on our site are their own. To read more about our team members and their editorial backgrounds, please visit our site's About page.