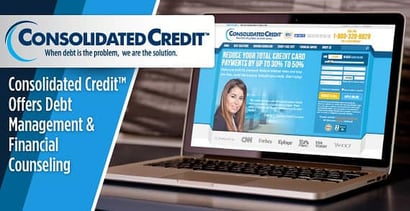 In a Nutshell: For some, big life changes can result in big credit card bills — which seem to just keep growing bigger with time. When your personal debt has become unmanageable, it may be time to consult a professional, like the Certified Financial Counselors at Consolidated Credit. A nonprofit agency, Consolidated Credit offers extensive financial education resources, including webinars and interactive courses, to help you learn how to use credit wisely. For those burdened by extensive credit card debt, they also have a debt management program designed to help you get control of your debt and start making progress toward a debt-free life. Anyone struggling with debt can contact Consolidated Credit today to chat with a counselor and start taking back your financial future.
While it's all well and good to be there when your friends are in need, sometimes, you just have to draw the line. For Margaret, that realization came too late — thousands of dollars too late.
"My debt problems started two years ago when I had several friends and family members who needed help," she said. "It didn't seem that bad at first — just a few charges here and there. I helped a family member get set up in a new house. Paid for a few small things that a couple of friends needed."
Of course, as is often the case, the charges began to add up, and at the same time, (as is often the case) her friends and family began to forget about repaying.
"You feel bad making someone write out an IOU, so we always agreed verbally that they would pay back what they could, when they could." described Margaret. "A few people gave me a few bucks here and there, but it was never what we agreed upon."
"They always say they will pay you back, and then they never do. I was trying to help everyone else out, and I got stuck with the bills." — Margaret, the Altruistic Debtor
When she finally took stock of her situation, Margaret realized she had accumulated $8,000 in credit card debt spread across more than eight cards. "I was making payments, but then the interest rates on a few of my cards shot up, and it became a real problem."
Though she attempted to negotiate with her creditors, Margaret found them to be completely unresponsive. "I tried to make a deal with them, but they wouldn't work with me," she said. "It just fell on deaf ears."
At the end of her wits — and her patience — Margaret knew she needed help. "I felt embarrassed and even maybe a little ashamed — I'm not one to ask for help. But I tried to figure a way out on my own, and I couldn't." So she turned to Consolidated Credit, a nonprofit credit counseling agency.
Watch on
And she felt instantly relieved. The counselors at Consolidated Credit reviewed Margaret's budget and all of her debts to determine her repayment options. She entered the Consolidated Credit debt management program and soon began to catch up with her debt.
Gain Access to Free Educational Resources & Work with Certified Financial Counselors
Unfortunately, stories like Margaret's are all too common. Credit card debt can sneak up on anyone, regardless of income and circumstances — and often with little warning.
"Our general consumer makes about the median income," described April Lewis-Parks, Director of Education and Public Relations for Consolidated Credit. "They've usually been going along with their day-to-day life just fine, and then something happens; someone loses a job, there's a death in the family. They start using credit instead of cash in their day-to-day lives, and then they run up their credit cards."
Speak with a Counselor for Free to Determine Your Options
According to April, the organization receives around 1,000 calls a day from people, like Margaret, who are looking for help. All of those callers can talk — for free — with a Certified Financial Counselor (CFC), who will help determine their best way out of debt.
"We offer free budget and credit counseling to consumers," said April. "We also offer debt management programs for those who qualify, but, for the most part, it's really about the free financial education."
Consumers can fill out a short form on the homepage of Consolidated Credit's website to get a full overview of the process and then speak directly with a counselor. Sessions can last 30 to 45 minutes and will cover your complete financial situation.
"It works best if the consumer has all of their bills and their income statements available to them when they call," April said, "because the counselor will want to go over their income and expenses and see what is really draining their budget."
The counselor will also do a soft credit pull (which won't affect your credit score), making sure that there are no surprises or questions. Then, your counselor will evaluate your situation and discuss your options for finding a way out of debt — whether or not it's through a Consolidated Credit program.
"When they finish the evaluation with the counselor, the counselor will determine whether or not they are a good candidate for a debt management program," explained April. "Otherwise, the counselor will suggest a better option and refer them to another nonprofit agency to help them."
Learn with Informative Webinars and Interactive Courses
For some, the ample resources on Consolidated Credit's website may be enough to help them on the path to debt freedom. Consolidated Credit's Debt Learning Center contains dozens of free financial education resources, from webinars and seminars to financial calculators. They also offer interactive finance courses on credit and a series of informational booklets covering a variety of personal finance topics.
"Financial education is not taught as a requirement anywhere," said April. "Often, if your parents don't teach you how to use money — you learn in the 'school of hard knocks'. You get into trouble, and then that's when you learn, 'Oh, wow, this is bad.' That's why it's so important to have the tools and the resources online."
April stressed that the resources are designed to teach personal finance concepts everyone should know, not make someone into the next Warren Buffet.
"It's everyday personal finance," she said. "Not investing, for instance, which a lot of people might be intimidated by if they're not even good at the day-to-day finance." Instead, the site provides the tools and resources you need so you can learn to use — and build — your credit, the right way.
"It's really, how do I balance a checkbook? How does credit work? What goes into a credit score? And, how are you evaluated by a lender? Because if you know that, you can plan to do all the right things."
3 Things Everyone in Debt Should Know
When it comes getting into debt, no two stories are quite the same. Still, there are some common mistakes that many people make that get them into trouble, perhaps without them even realizing it. Avoid some of the most common mistakes with these three pieces of advice.
1. Hope for the Best, But Don't Count On It
"I think that, as a society, we're an optimistic people," said April. "But, one of the most common mistakes is just being overly optimistic." Now, she's not knocking the bubbly barista who serves coffee with a smile; she's talking about the overly optimistic who count their eggs before they hatch.
"A lot of times people get into trouble because they think the next job is coming at a higher rate, or the bonus will be there," she explained. "They just kind of think, 'Everything is going to work out.' Which is a wonderful attitude to have — but, as far as your personal finance is concerned, it can get you into trouble."
Watch on
In other words, treat a raise, bonus, or other potential windfalls as just that — potential. It's fine to make a financial plan that includes the extra income, but you should probably make one that doesn't, as well.
2. Check Your Credit Report (Then Check It Again)
This piece of advice may be a little worn, but it wouldn't be so often repeated if more people listened. "The next mistake, I think, is really just not paying attention to their credit reports at all," said April.
"Sometimes people don't realize the things that are on their credit reports," she added. "Credit bureaus can make mistakes, like anyone else. There can be things on your report that are negative that aren't yours, and that can really hurt your credit score — and then you end up paying more money for loans."
Watch on
By law, you are entitled to one free copy of your credit report from each of the three major bureaus — TransUnion, Experian, and Equifax — every single year. So, check your credit reports!
3. Determine Which Options You Have — and Which Ones You Don't
The last mistake? Not doing your own research. If you don't know the difference between all of the potential options, you won't be able to make an educated decision about which service or program to use. April said many are misinformed about the differences between debt settlement and debt management, in particular.
"A lot of people get confused with debt settlement and debt management, but they're completely different programs," she said. "They're really for completely different consumers." The main difference? Time and money.
"Debt settlement is generally for someone who has money saved up already, who can settle the debt right away. They don't have to go on a payment plan," described April. "You generally want to settle your debt if you're in the market to buy a home, a car, or some other big purchase."
Watch on
On the other side of things is debt management, which doesn't require a large lump sum. It's more of the slow-and-steady approach.
"A debt management program is really for someone who has high-interest credit cards, who is not seeing a light at the end of the tunnel," April explained. "They're making the minimum payments every month, but their balances aren't going down. Their end goal is to learn how to use credit better and just do away with this debt. It's more of a long-term thing — three to five years."
It's Never Too Late to Learn Good Financial Habits
For Margaret, debt management was the answer to her debt problem. Today, as she works toward learning new credit habits and managing her debt, she's a lot more optimistic about her financial future (but just the right amount).
"I tell people not to lose hope," said Margaret. "You just have to take the time to listen and take advice from the right people. Swallow your pride — you don't have to be ashamed. Ask for help when you need it."


Margaret's great advice was echoed by April, who stressed that everyone can find a way out of debt with the right help.
"Don't be afraid to just call a nonprofit credit counselor," said April. "It doesn't cost anything; there's no obligation. They're really there to counsel and give an unbiased opinion as to your situation."
Advertiser Disclosure
BadCredit.org is a free online resource that offers valuable content and comparison services to users. To keep this resource 100% free for users, we receive advertising compensation from the financial products listed on this page. Along with key review factors, this compensation may impact how and where products appear on the page (including, for example, the order in which they appear). BadCredit.org does not include listings for all financial products.
Our Editorial Review Policy
Our site is committed to publishing independent, accurate content guided by strict editorial guidelines. Before articles and reviews are published on our site, they undergo a thorough review process performed by a team of independent editors and subject-matter experts to ensure the content's accuracy, timeliness, and impartiality. Our editorial team is separate and independent of our site's advertisers, and the opinions they express on our site are their own. To read more about our team members and their editorial backgrounds, please visit our site's About page.