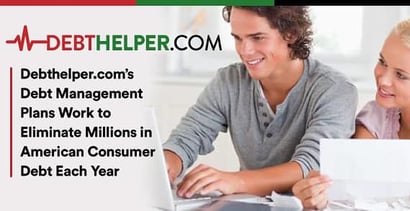 In a Nutshell: While it's not all considered "bad debt," the average American household facing debt owes $132,529, spread across credit cards, mortgages, auto loans, student loans, and other lines of credit. Debthelper.com is a Florida-based nonprofit that offers debt management and counseling services to consumers in all 50 states. In 2016, the organization helped guide clients toward paying off more than $3 million in debt. Consultations are free, with manageable fees charged when clients activate debt management plans that can drop interest rates as low as 0% and help people get back on track faster.
Seeking help from others can be the hardest part of making lasting changes in your life. Pride often gets in the way, and you may not realize that you're far from alone in your struggles with debt.
Out of American households that are in debt, the average family owes $132,529, including credit cards, mortgages, auto loans, student loans, and other types of debt. If you have large balances, high interest rates, and are only making minimum monthly payments, it becomes seemingly impossible to cut into your principal balance and erase your debt. Reaching out for help isn't a sign of weakness, but a signal that you're ready to take the necessary steps to improve your financial life.
Debthelper.com has lent a hand to consumers drowning in debt since 1996. Its expert partners serve all 50 states, with branch offices located in South Florida, Nevada, North Carolina, and Massachusetts.


The institution is experienced in assisting people going through a variety of financial struggles, such as bankruptcy, credit card issues, loan problems, or divorce.
Its nonprofit status keeps costs and fees low, and helps the organization keep its focus on the individuals in need of advice instead of profit. Consultations are free, and Debthelper.com has a multinational, multilingual team available for conversations on your personal financial situation.
In 2016, Debthelper.com's budgeting plans helped clients pay off $3,862,191 in consumer debt. Much of that total came from negotiating debt management plans (DMPs) with lenders on behalf of clients looking to cut interest rates and create an affordable budget to wipe out debt. There's no magic pill that eliminates debt — just a solid plan and discipline.
Debthelper.com saw demand for its services grow in 2016, with $7,014,568 in new debt acquired for management. According to the organization's annual report, the debt spreads across several areas — credit card debt, student loan debt, and other deficits, such as mortgages and payday loans.
Atop of creating budgets and plans to tackle debt, Debthelper.com also offers consultation services to educate consumers about ways to approach their debt problems. Community and online classes offered throughout the country are designed to help citizens — young and old — learn about their finances and find ways to achieve their goals.
Negotiating Terms to Help You Get Out of Debt Faster
According to its records from 2016, Debthelper.com reduced the average APR charged on client debt from 22.08% down to an average of 4.62%, Since these rates are good as long as the customer remained enrolled in a DMP, clients saw average monthly payments drop from $627.07 to $393.75 in that time, with the bulk of each payment going toward their principal balance instead of interest. Furthermore, some of the organization's clients had their interest rates cut out completely during negotiations with lenders.
The importance of acquiring a strong ally when tackling debt becomes apparent during the negotiating process. Most creditors have working relationships with credit consulting agencies, like Debthelper.com, to improve terms and cuts rates for their clients. With a more favorable interest rate, payments can be lowered and debt paid off faster.
Since Debthelper.com is a nonprofit, it invests its earnings back into operations that help more clients. Initial consultations and budgeting services are free. New DMPs include a nominal fee, which helps the organization stay operational. Clients with severe financial difficulties can apply to have some, or all, of those fees waived in certain circumstances.
A Long List of Services That Go Beyond DMPs
Debthelper.com's services stretch beyond DMPs. The organization's sister site, DivorceHelper.net, guides users through the often-tricky proceedings leading up to — and following — a divorce as such litigation can affect finances long after the final divorce decree. With consultations available that include financial planning during divorce, divorce foreclosure avoidance and a comprehensive directory of experts, the site is an invaluable tool for dealing with one of the most difficult situations facing adults today.
Along with divorce, Debthelper.com also offers services revolving around bankruptcy counseling, housing counseling, budget analysis, credit report analysis, student loan guidance, and payday loan assistance. Within 24 hours of filling out the contact request form on any of the service pages, one of Debthelper.com's partner consultants will contact you to get the ball rolling.
According to its 2016 annual report, reverse mortgage counseling was near the top of its list of most requested services. This often-overlooked service has been on the rise with older homeowners looking to free up a little extra money for retirement.
Debthelper.com also offers a large database of financial resources. Last year alone, the nonprofit hosted 419 in-person classes and webinars that reached 2,688 attendees.
Guiding Today's Youth to Become Tomorrow's Savers
Most people battling debt today say their problems stem from a lack of financial education early in life. Debthelper.com sees the imbalance in guidance among today's youth and looks to supplement learning with online finance tools for children and their parents.
The Teaching Kids About Money program aims to reverse the trend represented by the 73% of 13- to 21-year-olds surveyed who said their parents never taught them how to manage money. That lack of education shows as those under 25 are the fastest growing group declaring bankruptcy in the US.
The program is designed to help children and parents learn the best ways to discuss and manage money issues. This includes activities such as setting up an allowance and encouraging the use of cash for purchases to give your child a tangible idea of how much money is really worth. It also approaches more complex topics, like setting up a specific payday and allowing your child to handle funds to pay for items like groceries so they can learn to count and calculate change owed.
Among the best gifts a parent can impart on his or her child is financial education. When you work with your children at a young age to understand the concepts of money, they are more likely to make decisions that lead to a more solid financial future.
Say Goodbye to Debt with Assistance from Debthelper.com
No amount of debt is too small or too large to tackle. Relieving yourself of the burden that comes from owing someone money can be a tremendous challenge, but it's well worth the effort. Researching your options and selecting a reputable financial services agency to help you craft a plan to become debt-free is a great first step toward reaching your goals. Debthelper.com is rated A+ with the Better Business Bureau and has experts willing to help, often at no cost.
Watch on
The nonprofit's team of counselors has a more-than-two-decade track record of empowering clients to create budgets that alleviate debt burdens and eliminate financial obligations through smart planning and careful execution. The organization collects only small fees when a new debt management plan is activated, but a reduction in interest rates typically leads to smaller monthly payments. There are no hard sells or products pushed on clients to make a commission.
Debthelper.com's resources aren't only for consumers swimming in debt. Educational tools directed toward children and adults focus on finding the root cause of financial problems and look to eradicate them before they get out of control.
There is no way to magically snap your fingers and get rid of debt, but with patience and a little elbow grease, it can be done.
Advertiser Disclosure
BadCredit.org is a free online resource that offers valuable content and comparison services to users. To keep this resource 100% free for users, we receive advertising compensation from the financial products listed on this page. Along with key review factors, this compensation may impact how and where products appear on the page (including, for example, the order in which they appear). BadCredit.org does not include listings for all financial products.
Our Editorial Review Policy
Our site is committed to publishing independent, accurate content guided by strict editorial guidelines. Before articles and reviews are published on our site, they undergo a thorough review process performed by a team of independent editors and subject-matter experts to ensure the content's accuracy, timeliness, and impartiality. Our editorial team is separate and independent of our site's advertisers, and the opinions they express on our site are their own. To read more about our team members and their editorial backgrounds, please visit our site's About page.