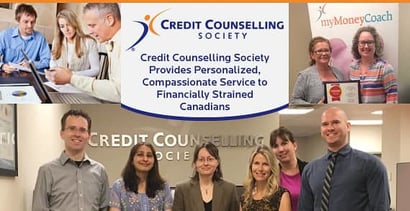 In a Nutshell: For the past 20-plus years, Canadians with financial difficulties have found effective solutions through the Credit Counselling Society. The nonprofit organization provides personalized analysis of a borrower's financial situation and helps them craft a plan to become debt-free on their own terms. These plans emphasize budgeting to manage debt and saving as a means of avoiding further debt in the future. For clients with extensive debt, the Credit Counselling Society offers a Debt Management Program that consolidates payments, negotiates to have interest fees waived, and helps people avoid bankruptcy. With the help of the society's professional counselors, Canadians can explore all their options and find the most favorable path to financial health and peace of mind.
Phyllis, a resident of the Vancouver area, was looking forward to retiring at age 65 — until she realized she owed $85,000 on 11 credit cards.
Unable to consolidate her debts through her bank, she turned to the Credit Counselling Society, where a counselor helped her build a budget and plan her expenses based on her personal goals. Now, thanks to a Debt Management Program (DMP), Phyllis is back on track to retire debt-free.
Phyllis' ordeal is just one example of Canada's rising debt problem. And it's one case out of tens of thousands in which the Credit Counselling Society was able to provide relief to someone struggling with debt.


The Credit Counselling Society offers free educational resources at two websites — NoMoreDebts.org and MyMoneyCoach.ca — for those who want to improve financial literacy and money management skills.
But for Canadians facing immediate financial difficulty, it also provides free counseling services. These include individual analysis of a person's debt; an explanation of the various options for resolving the situation and the implications of each; and coaching on budgeting and personal finance. For those who need it, a DMP offers an alternative to filing for bankruptcy.
"Since our inception in 1996, we've sat down with over half a million Canadians to do one-on-one counseling sessions," said Scott Hannah, President of the Credit Counselling Society. "We've helped clients who have established a repayment program through our society repay $400 million of debt and counting."
Specialized Service to Help Canadians Understand Their Financial Options
When someone comes in with a case of financial difficulty, the Credit Counselling Society starts by examining all of the details of the person's situation.
"Everyone's unique, so while there may be some similarities between their situation and those of other consumers, we recognize that when a person is going through financial difficulty — especially for the first time — it's a new experience for them," Hannah said. "So we treat it as a new experience."
This approach helps both the counselor and client understand what's wrong and how to fix it. "We look at a consumer's entire financial picture," Hannah said. "How much income is coming in? What are their monthly expenses? What do they own? Who do they owe money to? What brought them to our organization? What was it that motivated them to say, 'I now need help'?"
However, many clients are reluctant to fully disclose these and other details, fearing judgment for their poor money management. Hannah told us they'll often bring a friend or family member to provide moral support in early sessions. "We encourage that," he said. "Until it gets to the point where a person is willing to trust us, it's challenging to make progress."
To get to that point, counselors move at the client's pace. "We don't rush individuals," Hannah said. "We go as slow or as fast as they want to go. We find that, with some people, in a first appointment, we get a certain level of information from them. We give them some things to think about and schedule another appointment." Over time, counselors build trust and rapport with the client, and the client is able to eventually share the full scope of their financial troubles.
"Oftentimes, having debt is not the problem. It's a symptom of the problem," Hannah said. "And so we really have to get down to the core of it. Is it a spending problem? Is it the fact that your expenses consistently exceed your income? Is your income fluctuating at times?"
Determining the source of a client's financial troubles is the only effective way of addressing those troubles; otherwise, the counselor can only treat the financial symptoms. "When we get down to the root of the problem and address that, everything else falls into order pretty quickly," Hannah said. "You find the right solution for a person that they can manage."
Once a counselor understands the problem, they can then help clients explore their options for resolving it.
"We help people understand all the various options they could look at and the implications of those options," Hannah said. "And that's really important. When the average person comes to us in financial difficulty, their world is a little topsy-turvy."
Thankfully, the Credit Counselling Society provides an objective, outside perspective on financial trouble. "We help you to take yourself out of how you're feeling today and look at where you want to be down the road," Hannah said. "You want to be in control of your money again. You want to have addressed your debt situation. So we talk about those different solutions and also the positives and negatives of different courses of action."
The Credit Counselling Society seeks to provide clients with enough flexibility to choose the solution that is best for their personal situation. "When they have a complete understanding of the implications, advantages, and disadvantages," Hannah said, "they're in a better position to say, 'This is what I think is right for me.'"
Careful Budgeting and Saving Form the Foundation of Financial Health
The Credit Counselling Society emphasizes budgeting and saving as crucial components of any client solution.
"We always look to incorporate some form of saving, so when unexpected expenses come along, you've got some cash to be able to do that," Hannah said. "That's one of the biggest stumbling blocks we see for consumers today who are serious about paying off their debt. They try to do the best they can, but they're not saving any money. Therefore, they always get tripped up when an unexpected expense comes along, and then they get frustrated and just give up."
Counselors help clients account for these blind spots when budgeting and saving. For example, anyone who owns a car will have repair and maintenance costs. The same is true for people who own homes. "While you won't have those expenses each and every month, they will come up," Hannah said, "and it's important to set those funds aside, so when they come up, you can manage them."
Hannah told us this isn't how many Canadians are accustomed to managing their money. "That's a real shift for a lot of people who have gotten used to paying for everything month by month," he said. "It's like with car insurance. A lot of people pay their car insurance on a monthly basis as opposed to setting money aside, paying it once per year, and not having to pay interest on top of car insurance costs."
By helping clients develop healthy financial habits like these, counselors also help them enjoy greater financial security and peace of mind.
Debt Management Programs Help Consumers Reduce Interest and Avoid Bankruptcy
For those facing serious debt, a DMP can be a great option for simplifying debt and reducing interest.
"Some people, who aren't in a position to reorganize their debts through a conventional bank or credit union but can't keep up with minimum monthly payments, may come to us and ask our help to reorganize their debts under a program that we call our Debt Management Program," Hannah said. "For a lot of people, what they're really thinking about is, 'I need to have one payment that fits my budget.' And that's really what our Debt Management Program is."
The program consolidates client's monthly payments through the Credit Counselling Society, which negotiates with creditors to arrange manageable payments and waive interest. "We have relationships with all national, regional, and local creditors. So when someone's in financial difficulty, we can restructure their debts. The consumer makes one monthly deposit to our organization in trust, and in turn, we disburse those funds to the creditors," Hannah said. "Everyone gets a proportionate share."
These agreements remain in place as long as the client meets monthly payments on outstanding debts. "Typically, when someone enters that type of a program, they're able to pay off their debt, on average, within 3.5 years, although it could be extended up to a maximum of five years," Hannah said. "But it's because of the interest relief they've received that they're able to make real progress in paying off their debts."
Watch on
Unlike counseling, this service does incur a fee. "For the most part, there are some small costs associated with the Debt Management Program," said Hannah. "The average client who's on a program pays a monthly fee of, on average, about $33."
If the client can't afford the payment, the Credit Counselling Society will waive it; but thanks to their efforts, clients often enjoy a net gain. "The average consumer saves over $5,000 worth of interest each year," Hannah said.
All told, the Debt Management Program is a better alternative to bankruptcy for everyone involved. The institutions owed receive repayment in a timely manner, rather than none at all. Meanwhile, Canadians can efficiently clear their debt and move on to a financially sustainable lifestyle.
The First Step on the Road to Financial Recovery
Because Phyllis had so many credit cards, she didn't realize the magnitude of her debt. And because her debt had grown so large, she couldn't manage it on her own. Realizing the problem, she took immediate action, which is the smartest choice a consumer can make.
"People should get help at the first sign of financial difficulty. Oftentimes, there are little signals that come along that they may not recognize initially, but they're there," Hannah said. "The best thing a person can do when they recognize that is to get help."
Help may take the form of seeking advice from a friend or family member. Thanks to the anonymity the internet provides, many will look for information and solutions online. But, in dire financial straits, self-help can only go so far.
"It's very much like those who try to self-diagnose health problems," Hannah said. "Health professionals will say not to do that. It's the same thing with someone suffering from financial problems. Don't self-diagnose. Get some help from a professional."
The professionals at the Credit Counselling Society are standing by to help anyone facing financial difficulty. With 23 offices across Western Canada and Ontario, counselors can aid Canadians in solving their money problems by helping them develop healthy financial habits so they enjoy a life free from monetary worry.
Advertiser Disclosure
BadCredit.org is a free online resource that offers valuable content and comparison services to users. To keep this resource 100% free for users, we receive advertising compensation from the financial products listed on this page. Along with key review factors, this compensation may impact how and where products appear on the page (including, for example, the order in which they appear). BadCredit.org does not include listings for all financial products.
Our Editorial Review Policy
Our site is committed to publishing independent, accurate content guided by strict editorial guidelines. Before articles and reviews are published on our site, they undergo a thorough review process performed by a team of independent editors and subject-matter experts to ensure the content's accuracy, timeliness, and impartiality. Our editorial team is separate and independent of our site's advertisers, and the opinions they express on our site are their own. To read more about our team members and their editorial backgrounds, please visit our site's About page.