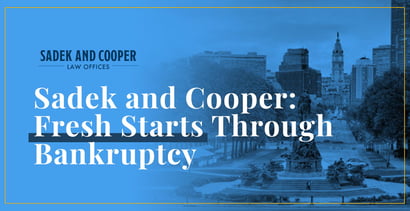 In a Nutshell: Debt is a problem many modern consumers face, especially during the economic turmoil brought on by the COVID-19 pandemic. When debt becomes unmanageable, people often turn to consolidation or negotiation, but when it's a severe issue, they may choose bankruptcy. Sadek and Cooper helps clients in Pennsylvania and New Jersey navigate that decision and the bankruptcy process, which can allow them to get a fresh financial start. Many people who declare bankruptcy can improve their credit score and overall financial situations over time, and gain access to products and services previously unavailable to them.
Debt has existed since the earliest instances of human civilization. In the book "Debt: The First 5,000 Years," anthropologist David Graeber traces the history of the state of owing money from the first recorded economies through the present day. In various forms, debt has always been a part of society.
Today, debt is something that many consumers see as normal and learn to live with. People often take on significant debt to get an education, buy a home, or meet a certain standard of living. They may only take notice when it becomes so substantial that they can't manage it easily.

"It becomes part of their life," said Brad Sadek, Managing Partner at Sadek and Cooper, a Philadelphia-based law firm that specializes in bankruptcy. "Making a change is something that people are generally not quick to do — even if it is a change for the better."
Sometimes that change takes the form of debt consolidation or negotiation. Other times, the best route out of debt may be bankruptcy. It shouldn't be a borrower's first line of defense, but there are situations where it is the most effective strategy to get their financial life back on track.
"In the Greater Philadelphia area and New Jersey, there's a lot of demand for it," Sadek said. "Incomes in New Jersey are inherently a little bit higher than the Pennsylvania side of the bridge. However, it's a much more expensive state to live in, tax-wise. So there's a lot of demand for our services where we are."
Bankruptcy Offers New Saving Options and Opportunities
According to Sadek, people who contact his office, whether for bankruptcy or related debt issues, are people who have something to protect.
"It could be their wages, savings in their bank account, a home, or an apartment that they want to stay in that they fell behind in due to the pandemic," Sadek said. "Bankruptcy is a tool used by people who have something to protect."
What they want to protect can be as fundamental as a quality of life or potential for financial improvement in the future. When dealing with significant amounts of debt, making minimum payments does nothing more than hold creditors at bay. If a person can't pay down the principal, they may struggle with that debt indefinitely.
"They're not going to have as much money for retirement. They're not going to have money for a down payment," Sadek said. "Those people are going to be on that debt treadmill for a very long time. Sometimes I talk to people who say, 'I've been in debt consolidation,' which works in limited circumstances, or 'I've been paying my minimums for five years, or 10 years, and it's taking everything that I have — and I even have a second job — to pay.'"
Bankruptcy presents an alternative to the long, arduous process of paying down debt. By eliminating debt in one fell swoop, people can eventually get a fresh start and put their money toward more financially valuable opportunities.
"That same person, if they file bankruptcy, now there are doors open to them as far as savings is concerned, or maybe allocating money to buy a house," Sadek said. "When they have savings, it keeps them out of debt. And if they're able to stay out of debt, that means more money in their pocket."
An Alternative to Debt Consolidation and Negotiation
The bankruptcy process begins with an intake form that helps clients organize their financial situations on paper. It covers their household income and expenses as well as the makeup of their secured and unsecured debt. That allows the client and attorney to get maximum value from the first consultation.
"The moratorium on evictions and foreclosure forbearances are slowly being lifted in the counties surrounding Philadelphia," Sadek said. "We have a really good idea of their situation. And because we have that information, we can look at it and see how much money is left over, if anything, to allocate towards that on a regular monthly basis."
Those options include debt consolidation and negotiation. But if neither of those choices are feasible, bankruptcy comes into play.
Watch on
"At its core, we always look at affordability," Sadek said. "Affordability in bankruptcy means that you can afford to pay something to creditors every month. I call Chapter 13 bankruptcy the great compromise. And the reason why I say the great compromise is because my clients are paying something, and the creditors are getting something."
While the creditors typically receive far less than the debt owed, it's much better than nothing — which is what they would get in Chapter 7 bankruptcy. That category is reserved for people who don't have enough income each month to pay their debt.
"They take their unsecured debt, credit cards, personal loans, and they can get a discharge, which would give them a fresh financial start," Sadek said.
Increase Credit Scores Through Reduced Debt Utilization
"Before we file a case, regardless of what chapter, we always get a credit report and a judgment and lien search, and the credit reports that we get have the current credit score before filing," Sadek said. "Most of the credit scores that I've seen are somewhere in the mid-500s to the mid-600s — not terrible credit scores. Why? Because people have been paying towards their debt."
One fear that can cause people to resist filing for bankruptcy is that it will impact their credit score for years to come. But that is not necessarily the case.
According to Sadek, credit scores can generally go up between 50 and 100 points within the first year of filing for bankruptcy. That bump is also based on the filer not incurring any new debt, which can be difficult in some situations.
However, filers often carry little to no debt post-bankruptcy. Money that previously went toward paying interest can then be used to pay for everyday expenses, which keeps credit utilization low and helps their credit score improve over time. This rise in score also makes them more attractive to lenders.
"These lenders, if they're not lending money, they're not making money, and who better to loan money to than somebody who just filed for bankruptcy? They want to be first in line to get that credit card offer in their mailbox," Sadek said. "I tell all my clients, stay away, stay away, stay away. Because if you stay away, your credit score is going to continue to rise, and savings are going to continue to rise as well."
Extending Financial Relief from Pennsylvania to New Jersey
After graduating from law school, Sadek worked for large, established law firms. But he believed he could serve his clients better, so he struck out on his own to start a new firm.
"I started with zero clients, the furniture that was in the office from the tenant before me, and my laptop from law school," Sadek said. "I would say that we quickly grew."
That growth made a deep footprint in Philadelphia. Now, the firm Sadek and Cooper has worked its way across the bridge to establish a presence in New Jersey.
"There are a lot of people in New Jersey that need help, and they don't know where to turn," Sadek said. "So we're taking our processes that have proved to be most helpful into New Jersey."
Currently, Sadek and Cooper maintains 10 offices, with its Philadelphia office serving as a hub for the firm's seven lawyers and seven support staff. During the COVID-19 pandemic, the team has been working remotely. As restrictions lift, the team will return to the firm's offices and continue to expand coverage.
"We do not worry about our presence here in Pennsylvania," Sadek said. "But as we grow, New Jersey is where we see the greatest need for our services."
Advertiser Disclosure
BadCredit.org is a free online resource that offers valuable content and comparison services to users. To keep this resource 100% free for users, we receive advertising compensation from the financial products listed on this page. Along with key review factors, this compensation may impact how and where products appear on the page (including, for example, the order in which they appear). BadCredit.org does not include listings for all financial products.
Our Editorial Review Policy
Our site is committed to publishing independent, accurate content guided by strict editorial guidelines. Before articles and reviews are published on our site, they undergo a thorough review process performed by a team of independent editors and subject-matter experts to ensure the content's accuracy, timeliness, and impartiality. Our editorial team is separate and independent of our site's advertisers, and the opinions they express on our site are their own. To read more about our team members and their editorial backgrounds, please visit our site's About page.