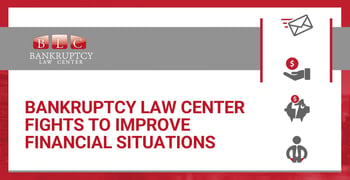 Experts share their tips and advice on BadCredit.org, with the goal of helping subprime consumers. Our articles follow strict
editorial guidelines
.
In a Nutshell: This year has been financially challenging for millions of Americans, and while it's never a person's first choice, some people will inevitably file for bankruptcy. But it doesn't have to be something you go through alone. We spoke with the Bankruptcy Law Center in San Diego to learn more about the bankruptcy process. One of the most important things we learned is that going through the process alone can be potentially disastrous. But the experienced team at Bankruptcy Law Center will fight on behalf of the clients with the goal to put them in a better financial position than they were.
Millions of people across the country are more than ready for 2020 to come to an end, with hopes that 2021 will usher in a brighter era. The COVID-19 pandemic and a tumultuous political landscape has left many Americans feeling uncertain about the future.
The year left many people and businesses in difficult, unforeseen financial situations. The service and hospitality industry, just to name a couple, were hit particularly hard. I can think of more than a handful of beloved local restaurants and businesses nearby that didn't survive the economic impact of the pandemic.

Many individuals have struggled as well, whether it was due to reduced pay, job loss, or simply watching helplessly as their debts piled up.
Once debt begins to accumulate, it can reach a tipping point where the person in debt can no longer sustain their month-to-month bills — and something has to give. In some cases, working with a debt settlement company may hold the answer.
For others, financial hardships may end in bankruptcy. Of course, filing bankruptcy is generally not anybody's first choice. But it offers the chance at a new beginning. But it's not an easy road to go down on your own.
The Bankruptcy Law Center in San Diego works with clients across Southern California to help them deal with the difficult task of filing for bankruptcy with a mission to not only help clients get through the ordeal but to end up in a better financial position than when they started.
We spoke with Ahren Tiller of the Bankruptcy Law Center to learn more. Tiller is one of only four attorneys in California triple certified as a Bankruptcy Law Specialist, Consumer Bankruptcy Law Specialist, and a Business Bankruptcy Law Specialist.
The Benefits of Enlisting Professional Assistance When Filing Bankruptcy
"Filing bankruptcy is like walking across a minefield," Tiller said. "People can probably fill out the forms and fumble their way through it, and they might not get blown up. But the problem is they don't know where the mines are. Things that most people wouldn't think are an issue can become big issues."
To put it simply, Tiller strongly recommends that people enlist professional guidance and not try to go through the bankruptcy process on their own.
"Someone may say, 'My mom gave me $20,000 to pay my property taxes that are past due, but then I got my big tax refund so I turned around and paid her right back two days later,'" Tiller said. "Well, that's a preferential payment, and then mom could get sued."
That's just one of many scenarios that can be avoided by seeking bankruptcy attorneys to help guide you through the filing.
Tiller said that, at Bankruptcy Law Center, the attorneys work together as a team to try to secure the best possible outcome for the client.
"It's a team approach, and there are multiple lawyers in the firm and we collaborate," he said. "With that team approach, for instance, every case that we file basically has five or six different sets of eyes on it."
Bankruptcy filings are very detail-oriented and technical, he said. So it's important to pay attention to catch every little thing.
"It's very important that all creditors are listed, or any possible claims are listed as well as assets," Tiller said.
A Team of Experienced Professionals Improve Results
"Right now we do about one out of every five bankruptcy cases in the Southern District of California — in the San Diego area," Tiller said. "We also do cases in L.A. So we do a lot."
The attorneys at Bankruptcy Law Center have filed thousands of bankruptcy cases for consumers, including Chapter 7 and Chapter 13 filings, according to the firm.
"The Bankruptcy Law Center is proud of its team of lawyers, paralegals and thoughtful staff and we believe that we are the most diligent and committed bankruptcy law firm in the Greater San Diego area," according to the website. "We are serious and passionate about getting you the relief you need when you need it most."
With the decades of experience in bankruptcy law and related areas, the firm can handle a wide range of financial challenges for consumers, no matter what the origin is.
"Whether your problems arise from foreclosure, divorce, real estate disputes, disputed automobile loans, vehicle repossession, lien disputes, litigation, a failed loan modification or you simply have overwhelming credit card debts, rest assured that our team of lawyers has seen your problem before and that we will quickly and efficiently guide you to your best legal options," according to the firm.
Tiller also discussed the credit implications of filing for bankruptcy. It's widely accepted that filing for bankruptcy will wreck a person's credit. And while the consumer's credit will initially take a hit due to bankruptcy, Tiller said that, if they follow the firm's advice, they can have their credit back on track relatively quickly.
Filing for bankruptcy doesn't have to mean that you can't have a credit card or purchase a car or home for seven years.
"I've had clients who, two years later, they buy a house. I've seen it with my own eyes," Tiller said. "I've had testimonials from many, many clients who bought property and moved on with their life and had 700 FICO scores just two or three years after filing."
When Bankruptcy is the Best Solution to Financial Woes
Tiller said that for some consumers, it may be difficult to know when bankruptcy is the answer to their problems.
Bankruptcy Law Center will help potential clients understand their situation and determine if bankruptcy is right for them.
"We will meet with you for FREE and provide you with a careful analysis of your situation and your legal options," according to the firm. "The banks have lawyers and you deserve a law firm to protect you, so we make it as easy as possible to start the process and to understand your rights — it's FREE."
If someone comes to the firm $20,000 in debt and they make $80,000 per year, it may not be clear what direction they should take, Tiller said.
"If it's just one creditor that they owe 20 grand to, we could probably work out a settlement on their behalf — we've done that. But if it's like six creditors and they owe $3,500 here, $2,800 here, and $8,800 here, and they're adding attorney fees, interest, and late fees, that's when, credit-wise, they may be better off filing for bankruptcy." — Ahren Tiller, Bankruptcy Law Center
When so many different parties are involved in the person's debt, it makes things much more difficult, Tiller said.
And, again, filing for bankruptcy is not a death knell for a person's credit, he emphasized.
Bankruptcy Law Center also strives to prevent payment from becoming a barrier to securing their services.
"We keep our fees LOW and we will show you options for handling payment that will make it easy and painless to get relief from your debts. It's what we do," according to the firm. "Every client that hires us has very little cash and no idea how they will pay a lawyer. And yet, they still file bankruptcy and get a fresh start."