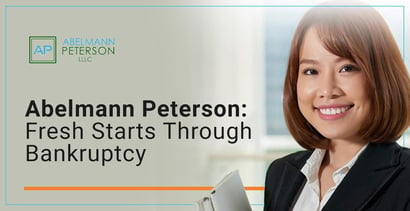 In a Nutshell: When debt gets out of hand, consumers often turn to debt settlement or management. But in extreme situations, the bankruptcy attorneys at Abelmann Peterson can help consumers make a clean start. People with overwhelming unsecured debt and those who have fallen behind on secured debt are often good candidates for bankruptcy. The two main types of consumer bankruptcy offer benefits that will suit particular debt situations. Often, the most challenging part of bankruptcy isn't recovering financially but overcoming the stigma to seek help in the first place.
Financial hardship can come in many forms. It can be a lost job that puts a homeowner behind on a mortgage, an unexpected medical expense, or a large credit card bill. Sometimes, consumers can find a way out of that debt through negotiations or settlements, but in extreme cases, the only recourse may be bankruptcy.
When people think of bankruptcy, deep subprime credit scores may come to mind. They also may think of financial hardship for years to come or the intense social stigma associated with money mismanagement and a desire to avoid paying debts.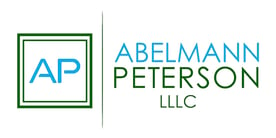 "It's the 'B' word. Another Scarlet Letter," said Lars Peterson, Bankruptcy Attorney at Abelmann Peterson, a law firm that specializes in bankruptcy cases. "I think it's a misunderstood concept. We see people who are close to losing their house or getting levied by the IRS and have already spent tens of thousands of dollars trying to fix things. What they hear from us is that we can help save their house by filing for bankruptcy — and do it by tomorrow."
The firm Abelmann Peterson focuses primarily on consumer bankruptcy — generally cases that involve Chapter 7 and Chapter 13 of the U.S. Bankruptcy Code. Before bankruptcy, the attorneys will explore options, including debt management, debt settlement, or working out an arrangement with creditors that allows borrowers to pay back the money at a reduced rate over time.
When those prove unfeasible, bankruptcy can help consumers wipe the slate clean and start fresh without long-term hardship or lasting financial damage.
Bankruptcy Solutions for Many Types of Consumers
Bankruptcy is a last resort for consumers who can't make payments on outstanding debts. Debt management and debt settlement may be effective resources for people who are struggling. But when those measures aren't effective, bankruptcy is a valuable tool.
Candidates for bankruptcy fall into three groups. The first one is those who owe money on secured debt, including a mortgage or an auto loan, as well as unsecured debt. The second group owes in the form of credit card balances or student loans.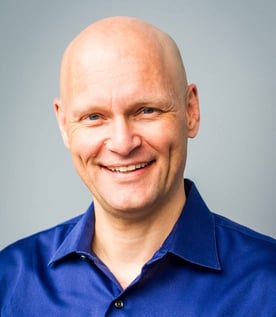 "We offer free consultations, and people reach out to us in various stages of emotional and financial stress," Peterson said. "We are often the last resort because finances are something people don't like to talk about, especially when they're not going well."
To determine candidacy for bankruptcy, attorneys look at all of a potential client's outstanding debt. Then, they compare it to current or expected income to determine how long it would take to pay it all down. If the timeframe or financial burden is unreasonable, then bankruptcy represents a way out.
"Bankruptcy can fix everything," Peterson said. "It can give people in a somewhat reasonable situation through Chapter 13, (the chance to) get them back on track. Chapter 7 typically involves liquidation where you have no meaningful assets. That can give you a fresh start because it gets rid of almost all the debt. And now you can look forward."
Chapters 7 and 13 Cater to Different Debt Situations
In Chapter 7 bankruptcy, the filer's assets go into a bankruptcy estate, similar to what happens to property after someone dies. The bank or creditor assesses each asset, with greater emphasis placed on real property and equity. If someone has no significant assets, the attorney can apply for exemptions to help prevent the filer from losing anything.
"So if you were into guitars, and we list them and say they're worth $3,000, but we have an exemption, no trustee or creditor can touch them if you file Chapter 7 bankruptcy," Peterson said.
Other significant factors include income and expenses. Some clients may have a high cash flow, but they're burdened by significant costs, including supporting a family. Attorneys can also leverage those factors in bankruptcy proceedings.


"Generally, if you don't have any assets and don't have too much of certain debt, including support obligations, or tax obligations, that's usually very good for you to go into a Chapter 7 case," Peterson said.
Chapter 13 bankruptcy involves a three- to five-year repayment plan. It can be useful in cases where the borrower has defaulted on a home or auto loan. The category allows them to make repayments at a lower rate, and at the end of the term, their debts are cleared.
"We try to go as low as possible with the money you would have to pay to unsecured creditors, including credit card companies or signature personal loans," Peterson said. "Other unsecured debt gets paid at the end of the bankruptcy, but the rest is discharged, and that helps people get back on track."
Bankruptcy Can Help Salvage Credit for Responsible Clients
Many consumers assume that filing bankruptcy will mean a dismal credit score and poor access to loans and lines of credit for years to come. However, that doesn't have to be the case.
"People who come to us are often in need of a bankruptcy filing, or at least some debt resolution work because they can't handle it anymore. Creditors are about to come in and take over and force them into garnishment and or repo their car," Peterson said.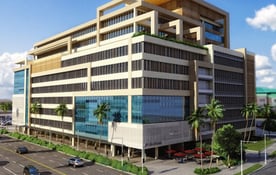 In those situations, many borrowers have already defaulted on payments and fallen into arrears. Their credit is in decline and will continue to fall as long as they struggle to pay. Bankruptcy can allow them to clear the slate and recover more quickly than if they paid the outstanding debt off over time.
Chapter 7 will cause a drop in the consumer's credit score, but the process concludes in a few months. If consumers make timely payments after that, they can prove themselves to be safe credit risks. Eventually, they can get a new credit card, improve their score, and qualify for loans and better credit products.
"If you filed a Chapter 7 bankruptcy with your discharge order from the court, you may get three new credit card offers," Peterson said. "Why? Because the time frame before you can refile a Chapter 7 bankruptcy is now an eight-year gap."
Credit card companies are more likely to extend offers because consumers can't use bankruptcy as a recourse in the near future. They're guaranteed payment, and if the consumer manages those cards and payments responsibly, they can start rebuilding their financial lives.
"People can deal with it," Peterson said. "A bankruptcy should not be such a negative mark and is often completely misunderstood."
Confidentiality Extends to Initial Consultations
Consumers often feel stigmatized by the prospect of bankruptcy. People know the term, but more often than not, they don't understand the financial purpose and benefits of bankruptcy.
Attorney-client privilege extends to initial consultations before retaining a lawyer's services. In those meetings, consumers can be honest, and attorneys can provide them with the best advice for their circumstances. It may also be an opportunity to educate borrowers on personal finance.
"I don't want to say bankruptcy should be promoted. But I think the problem is that people don't understand finances," Peterson said. "I wish there was more financial understanding and budgeting as part of general education."
That type of financial education can help people avoid needing to file for bankruptcy. Even after filing, education can be crucial to helping people get back on track and manage their money responsibly.
"I always encourage people to reach out to an attorney. The consultation is confidential, and nobody even knows if you talk to an attorney about it," Peterson said. "Be realistic with your finances and your budget, get third party input, and make an informed decision as to what the next step should be."
Those interested in the services offered by Abelmann Peterson LLC can contact them at 808.589.1010 or at 808.554.0104 after hours. Their office is located at 677 Ala Moana Blvd, Suite 510, Honolulu, HI 96813.
Advertiser Disclosure
BadCredit.org is a free online resource that offers valuable content and comparison services to users. To keep this resource 100% free for users, we receive advertising compensation from the financial products listed on this page. Along with key review factors, this compensation may impact how and where products appear on the page (including, for example, the order in which they appear). BadCredit.org does not include listings for all financial products.
Our Editorial Review Policy
Our site is committed to publishing independent, accurate content guided by strict editorial guidelines. Before articles and reviews are published on our site, they undergo a thorough review process performed by a team of independent editors and subject-matter experts to ensure the content's accuracy, timeliness, and impartiality. Our editorial team is separate and independent of our site's advertisers, and the opinions they express on our site are their own. To read more about our team members and their editorial backgrounds, please visit our site's About page.