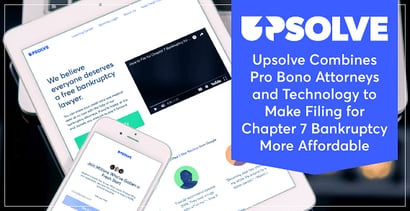 In a Nutshell: Overall household debt in the US has reached a record high of $13.3 trillion, and personal savings are nearly non-existent for an alarming number of people. Most Americans are just one emergency away from financial disaster. Bankruptcy can help many of them by providing relief from insurmountable debt, but filing for bankruptcy remains a social and financial burden. Upsolve is a nonprofit organization that's helping to remove both the social stigma and the expense of filing for Chapter 7 bankruptcy. Using technology that makes it easier to fill out the necessary forms and calling on pro bono attorneys to help with filing, Upsolve hopes to make this constitutionally guaranteed right something that's affordable for anyone who needs it.
I can remember as a kid hearing my father jokingly chide my mother that she was going to spend us into bankruptcy. Of course, I didn't fully understand what the term meant, but I knew it wasn't good.
For most Americans, the idea of filing for bankruptcy is somehow akin to admitting financial failure. You just couldn't manage your income and expenses well enough, so you threw in the towel, right? The reality, however, is that bankruptcy is still viewed as a last resort and remains an underutilized financial tool, even by those who could benefit the most from it.
Many are surprised to learn that bankruptcy is a constitutional right. In Article 1, Section 8, Congress is given specific authority to establish laws on the subject of bankruptcy and to allow Americans the ability to exercise their bankruptcy rights within the legal system.
Our founding fathers, in their forethought and wisdom, believed there may come a time in the life of an individual where forgiveness of debt was in the best interest of all. Today, with the overall household debt in the US exceeding $13 trillion, according to the Federal Reserve's Survey of Consumer Finances, there is little room for error when it comes to personal finances.
Any disruption to a person's financial life, whether from a medical emergency, job loss, long-term illness, or other events, can quickly send him or her into a financial spiral. With debt at an all-time high and savings nearly non-existent, many Americans are just one emergency away from financial disaster.
While it should never be entered into lightly because of its impact on your credit score and borrowing power, bankruptcy offers relief from insurmountable debt. However, it is often prohibitively expensive to pay an attorney to file and too complex for people to feel comfortable doing it themselves. But a recently established nonprofit called Upsolve is hoping to make this constitutional right a more affordable option for people in trouble by changing the way we approach bankruptcy.


Upsolve is a technology-based legal aid nonprofit that was established to help desperate and primarily low-income Americans overcome financial devastation by using automation and a team of pro bono attorneys to make it easier and more affordable to file for Chapter 7 bankruptcy. We recently discussed the platform's advantages with Rohan Pavuluri, Co-Founder and CEO of Upsolve.
"It's really unfortunate that in America there's such a negative view around bankruptcy because it really is an important social safety net," Pavuluri said. "Academic research shows that more than 90% of bankruptcies are related to a sudden financial shock, such as the loss of a job, a medical illness, divorce, small business failure, or a family emergency. There are just so many people out there who, by no fault of their own, end up with insurmountable debt."
What is Chapter 7 Bankruptcy, and Why is it so Powerful?
Chapter 7 bankruptcy gives individuals the ability to erase most of their unsecured debt without the need for a repayment plan. This can be especially helpful for those with low incomes and few assets who also find themselves in overwhelming debt. Put simply, Chapter 7 is for people who can no longer pay even a portion of the debts they owe and are seeking to have them discharged.
There are certain requirements you must meet to file for Chapter 7 bankruptcy, which you can read about by clicking on the "See If You Qualify" button on the Upsolve home page. The most important thing to know is that most debts — with the exception of student loans, child support, and mortgages — can be fully discharged. That's the power of Chapter 7 bankruptcy; it can truly mean a fresh start.
Pavuluri came up with the idea for Upsolve while working at a legal aid clinic within the Harvard Law School's Access to Justice Lab. He saw that one of the biggest hurdles to filing bankruptcy was the associated expense.
"One thing I realized is that it's basically impossible for someone to file for bankruptcy, because if they're $40,000 in debt, they can't come up with the money to afford a private attorney," Pavuluri said. "There are millions of Americans who would benefit from this powerful poverty-fighting tool, but can't afford it."
There's an important point to understand in that statement: The higher an individual's level of debt, the fewer options are available to them. It costs between $1,000 and $2,000 to hire an attorney to file a Chapter 7 claim, and attorneys want that money to be paid up front.
Leveraging Proprietary Technology to Lower Costs
What Pavuluri and his team have done in creating the Upsolve platform is to make filing for Chapter 7 bankruptcy easier and cheaper through the use of technology. But how do you know if you're a good candidate for Chapter 7?
If it turns out that Chapter 7 is the right choice for you, the proprietary software will walk you through a series of financial questions and populate the forms required to file. The service is free to use, and the only cost to a prospective bankruptcy filer is the court-imposed fee of $335, which is only applicable if you earn more than 150% of the poverty level.
Watch on
"When someone provides their financial information, our automated system populates the bankruptcy forms," Pavuluri explained. "An in-house Upsolve bankruptcy attorney then reviews the forms, after which they can be filed in the courts in 48 states. Because bankruptcy law is federal, there aren't that many state-by-state differences and that allows us to really help people at scale."
Having an automated system that helps people complete bankruptcy forms is a huge advantage, especially since the forms run in excess of 70 pages. With Upsolve, people can take their time in filling out the forms, even doing it on a mobile device if they choose. A 24/7 chat support is also available if they get stuck. One other tremendous advantage is having a bankruptcy attorney review the forms before you file them with the bankruptcy court.
Alternatives to Upsolve include filing on your own, which many people find too complex and time-consuming. Pavuluri explained that the primary reason bankruptcy cases get denied is due to incorrect or incomplete filing of the 23 forms required. Another option is to try finding a local legal aid nonprofit, but many are stretched thin and have limited resources.
"Contrast this with Upsolve, which has no waiting list and never will because our process is very much technology-enabled and allows us to reduce the amount of time per case," Pavuluri said. "People can go through the process on their own, and, of course, it's all free, which is the biggest advantage."
Changing Attitudes Around the Stigma of Bankruptcy
Many people who are eligible to file for Chapter 7 bankruptcy don't, often because of the perceived stigma associated with it. Pavuluri and the team at Upsolve are working to change those attitudes by educating people on their rights.
The Bankruptcy Learning Center on Upsolve's website lets prospective filers research various aspects of bankruptcy and learn whether it's the right decision for them. This valuable resource helps explain what bankruptcy is, whether it's right for a given situation, and how to file if that's the best course of action.
Another stigma surrounding bankruptcy is the perception that people are somehow taking advantage of the system for personal gain. Pavuluri tells us nothing could be further from the truth.
"Most people don't realize that 500,000 people filed for bankruptcy in 2017, and there were only 16 cases that resulted in fraud investigations," he explained. "So fraud is nearly non-existent; it's not like people are taking advantage of the system."
If Upsolve is successful at changing public attitudes around filing Chapter 7 bankruptcy, perhaps this valuable social tool will become easier for people to accept. In the meantime, Pavuluri and the Upsolve team will continue to provide their free services, pro bono attorneys, and valuable education to those who need it.
Advertiser Disclosure
BadCredit.org is a free online resource that offers valuable content and comparison services to users. To keep this resource 100% free for users, we receive advertising compensation from the financial products listed on this page. Along with key review factors, this compensation may impact how and where products appear on the page (including, for example, the order in which they appear). BadCredit.org does not include listings for all financial products.
Our Editorial Review Policy
Our site is committed to publishing independent, accurate content guided by strict editorial guidelines. Before articles and reviews are published on our site, they undergo a thorough review process performed by a team of independent editors and subject-matter experts to ensure the content's accuracy, timeliness, and impartiality. Our editorial team is separate and independent of our site's advertisers, and the opinions they express on our site are their own. To read more about our team members and their editorial backgrounds, please visit our site's About page.