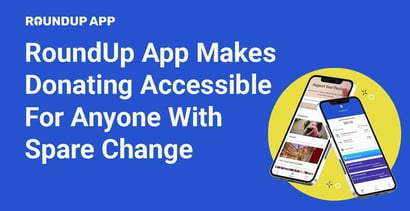 Experts share their tips and advice on BadCredit.org, with the goal of helping subprime consumers. Our articles follow strict
editorial guidelines
.
In a Nutshell: Putting charitable intentions into action can be a challenge for those with limited income. But by using the RoundUp App, patrons may find it easier to support their favorite causes. The app allows users to round up the spare change from their credit card purchases and distributes donations to the charity of their choice. Users can adjust settings for either one-time or recurring donations, and they can set a maximum threshold as well.
Making regular donations isn't always easy. A number of circumstances may prevent someone from financially supporting a charity or cause as much or as often as they would like. Sometimes people are forgetful of all the charities they donate to, and some may not have the funds needed for each donation.
With the RoundUp App, donors regain control of their giving. The app allows users to round up the spare change from each credit card purchase and send funds to an account that can be divided up among the users' preferred nonprofits. RoundUp also enables donors to keep track of their contributions and set up the frequency of donations.
"The beauty for me with RoundUp App is that the donation tools are in the donors' hands," said Jeni Putalavage-Ross, RoundUp App's SVP. "The donor can give to one group or multiple groups, give one-time or recurring, and can give what they can by just rounding up and not choosing an amount. That way, it kind of fits into their budget."

A lot of people may not have a direct connection to nonprofits, so RoundUp helps give prospective donors the tools that allow them to connect with the nonprofits they care about.
RoundUp's CEO, Braden Fineberg, initially wanted to develop a simple way to help donors and nonprofits find each other and connect. He later built a platform that helped new donors feel in control of how they budget their donations. After acquiring RoundUp App, Fineberg combined the rounding up technology with his donation platform to transform the app into its current design.
Automated and Adjustable Donations
To get started with RoundUp App, users just have to set up an account that connects with either a credit card, a bank account, or both. Putalavage-Ross said that by linking up with a bank account, users can round up their power bills or other payment essentials.
"You can log in, and you can see all of your transactions at any point in time. So you can also anticipate how much you'll be giving," said Putalavage-Ross.
Donor sign-ups are free, and one of the best things about RoundUp App is that all donations are tax deductible. The app automatically sends tax receipts and yearly summaries.
Donors can adjust the amount they would like to give and create a maximum threshold. The minimum donor commitment is $5 each month. So if a donor hasn't collected $5 in rounded up spare change, that difference is deducted directly from the donor's account.
The company also has a secondary product called RoundUp at Checkout, which was created during the pandemic. This feature was designed to help eCommerce businesses support their preferred local nonprofits.
Watch on
By using RoundUp at Checkout, merchants can create custom integrations for their businesses that allow an easy method of donation for online shoppers.
"We'll encourage [merchants] to create a landing page to talk about how much they're giving," said Putalavage-Ross. "We always encourage them to match donations because we also counsel them that the money that they raised from the consumers is not tax deductible for them."
Another way RoundUp helps raise up nonprofits is through its platform called Ribbon.
Ribbon assists with the development of grassroots fundraising and saves organizations time and money when starting a charity by connecting them with sponsors. The all-in-one platform provides the banking, accounting, fundraising, and organizational tools organizations need.
"By getting to know so many of the smaller nonprofits, we saw a need to help people that maybe can do the charitable work without having to file for a 501(c)(3)," said Putalavage-Ross.
Tailored to Donor-Preferred Causes
With over 1 million nonprofits to choose from, donors can find a cause that is right for them. The app is continuing to add more nonprofits on a regular basis.
Donors can pick and choose which nonprofits to donate to and even give to multiple groups by dividing the total amount. Donors can also switch out the organizations they donate to at any point in time.

The team at RoundUp App is constantly looking for ways to help people spread their donations so it created something called Cause Funds. These are groups of nonprofits that share a common goal. RoundUp collects expert opinions from assessors like Guidestar and Charity Navigator to help determine nonprofit compatibility. Donations that are received by a Cause Fund are divided evenly among all the nonprofits within the fund.
RoundUp has another category that is dedicated to Environmental Cause Funds. That category is further divided into more specific subcategories like fighting climate change, protecting endangered animals and supporting green technology.
"Depending on what motivates you and what is close to your heart, you can support a cause," said Putalavage-Ross.
The minimum for donating to a cause is $20. While that is higher than the regular RoundUp rate, it is meant to ensure the nonprofits in Environmental Cause Funds receive at least $5 each.
Another convenient feature is RoundUp's directory of nonprofits. Users can type in the name of a nonprofit they already know, or they can key in a zip code and find a group that's in their proximity. Users can also browse nonprofits by topic categories.
"We are constantly looking for ways to help people spread their donations," said Putalavage-Ross.
Helping Nonprofits Gain Visibility
The RoundUp App technology is beneficial in several ways because it makes giving easier for donors, and it offers greater outreach for nonprofits.
Most nonprofits would agree that their biggest challenge is gaining visibility and drawing attention to their causes. The RoundUp App is the perfect tool for bridging that gap. And when a nonprofit becomes an established client, they get access to RoundUp's complete marketing library.
The app allows nonprofits to add logos and create many customizations that can help elevate their image. The app offers nonprofits various marketing templates and project launch guides to increase their visibility. "We're asking these tiny nonprofits to be the best marketers out there, so we tried to make it as easy as possible," said Putalavage-Ross.
Nonprofits pay either a $15 monthly flat fee for claimed nonprofits or 15% of monthly donations for unclaimed nonprofits.
Putalavage-Ross said it can be a challenge to run a nonprofit organization, especially when it's a one-person operation. She said no single person can be an expert fundraiser, financer, marketer and take on all the mission responsibilities on top of that.
By reducing the task burden on one-person operations, smaller groups can focus on collecting funds that are tax deductible for their donors.
"It's a win-win scenario for everybody," said Putalavage-Ross.