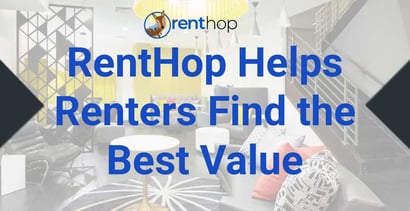 Experts share their tips and advice on BadCredit.org, with the goal of helping subprime consumers. Our articles follow strict
editorial guidelines
.
In a Nutshell: Sky-high rental rates are a huge concern in today's economy, and nowhere is that more apparent than in New York City. RentHop is a company aimed at making the process of finding an affordable NYC apartment a less daunting task. With its advanced proprietary algorithm, you'll know that you're getting an accurate and fair rental price no matter which neighborhood you're interested in. RentHop, the last open-listing friendly platform and a trusted source in the industry for over a decade, is committed to helping people through every step of the rental journey.
Rent prices have been steadily increasing, making housing one of the most expensive bills the average consumer pays each month. And the rule of thumb that you should commit 30% of your income to housing goes out the window in New York City where renters typically must to set aside 69% of their income on average for rent, according to Moody's Analytics.
Since 2020, the NYC market has seen a dramatic increase in housing prices that creates a financial strain for the average renter. A studio apartment that cost $2,770 in 2020 is now listed at $3,275 a month.
And the median rent price is $4,337 a month, according to RentHop, an online rental marketplace that aims to offer a more transparent and straightforward way for consumers and property owners to connect.

RentHop's mission is to make searching for the right rental property easier by using an advanced algorithm to produce a proprietary HopScore, which allows the platform to rank listings more accurately. The apartments with the best scores will show up first, so users can clearly see which units are the highest quality rentals for the price. That can be essential to renters on a budget who can't afford to overpay.
RentHop is also the last exclusive and open listing-friendly platform in New York City. With an open listing, landlords open the ability to list their property to any agent, while an exclusive listing means only certain agents or brokerages can advertise.
"If you are a landlord with a desirable apartment, you don't have time to show it to every single potential renter. If you hired an exclusive manager, he or she wouldn't have time either. Open listings are actually all about efficiency," said Lee Lin, CEO and Co-Founder of RentHop. "You welcome hundreds of licensed agents to schedule showings and help sift through the thousands of potentially interested renters. Qualified renters quickly find great apartments this way, because the agents working with them are on the streets daily looking at active inventory. It's all about efficiency."
Before even beginning the apartment hunting process, "the first thing you need to know is exactly what you can afford in rent," said Alexandra Peña, RentHop's PR and Operations Associate. "That's a huge topic in New York City because it is a completely different beast."
In addition to helping users find the best properties for their budgets, RentHop also educates renters on a wide variety of rental topics. The platform has also compiled helpful information regarding how much renters can save by having a roommate and the best areas in the winter for rent.
While RentHop was founded with a focus on New York City, it has since expanded its service to other major US cities, including Boston, Miami, Los Angeles, Chicago, and Washington, D.C. And the platform's growth extends transparency, knowledge, and peace of mind to renters in more markets.
Use RentHop to Find the Right Apartment for You
The HopScore is a significant component of RentHop's strategy to help users find the right property. The platform produces a score for each listing based on a number of factors, including how fast the agent responds, pricing, and reviews. The ranking is based on more than 15 years of rental data and millions of apartment transactions. The top-scoring apartments will be the first shown in searches, ensuring that renters don't have scroll through pages to identify the highest quality properties.
A listing's HopScore may be impacted due to a variety of reasons, including scam-like content, lack of information, or listed rent that is lower than RentHop's data for the building. The HopScore also flags a listing if it seems too good to be true, particularly when the price is suspiciously low based on comparable units.
Anyone who lists on RentHop is verified with a government-issued ID, and every agent must have an active license number to be featured on the site.
"Once a renter reaches out, agents have to respond to every inquiry at least once in a reasonable amount of time through RentHop, and if they don't, they're penalized by the HopScore," Peña said. "Then after, they can choose either to take the communication off the platform, or communicate on the platform."
As the New York City market is fast-paced, responsive agents and prepared renters are the ones who will be the most likely to secure a lease for an apartment.
To save time when searching, renters can apply parameters such as the number of rooms and the maximum price for a neighborhood to narrow down apartments that meet their specific situation. Peña also recommends renters use the data RentHop compiles to compare different neighborhoods by average rent or see how their current rent compares to their neighbors.
"Having a general idea of the bare minimum that you need [for an apartment] is a good start, such as being close to a certain train," Peña told us. As it's New York City, Peña advised renters aren't going to get every single thing they're looking for in an apartment. While renters can certainly have a dream apartment in mind, they should also maintain a good idea of what they need and what they want to understand where they can compromise.
Apartment layouts will differ. Flex apartments are traditional apartments divided up into smaller units by using temporary walls to add extra bedrooms that can be leased out individually. Sublets are another option for NYC renters looking for short-term housing solutions.
When several renters are interested in the same apartment, different factors, including income, credit scores, and having necessary documents ready to go with an application, often come into play. According to Peña, simply having everything ready to submit before anyone else can be the difference between getting that new apartment and missing out.
Helping Renters with Valuable Tools and Information
RentHop doesn't just offer the HopScore to help renters know they're getting a good deal. The platform also provides prospective renters with helpful information, including a guide to renting in New York City and average rent prices by neighborhood. That means users can compare their new apartment with a similar one in their borough. 

RentHop also understands the different circumstances renters need to consider, and it has published a number of reports that serve as valuable resources. You can learn about the best neighborhoods to live in in the winter in NYC  and how much rent you can save by having a roommate. Another report, the Subway Index, looks at median rents for one-bedroom apartments cross-referenced with subway entrance locations. Plus, you can learn how to negotiate your rent.
"Pretty much any question a renter would have, we have it on our site, Peña said. "Or we have a corresponding report, like there's one in the winter that we'll release about heat complaints as well."
Renters can also compare their current rent to those of apartments in their neighborhood with RentHop's newly released RentCompare tool. It's free and helps you know if that deal you're getting on your new apartment is really as good as you think.
Just type in your address, how much the rent is, and the parameters of the apartment (i.e. elevator access, how many bedrooms and bathrooms, and whether it comes with an in-unit washer and dryer). The tool will instantly let you know if you're underpaying or overpaying.
RentHop Adapts to Market Trends
Prices have been fluctuating in recent years when it comes to NYC rentals. According to RentHop's Peña, there was a "huge COVID discount" as many people moved out of the densely populated city when the pandemic started.
Some discounts included a few months of free rent offered at signing to get people into vacant units as rents hit new lows. But this summer, rent prices went back up as people moved back to the area.
And in the current real estate market, listings will be up one day, then quickly vanish, Peña said.

"Oh, yeah," Peña said. "That's like summer time. So we're going into that busy season now. Usually we say a listing after seven days, what is the reason for it being on the market? In the summer, things are flying. It's very competitive."
RentHop has helped make renting in New York City more transparent with its HopScore AI, up-front listings, RentCompare tool, and resources aimed at making renting less of a headache. 
Despite New York's high cost of living and increasing rental costs, RentHop makes it easier to find a good deal on a rental unit in your desired neighborhood. Peña has seen the success stories time and time again as the company continues to be a source of positive change in the industry.
"It's nice to hear that we're kind of removing that scare mentality away from the rental agent in New York City," Peña concluded. "We're really trying to push all of the information and the data and things to empower people, so you know what you're getting into."