Experts share their tips and advice on BadCredit.org, with the goal of helping subprime consumers. Our articles follow strict
editorial guidelines
.
In a Nutshell: Prosper launched in 2005 as the first peer-to-peer lending platform in the US. Since then, it has provided more than $20 billion in affordable credit solutions to millions of consumers with various credit backgrounds. Now, the San Francisco-based lender has added a credit card to its portfolio that offers up to $3,000 in initial credit to consumers who may have less than perfect credit scores. Within the first eight months of introducing the product, Prosper has helped over one hundred thousand customers take charge of their finances and build credit.
Rising inflation has consumers worldwide tightening their belts and emptying their wallets for everyday items that were once small purchases.
While some may wax nostalgic for the days of $3-a-gallon gas, many consumers are trying to figure out how to pay for their next fill-up.
Even banks are pulling back and raising interest rates, which makes it more difficult to get affordable access to credit — even for consumers with a good credit score. Those who have dealt with previous credit issues may find it even more difficult to get the help they need.


Prosper offers a helping hand to consumers with less-than-perfect credit. The San Francisco-based company started as a personal lender in 2005 and recently expanded its portfolio of products to add a credit card that allows more consumers to take control of their financial futures.
The company waives the $39 annual fee for the first year when users sign up for AutoPay, and they won't encounter fees for ATM cash withdrawals. And supreme credit consumers don't need a security deposit to qualify.
"There's a large segment of the population that's struggling with credit because life has happened to them," said Ashish Agarwal, CMO at Prosper. "Maybe a bankruptcy for personal reasons, medical reasons, or a failed entrepreneurial venture. But these are also responsible folks who are trying to establish credit. Giving them affordable credit is critical, not only to manage their cash flow needs, but also to build their credit, which is important — and we recognize that."
Starting Credit Lines Of Up To $3,000
Applying for the Prosper card is quick and easy — and attempting to prequalify won't harm your credit score. If approved, accountholders could receive up to $3,000 in initial credit, with zero liability fraud protection, financial literacy tools, and digital solutions to help track spending and expand budgets.
The card, issued by Coastal Community Bank, launched in Q4 of 2021. According to Agarwal, the company already has over one hundred thousand active card accounts within the first eight months.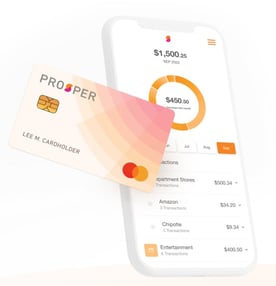 "We are seeing tremendous interest," he said. "Just the production in the first few months confirms our hypothesis that customers are looking for a fair and transparent product which is easy to understand, and the terms make it easy to use."
Cardholders also receive free and ongoing credit account reviews that may result in credit line increases as their credit scores improve. That's much easier to accomplish when consumers establish a regular pattern of on-time payments with a Prosper credit card.
Agarwal noted that many of the card's early adopters are return customers who have previously enjoyed the ease of applying for, and receiving, a personal loan through Prosper.
"We have already established a trusted relationship with these customers," he said. "Many of them have subprime credit scores and don't have very many credit card options out there. When you compare this to some of the other segments in the market, there was an unmet need."
Prosper has done its part to fill that need without neglecting its flagship product offering — the personal loan.
Personal Loans With Transparent Offers and Pricing
Despite the rapid adoption of its credit card, Agarwal noted that Prosper has still seen 30% growth, year over year, with its personal loan options.
These loans can range from $2,000 to $40,000 and consumers can use the funds in any way they want with the exception of post-secondary educational expenses. While many borrowers turn to Prosper for debt consolidation loans or to finance home improvements, Agarwal said that there's no limitation on how someone can use the loan proceeds.
"Our vision is really to transform lives by providing affordable financial solutions to empower customers as they move across the credit spectrum, through the simplest and most trusted platform," he said.


Prosper has helped facilitate approximately $20 billion in funding solutions for millions of consumers with various credit backgrounds to date. Many consumers pay off their loans and may take out a second or third loan because of the ease and transparent repayment terms.
The loan application takes minutes to complete. If approved, applicants can have money in their linked checking or savings account by the next business day.
And since Prosper isn't a traditional bank, its customers aren't at the mercy of an underwriter who is concerned with increasing profits. That's because Prosper was the first peer-to-peer lending platform in the US. Instead of borrowing funds from a bank, a group of traditional investors fund the loans while investing in the future of consumers.
Prosper: A Focus On Financial Literacy
Prosper offers credit cards and loans as part of its mission to help consumers overcome previous credit hardship. But the company also provides a free blog with helpful tips on important topics — including how to manage debt, apply for a loan, or calculate the total cost of a loan.
Credit cardholders can also have access to modules that focus on credit education and financial literacy. Borrowers with an active personal loan through Prosper can opt in to receive free updates about their FICO® scores to stay informed.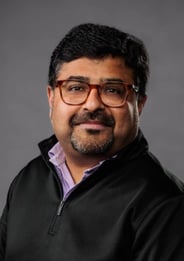 "Helping the customer on their financial journey with financial literacy is an increasing focus of ours," Agarwal said.
Whether through the blog or with new financial tools and modules, Agarwal's team looks for ways to expand how Prosper supports its customers by adding educational elements to its products.
"There's a lot of work underway internally to figure out what kind of content we can produce, through our blogs and marketing efforts," he said. "We really want to help educate customers on topics such as what a FICO score is and what you can do to improve your FICO score."
He also noted that the key to making the educational components digestible is to ensure they are clear, understandable, and easy to access.
"For example, we recently saw tremendous interest from people who were looking for personal loans, and wanted to understand the cost of the loan," he said. "So, we ended up creating an easy-to-use calculator that generated tons of interest."
These tools are especially helpful as inflation and a post-COVID-19 world prove more expensive than what consumers encountered before the days of lockdowns and quarantines.
Prosper has a vision to help all consumers make it through these tough times and create a society where there's greater financial understanding and broader access to affordable loans and credit.
"Trust is fundamental to a financial relationship," Agarwal said. "It's a high-stakes decision that consumers make in their lives when they sign on that mortgage document or take a loan. And Prosper is very fortunate to have 15 years of history on our platform."