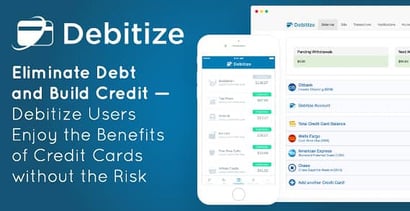 In a Nutshell: With rewards programs and increased purchase protection, credit cards have key advantages over other payment methods. However, deferred payments also bring additional responsibility when it's time to pay your bills at the end of the month. One personal finance app, Debitize, is essentially transforming credit cards into debit cards by automatically deducting money from users' bank accounts to cover their credit card purchases and pay their bills. In addition to giving users the budgetary peace of mind they enjoy with debit cards, Debitize also lets them reap the rewards and enjoy the protection of credit cards while also helping improve users' credit scores.
When the team at Debitize, a popular personal finance app, set out to make a promotional video, they wanted to feature user testimonials. Unscripted and unsure of what sort of feedback they would hear, the team put out a call to anyone in New York City who wanted to participate.
Imagine their excitement when one user described how, in just a few months, Debitize helped him pay off $8,000 worth of credit card debt and raised his credit score 60 points.
"We live for that stuff," said Liran Amrany, Founder and CEO of Debitize. "That's what makes it very rewarding."
Before founding Debitize, Amrany was in his ninth year on Wall Street in 2013.
"I was on the trading floor at J.P. Morgan, designing new derivative products for institutional clients," he said. But that wasn't where Amrany wanted to be. "I was always more interested in personal finance and financial literacy, and I wanted to find some way to do something with more of an impact in helping real people."
Amrany found his inspiration when two friends told him they were switching from credit cards to debit cards. At first, he was puzzled; he'd always used credit cards and had no problems with them.


"I realized that — for a large segment of the population — paying for their purchases every day is what keeps them on budget for the month," he said. "Having a monthly balance on their credit card, even if they have monthly autopay, just gives them anxiety."
And this was the inspiration for Debitize, an app that functionally turns users' credit cards into debit cards.
"You get all the perks without worrying about the interest or late fees," Amrany said.
Debitize helps users manage finances, eliminate debt, and enjoy the security and perks that credit cards provide. According to the website, the app's users have paid off over $15 million in credit card purchases thus far.
"We help you pay off your credit card purchases every day," Amrany said. "Then, as a credit card user, you can start earning rewards, build better credit, get security and fraud protection, and all those other perks attached to the credit card — but with the same peace of mind you use your debit card for."
Avoid Accumulating Debt — and Pay Off Existing Debt
Debitize's system for managing credit card debt is straightforward. First, users link their cards to their bank accounts. When a user makes a transaction with their card, Debitize automatically withdraws money from the account to cover the transaction — precisely like making purchases with a debit card.
"If you spend $10 on lunch, $5 on coffee, and then $20 at CVS later, that's $35 total. The next morning, we'll initiate a withdrawal for $35. We'll send you an email and a push notification that says, 'We took out $35 for these three transactions,'" Amrany said. "And by the time your bill comes due, we will have already paid it for you, in full and on time."
Amrany told us Debitize is covering $2 million a month in credit card transactions for its users. But, in addition to managing spending, Debitize also helps users pay off pre-existing debt.
"If you come in carrying a balance," he said, "you can schedule recurring payments to pay that down automatically over time."
Users decide how much to pay and how often, and the results speak for themselves. "With that tool," Amrany said, "we've paid off over $1 million in credit card debt."
To sign up with Debitize, all you need is a credit card — the app is compatible with them all — and a few minutes to authenticate your card, bank account, and identity. After that, you can start enjoying the peace of mind provided by debit cards but with all the perks of credit cards attached.
Debitize Users Enjoy the Rewards and Security that Only Credit Cards Offer
Debit card users don't have access to the benefits available to credit card customers. Among these are the myriad rewards and incentives, like extended warranties, purchase protection, price matching, the ability to rent a car, and cash back on purchases.
"Our users spend, on average, about $20,000 a year on their credit cards that are linked to Debitize," Amrany said. "So that's $400 in cash back or rewards if you're using a 2% cash back card — not counting sign-up bonuses and other specials and promotions. It legitimately could be thousands of dollars, if you're playing it right. That's real money, it's tax free, and there's no reason to leave that on the table."
Aside from these direct gains, Debitize users benefit by building or improving their credit scores.
"Credit cards are the only free way to build credit, and they're the best way to build credit, especially if you're young and starting out," Amrany said. "Debit cards don't help you do that."
Watch on
The ratio of a credit card balance to the available line of credit is called utilization rate. It counts for 30% of an individual's FICO score, so keeping utilization low means a higher credit rating. To help users improve their score, Debitize also offers a premium service called Credit Optimizer.
"It pays your credit card balance down more frequently and lowers your utilization," Amrany said. "That's the fastest and easiest way to build your credit, and we do it automatically."
Credit Optimizer is provided free to new users for a period of time, after which it incurs a monthly fee for those who wish to continue using it.
Finally, credit card holders enjoy greater security and fraud protection than debit card users.
"If your credit card is stolen and used fraudulently, it's the bank's money," Amrany said, "whereas the debit card is your money. They're also covered under different consumer protection laws. The credit card law is more consumer friendly, whereas the debit card law is more bank friendly."
Guaranteeing a Safe and Transparent Experience
Because it involves connecting users' financial accounts, Debitize takes security measures very seriously.
"Our lead engineer used to work at Lockheed Martin, so he's got lots of experience with security," Amrany said.
The app features 256-bit encryption, automatic logout, identity verification, and alerts for suspicious activity. If they choose to, users can unlink their bank accounts at any time and permanently revoke Debitize's access to funds.
"We don't store any of your credentials, and there's no functionality to move money from one person to another person," Amrany said. "The worst somebody can do, if they hack into Debitize, is look at your transaction history."
Although they come to Debitize for its automation of credit card payments, users will naturally want the ability to consult their transaction histories. That is why, in addition to notifying users of purchases in real time, Debitize also provides persistent, detailed, and transparent transaction records.
"If you log into your bank, you'll just see a deduction for Debitize," Amrany said. "But if you log into Debitize, you can click on each withdrawal we make and there will be a drop-down menu of every transaction that went into it."
This includes amounts, dates, and merchant details, which allows users to meticulously keep track of their spending and finances.
Users' Financial Needs Drive Debitize's Future
Debitize's first priority is its users, and so it takes their opinions and ideas seriously. Feedback is gathered through monthly questionnaires, exit surveys, write-ins to customer support, and one-on-one user interviews. This amalgamation of input about user experiences and needs has helped to shape the app's future road map.The next major Debitize innovation is planned for late 2018.
"Our users are asking us if we can help them cover their other monthly expenses, like their rent, student loans, and car payments," Amrany said.
With this in mind, the next step for Debitize is expanding its scope to manage and automate payments for these debts, as well.
Of course, Debitize will continue helping users manage and pay off their credit card debt. But, at some point in the near future, those users will enjoy the same efficiency and peace of mind when budgeting and paying their other expenses, as well.
Advertiser Disclosure
BadCredit.org is a free online resource that offers valuable content and comparison services to users. To keep this resource 100% free for users, we receive advertising compensation from the financial products listed on this page. Along with key review factors, this compensation may impact how and where products appear on the page (including, for example, the order in which they appear). BadCredit.org does not include listings for all financial products.
Our Editorial Review Policy
Our site is committed to publishing independent, accurate content guided by strict editorial guidelines. Before articles and reviews are published on our site, they undergo a thorough review process performed by a team of independent editors and subject-matter experts to ensure the content's accuracy, timeliness, and impartiality. Our editorial team is separate and independent of our site's advertisers, and the opinions they express on our site are their own. To read more about our team members and their editorial backgrounds, please visit our site's About page.