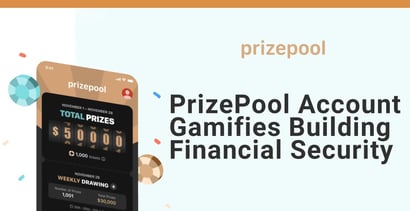 Experts share their tips and advice on BadCredit.org, with the goal of helping subprime consumers. Our articles follow strict
editorial guidelines
.
In a Nutshell: PrizePool provides a way for members to win money off their savings. Entries are collected throughout the week for a drawing held every Friday. The account incentivizes members to continue saving by offering one entry for every dollar in your balance daily. Members can win one of 6,000 cash prizes every week, with a $10,000 grand prize available every four weeks. Even if you don't win, PrizePool's FDIC insured accounts earn a 0.30% savings bonus.
Many of us know at least one person in our lives who plays the lottery and is waiting for that one big win. Since 2016, there have been three jackpots of more than $1 billion in the Mega Millions and Powerball games. When jackpots hit those astronomical highs, people who don't normally play the lotto will jump in. Participating in office work pools and picking up a few tickets at the convenience store or gas station is hard to resist, even with a minuscule chance of winning.
And it really is a minuscule shot. On the list of things more likely to happen than winning the jackpot, which has a likelihood of about 1 in 300 million, is becoming President of the U.S. or becoming a famous movie star. Many of us move back to our normal lives and habits after a winner is drawn,. But for millions of other people, the habit continues at a dangerous pace.

The people most likely to buy lottery tickets or instant win games come from lower income neighborhoods. Instead of saving the money to create better lives for themselves and their family, that sliver of a chance at becoming rich in just seconds is too hard to pass up.
Frank Chien realized this issue and came up with a solution of his own to provide that winning feeling, while also helping people save their money. He and his team developed PrizePool, a prize-linked savings account that rewards and incentivizes better money habits.
By simply saving money in your account, you earn entries into a weekly sweepstakes with real cash prizes. Entries cannot be purchased because the only way to get tickets is to earn them by practicing financial wellness. There's no risk if you lose, and only opportunities to win, with a grand prize of up to $10,000.
"It's in my family's DNA to try the lotto or gamble, and we realized how destructive lotteries can be, especially in America," Chien, who is CEO and Co-Founder of PrizePool, said. "When I heard about this kind of concept that combines the beauty of savings with the excitement of a sweepstakes, that really hit home for me."
Offering Winning Experiences with $10,000 Grand Prize
PrizePool gives away thousands of prizes totaling $50,000 every month, and earning entries into weekly drawings is easy. For every dollar in an account, the account holder receives one entry. The more money in the account, the more entries they receive. To make it fair for everyone, each account is limited to winning one prize per week, so accounts with large amounts of cash don't win every prize.
A $10,000 grand prize is up for grabs every four weeks. This money has the potential to change the lives of most people in the U.S., especially considering surveys have found that more than half of Americans can't afford a $1,000 emergency.


Chien has seen the impact the grand prize has on the winners he personally reached out to.
"Almost every single one I called cried on the phone," Chien said. "One of the grand prize winners was, I think, 22 years old and lived in a trailer with a newborn in the Midwest. And that amount of money that they won from us allowed them to get out of that situation."
Its Debit Card Addresses a Need for Instant Liquidity
PrizePool's newest product is its debit card that allows members to use the money in their account any time they want. There's no waiting period between transferring money in or out, just use it like any regular debit card.
The debit card is rolling out now to members on the waitlist and will fully launch this month. The debit card is not required for accounts and is totally opt-in.
Members have more chances to earn tickets to weekly sweepstakes while using the debit card, with 30 tickets rewarded for every dollar spent. The debit card also offers an additional chance to save money. Every purchase up to $2,000 made with the card has a chance to be reimbursed.
The goal is to give members an incentive to save and spend in an appropriate way. Lines of credit or loans offer people money they need urgently, but at high interest rates. Members with PrizePool earn money when they save, and can use that money when an emergency pops up.
Watch on
Playing the lottery comes with the risk of losing the money someone puts in. The lottery market in the U.S. is worth more than $70 billion. Americans spend more money on the lottery than they do on sports tickets, books, video games, movie tickets, and music combined.
PrizePool told us it wants to scratch that itch of winning money instantly, while allowing members to keep their savings and build wealth.
"Savings helps build your financial foundation in so many ways," Chien said. "Savings allows you to do more things with your potential cash, like either investing in the markets or in real estate. Having that nest egg of cash essentially gives you those opportunities."
Evolving Past Traditional Savings Accounts
On top of earning money through weekly drawings, members earn a savings bonus on their account balances. The savings bonus comes out to 0.3% APY, which is more than four times the average earned with regular savings accounts. PrizePool cannot offer prizes every week to all of its members, and the savings bonus is a way for everyone to get some money back to them.
In addition to a higher APY than what is offered at traditional banks, PrizePool will soon launch a new savings program with a boosted savings bonus called PrizePool Vault. This account offers 4% APY for members willing to forego FDIC insurance.
The account works by changing a member's account from using USD to USD Coin. USD Coin is a cryptocurrency pegged to the U.S. dollar and is known as a stablecoin safer than traditional cryptocurrency.
Members using PrizePool Vault also earn more entries to weekly drawings. Members earn two tickets for every dollar saved in the account. Accounts can switch between the traditional savings account and the PrizePool Vault instantly if members want. It's expected to launch sometime this month.
PrizePool Vault is for members who have asked the company for ways to earn more from their savings.
"People want to earn more from their hard earned cash," Chien said. "We're just giving you different opportunities. It is a good alternative for our users to earn more than your typical APY from a bank."