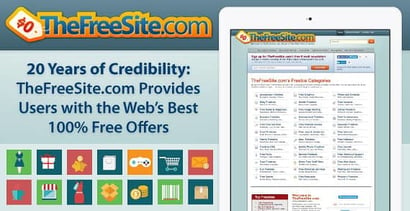 In a Nutshell: For a dedicated discount detective trying to beat a tight budget, few things are worse than thinking you have the free deal of a lifetime — just to find out it's actually loaded down with hidden fees. As the founder and curator of TheFreeSite.com, the web's original free offer site, Marc McDonald knows it can be hard to find the truly free gems among the fee-laden duds in the world of online offers. That's why he's worked for 20 years to make TheFreeSite the go-to source for legitimate freebies, collecting hundreds of offers in dozens of categories, from food freebies to free services — and even free health care — all while maintaining strict quality control standards. TheFreeSite is the place to go to ensure the offers you find won't come with any  hidden surprises.
When it comes to retail savings, the ultimate goal of every bargain buster, coupon cutter, and discount detective is to score something for nothing — especially when you're on an already tight budget. To the average shopper, the web seems like the perfect place to score a deal, with banner ads apparently full of great offers ripe for the picking. Unfortunately, in the world of online free offers, it can be quite difficult to track down those legitimate freebies. Often, when you think you've found that rare awesome free deal — it turns out to have hidden fees attached.
With so many sites offering free deals that are anything but, it comes down to finding a source you can trust, and the best way to track down those truly free freebies is to go to TheFreeSite.com. The original database of truly free offers, TheFreeSite was founded in 1997 by owner and operator Marc McDonald when the internet was still novel. Marc's spent the last two decades building a reputation for staunch credibility, and TheFreeSite is a rare beacon of straightforward deals in a sea of shady offers.
"One truth I've found over the years, is the most important thing you can have with a site like this is credibility," said Marc. "Everyone on the web is always claiming to offer free this and free that; the word 'free' is highly abused on the internet. People have to believe what you're offering. If you use a bunch of hype and promise people a lot of stuff that isn't legitimate, you're not going to have an audience."
Most deal hunters have experienced the free offer bait-and-switch — like the product advertised as a free sample that actually costs $2 to ship to your door. According to Marc, many supposed offer sites are merely copycats or click-bait sites out to make money without any quality control. "A lot of these sites, they'll just list anything that says it's free, including offers that will have some big shipping and handling charges," he described. "I don't list any offers that require extra fees like shipping, handling, or anything like that."
He's also dedicated to maintaining the site's overall usability, regularly checking and updating the site's hundreds of offers to ensure they are all still functional and accurate. "I update pretty much daily," said Marc. "Freebies come and go quickly on the web; I can list something one day and, the very next day, I can click it and find a 404 dead link. You have to really keep on top of it to make sure the site stays fresh and doesn't become a bunch of dead or redirected links."
Every Little Bit Counts — Some of the Most Helpful Freebies
After 20 years as the go-to source of quality free offers, Marc and TheFreeSite have not only built up a reputation as a credible freebie site to consumers, but to many of the organizations creating those offers, as well. In fact, while Marc occasionally spots a juicy offer in a commercial or another advertisement that ends up on the site, he said many of the offers are actually brought to him.
"Regulars to the site will email me with the some offers, but most of the items are from the people who offer the freebies," Marc explained. "Since I've been doing this for so long, I've managed to build up a reputation, and the people who are running the offer will actually email me and ask me to list their items."
TheFreeSite doesn't charge anyone to list an offer and will happily add any deal that meets the quality standards of the site. Marc said he also gets specific requests from site visitors that will inspire him to research particular types of offers. He's noted a rise in those requesting resources for the basics to help meet dwindling budgets.
"In recent years, it seems like I've had more people email me for basic things, like free food or free health care," he described. "So, I did some research into that, and I found some sites that seem to be popular. I also have a fairly new section on the site for free services that may be particularly useful to some people."
Kids Eat Free & More with Food Freebies
In many cases, one of the first things to disappear when the budget slashing begins is the luxury of going out to eat. At the end of the day, taking a family of four (or more) out to a restaurant can easily cost $40 or more. TheFreeSite's list of Food Freebies includes a number of great ways to take some of the sting out of the check and make eating out more of an option.
"With the economy like it is, sites offering free meals are very popular. For instance, if you have kids, try MyKidsEatFree.com," Marc suggested. "It's a great site that offers a big roundup of all the restaurants that let kids eat for free. Another great free meal offer is from IHOP pancake house. If you sign up for their free email list, you get free pancakes right off the bat, plus you get them on the anniversary of your signup and on your birthday, as well."
For those who don't even think about eating out because just putting food on the table is a struggle, TheFreeSite recommends FoodPantries.org, a resource to find local food pantries and food banks. The site also includes a database of government and nonprofit subsidized grocery programs.
Find Ways to Cut Medical Costs with Free Health Care
"I've had a number of requests from people who don't have health insurance or they're just looking for some ways to save on health care costs," Marc said. "With the sky-high price of health care these days, I'm always looking for things that can help people save money. And I know, firsthand, that it's hard. Since I'm self-employed, I've had my own problems getting good, reliable health care."
The Health Freebies offered on TheFreeSite include a number of ways to help save a little on health care, including a variety of free samples of health and wellness products. The site also includes resources for a free prescription discount card, and free dental and vision services.
"There's one site that offers a roundup of free dental care services," said Marc. "It's offered by students who haven't graduated yet, and they offer basic dental services for people who don't have insurance. We also list an eye exam offer where qualifying patients can get free eye exams."
Get a Handle on Your Finances with Free Services
Ranging from functional to frivolous, the Free Services resources on TheFreeSite is one of the newest sections. While you can find links to places like the Caricature Zone, a silly site that allows users to create customer cartoon characters, the list also has a number of useful financial and practical services, as well.
"I personally like the free services that are particularly useful," Marc said. "For example, right now we're in tax season, and there's a good site that I reviewed, where you can get your taxes done for free." Another great financial resource from the list is AnnualCreditReport.com, a legitimate website offering individuals free copies of their three credit reports every year.
The budget-conscious can also find money-saving services, such as GasBuddy, which offers a database of the cheapest local gas prices. Want to cut the cable cord? Try Can I Stream It, a searchable database of the shows and movies available on popular streaming networks.
Save Money & Build Your Company with Free Business Services
Those who are trying to keep their business on budget can also find helpful resources and Business Freebies on TheFreeSite. The list has everything from websites offering free e-commerce platforms, to invoice generating web applications and open-source accounting software.
"There's a software program called GnuCash that I think is very useful. It's financial accounting software and it has all the features of a paid computer program, like Quicken, but it's a free, open-source program," suggested Marc. "It does have a bit of a learning curve, but, on the other hand, it has tons of bells and whistles — and it's free — so, I think it's worthwhile."
Help Meet Your Bottom Line with the Right Freebies
In the vast, ever-changing sea of shady offer sites, TheFreeSite stands apart as a beacon of quality and credibility. Thanks to two decades of dedication from its caretaker, Marc, TheFreeSite has helped millions of people bolster their budgets with truly free freebies. To stay up-to-date on the latest and greatest deals across the dozens of categories on TheFreeSite, be sure to subscribe to the site's newsletter — which is, of course, absolutely free.
Advertiser Disclosure
BadCredit.org is a free online resource that offers valuable content and comparison services to users. To keep this resource 100% free for users, we receive advertising compensation from the financial products listed on this page. Along with key review factors, this compensation may impact how and where products appear on the page (including, for example, the order in which they appear). BadCredit.org does not include listings for all financial products.
Our Editorial Review Policy
Our site is committed to publishing independent, accurate content guided by strict editorial guidelines. Before articles and reviews are published on our site, they undergo a thorough review process performed by a team of independent editors and subject-matter experts to ensure the content's accuracy, timeliness, and impartiality. Our editorial team is separate and independent of our site's advertisers, and the opinions they express on our site are their own. To read more about our team members and their editorial backgrounds, please visit our site's About page.