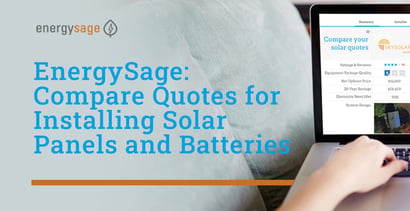 In a Nutshell: More people are considering switching to solar power as sustainability and cost issues around fossil fuel-based electricity become growing concerns among the population. But the industry is relatively new, and many consumers have a lot of questions about how solar power works and how to obtain it. EnergySage responds to this need by providing a transparent service that educates consumers and helps them obtain multiple quotes from solar contractors. Solar power is a good investment for the earth and is often a good financial investment as well, as solar users will essentially have free electricity once their equipment is paid off.
Solar energy has been growing in popularity in recent years. I know of several friends, family members, and business owners who have made the change to using solar panels as their primary source of electricity.
But purchasing and installing solar panels isn't comparable to buying an energy-efficient refrigerator. While buying a new home appliance may cause households to tighten their belts for a couple of months, the cost of solar panels is more akin to making a large purchase such as a new automobile or installing a new roof.

Most consumers will pay for their solar installation over time via loans or other financing options. But solar is a relatively new industry, and it is continually growing and changing. It's understandable that consumers interested in installing solar (and/or an energy storage system, AKA a battery) have a lot of questions about how to pay for it, what to know about solar loan fees, and which companies to use.
Thankfully, companies like EnergySage make it easy for people to comparison-shop quotes online, including financing options such as loans. The company also provides valuable information about the benefits of going solar and how the process works.
"On EnergySage, you are in control of your solar buying experience," according to the company. "No more door-to-door salesmen, no more unwanted phone calls. We provide a 100% online experience that allows you to receive and compare multiple solar quotes first, and then decide which installer is right for you."
We recently spoke with EnergySage Founder and CEO Vikram Aggarwal to learn more about the company's origins and how EnergySage works from the consumer's perspective.
Filling a Need in the Growing Solar Market
Aggarwal explained that when he launched EnergySage in 2009, the premise behind it was a bit different from the model used by the company today. But it drew from the same well of inspiration.
"This was in 2009, so very early in the game, and the idea was that most homeowners and businesses did not really understand the basics of solar and other clean and high-efficiency energy technologies," Aggarwal said. "So the idea behind EnergySage was, 'Hey, why don't we educate people and give them information on how these technologies work?'"
He said there are actually a number of different technologies within the clean energy industry, including solar thermal, wind turbines, biomass energy systems, and geothermal energy.

Aggarwal wanted to help consumers understand more about these valuable technologies and build their faith in them so more people would be willing to adopt them. EnergySage also provided information about companies that could supply these technologies to consumers and encouraged them to get several quotes to compare before committing since it is often a significant investment.
"Very quickly, we realized most of our customers who were using our services came back to us and said, 'I listened to what you said. I went and got these three or four quotes, but I cannot make any sense of these. They're all different. I don't know which brand of solar panels to buy, how to finance it. Is this the right price? Is this the right contractor?'" Aggarwal said.
He said the decisions are complex, partially due to the opacity of the solar industry in general.
Most consumers also seemed to be drawn to solar panels, when it came to clean, alternative energy because there are no moving parts, no noise, and they produce electricity year after year for decades.
"People were gravitating toward solar but they kept needing to figure out how to make certain decisions," Aggarwal said. "So that prompted us to pivot — just like every other startup pivots — to say, how should we solve this problem?"
The solution was EnergySage's reverse auction model — an online marketplace where consumers request information for purchasing a product or service, and providers put together a bid to let consumers know what they can offer and at what price.
Ultimately, EnergySage makes the solar process simple, brings competitive choices to the consumer, and offers transparency for people to make informed decisions, Aggarwal said.
The Multifaceted Benefits of Going Solar
Switching to solar power offers an array of benefits to consumers as well as the planet.
"Solar energy is a clean, inexpensive, renewable power source that is harnessable nearly everywhere in the world — any point where sunlight hits the surface of the earth is a potential location to generate solar power," according to EnergySage. "And since solar energy comes from the sun, it represents a limitless source of power."
Renewable energy tech generates electricity from resources that are virtually infinite, while traditional energy sources deplete reserves.
"Compare, for instance, producing electricity with renewable resources to doing so with fossil fuels," according to the company. "It took hundreds of thousands of years for oil, gas and coal to form, so every time one of those resources are burned to create electricity, that finite resource is moved marginally closer to depletion."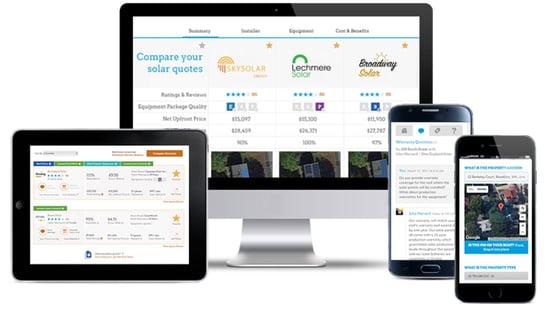 In addition to renewable energy being good for the environment, in the long run, it can also be good for people's finances.
Aggarwal said many variables play into solar's return on investment, including where on earth a person lives — and how much sunlight they get, the electricity rates for their area, and the costs associated with purchasing and installing solar panels. There are also a number of incentives available to help offset the cost of purchasing solar.
"The good news for consumers is that solar is like buying a home versus renting your electricity," Aggarwal said. "When you purchase a home, you know what the cost will be from year to year as you pay off your home loan, essentially locking in a rate."
Switching to solar-powered electricity is similar because you buy it once, and you'll generate free power for your system's entire 25-plus year lifespan, he said.
"Typical payback periods in the major markets in the country are somewhere between five and 10 years," Aggarwal said. "Essentially, your rate of return is between 10% and 20%. In secondary markets, it goes up to 12 or 13 years. Even then you have a very good rate of return — 7% to 8%."
Aggarwal said there are also a number of loan options where consumers aren't required to make a down payment upfront. And the Federal Income Tax Credit offers a tax break for consumers who switch to solar.
How EnergySage Helps Consumers Compare and Secure the Best Options for Them
"The big premise behind EnergySage is we make life simple for homeowners," Aggarwal said. "We are all busy. If we make it easy for homeowners, then more people will engage in the shopping process."
The CEO uses a comparison to how technology and companies like Airbnb changed the short-term rental industry. Before the internet made information much more accessible, renters in places like Cape Cod relied on local realtors to let them know what properties and prices were available for the summer.
"You didn't really have any reading of reviews, you did not really have any transparency," Aggarwal said. "By Airbnb putting all of the properties on the web and making properties easily searchable and providing reviews, the market has ballooned and is now worth more than all the hotel chains combined."
Aggarwal said this is because of the accessibility and the affordability, which is a result of a more competitive marketplace.
Watch on
"That is what we think EnergySage is doing by making the process simple. It is helping more people become aware and engage with solar," he said. "Number two is EnergySage is a really good platform for consumers to feel empowered and in control of their shopping."
Comparing quotes from the company's network of prescreened solar contractors is a truly streamlined process with EnergySage. And potential customers need not worry about privacy issues or endless third-party emails or phone calls.
"We don't require a phone number, and we don't share your email address with anybody," Aggarwal said. "So you're maintaining your privacy. You're not sharing your information. You're in control."
Signing up takes about two minutes, Aggarwal said. And based on your location, what you currently spend on electricity, and your preferences, EnergySage can quickly provide three to six quotes in an easy-to-read tabular format, he explained.
"It very clearly highlights the quality of the equipment, the quality of the financing, and the quality of the contractor," he said. The company also maintains a call center with advisors who can help EnergySage users make the decision that will work best for them.
"It's a very empowering experience with that level of transparency because businesses are competing," Aggarwal said. "They know that they are competing against other good companies. Typically the prices on EnergySage are 20% to 30% less than if you went to the contractor directly."
Those interested can use a Solar Calculator to get a quick, customized estimate of solar costs and savings for their property.
Advertiser Disclosure
BadCredit.org is a free online resource that offers valuable content and comparison services to users. To keep this resource 100% free for users, we receive advertising compensation from the financial products listed on this page. Along with key review factors, this compensation may impact how and where products appear on the page (including, for example, the order in which they appear). BadCredit.org does not include listings for all financial products.
Our Editorial Review Policy
Our site is committed to publishing independent, accurate content guided by strict editorial guidelines. Before articles and reviews are published on our site, they undergo a thorough review process performed by a team of independent editors and subject-matter experts to ensure the content's accuracy, timeliness, and impartiality. Our editorial team is separate and independent of our site's advertisers, and the opinions they express on our site are their own. To read more about our team members and their editorial backgrounds, please visit our site's About page.