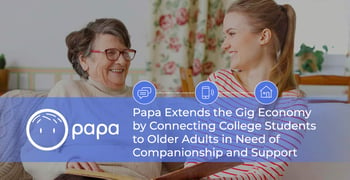 Experts share their tips and advice on BadCredit.org, with the goal of helping subprime consumers. Our articles follow strict
editorial guidelines
.
In a Nutshell: Today's senior population may be living longer on average, but its members are also often isolated from their families, which means loneliness among seniors is a significant concern. Papa is a platform that aims to fix that by connecting select college students with seniors in need of transportation, help around the house, or just a friendly face. Papa allows those students to earn money with flexibility and begin their careers on a positive note — by helping older adults who need them.
By 2035, seniors over the age of 65 are on pace to outnumber children under 18 for the first time in U.S. history. The country's median age is also steadily rising, and senior healthcare expenses as a percentage of GDP and household budgets are increasing.
And those trends have a psychological impact. Many older people live alone and report that they feel lonely as a result. While advancements in medicine have made it possible to live longer, many seniors feel isolated from friends and family members, which can exacerbate health problems or lead to depression.
Andrew Parker noticed some of those trends with his grandfather in 2016, and it was serious enough that he decided to take action.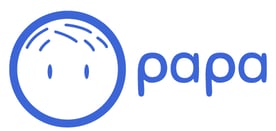 Parker lived in Miami, Florida, and observed his grandfather — whom he called "Papa" — slipping into early dementia. Andrew's grandmother still lived at home, but the burden of caring for Papa grew until Andrew had the idea to hire a college student living in the neighborhood to help out.
The arrangement worked well for both Parker's Papa and the college student.
It was a lightbulb moment for Parker, who, along with his friend Alfredo Vaamonde, turned the idea into Papa, a platform that connects college students with older adults who need assistance. Through Papa, students looking to earn money and gain positive career experience may provide transportation for seniors, do household chores, or act as a friend.
As Papa Director of Member Engagement Austin Burch said, it was a match made in heaven for Parker's grandfather.
"His Papa didn't want a home health aide or a nurse because he didn't want to feel that he needed the extra help," Burch said. "When they hired the student down the road just to come by, they found he really enjoyed it. There was no negative stigma — he had no problem leaving the house, going to the grocery store, and just hanging out with this new friend."
Expanding from Startup to Medicare Advantage Provider in About a Year
The Papa platform was ready by October 2017, with Burch becoming the first employee hired one month later. By January 2018, the company was earning revenue.
But not much at first.
"We were operating out of a small office doing everything we could to pair the two generations," Burch said.
Support from Y Combinator, the well-known seed accelerator, allowed the Papa team to begin scaling and building out a platform. "We just started doubling growth month after month," Burch said. "We went to the Y Combinator and came out of that with some amazing investors and a basic proof of concept."
And the focus of Papa has evolved over the years, and what started as a simple direct-to-consumer business now attracts the attention of insurance providers.
"The Centers for Medicare and Medicaid have approved certain codes through Medicare Advantage providers to allow our companionship and transportation services to be offered in bids," Burch said.
Papa still works directly with individual users, but it primarily targets large health plans and looks to open up new consumer markets to help more people. A successful pilot with Humana in 2018-19 quantified its ability to mitigate lonely and unhealthy days for seniors and lead to a better life experience and longer life expectancy.
Papa is now available in Florida, Arkansas, California, Illinois, Michigan, Mississippi, Pennsylvania, Tennessee, and Texas.
Carefully Vetted "Papa Pals" Can Earn up to $500 Weekly
Papa's expansion means more opportunities for exceptional college students looking for meaningful work around the country. Students interested in providing companionship and assistance to seniors in their communities are encouraged to join the platform and become "Papa Pals."
Papa targets students who have the patience and dedication to provide steadfast service in a dynamic personal environment.
Papa Pals connect with the service through an app that works similar to ride services Uber and Lyft. When "visits" with seniors become available, Papa Pals choose whether to accept them based on their availability and the amount of time they can dedicate each week. Pals who perform the most work can earn up to $500 weekly, with additional compensation for auto mileage and fuel and even weekly incentives based on the number of visits and hours worked.
Papa is ideal for busy students who need flexible gigs and for those building résumés who want to display their character.
The 10-step application process begins with a few qualifying questions. Papa Pals need a relatively new, four-door sedan-type vehicle that can fit a wheelchair or walker, but that isn't so large as to be unwieldy. Extensive identity and background screening come next, followed by perhaps the most essential part of the process — the personality test.
"We worked with a team of doctors to develop it," Burch said. "The outcome of the test shows that you're reliable, empathetic, patient — and the kind of upbeat, amazing personality we seek to qualify as a Papa Pal."
It's a rigorous application, but students who successfully become Papa Pals show themselves as possessing a combination of emotional intelligence and dedication to service that will appeal to a wide range of future employers. And there's enough flexibility in the process to admit a wide variety of personality types.
"Some Papa Pals are more introverted than others," Burch said. "We focus on empathy, reliability, and trustworthiness."
Papa Helps Students Build Their Careers by Serving Seniors
When Parker decided that his Papa needed some companionship that he couldn't provide, he never thought that enlisting a local college student to help would turn into a nationwide service. But the Papa platform resonates with users because of its ability to connect people across generations.
Seniors who use Papa generally don't mind meeting a new Papa Pal every time they connect with the service because it is an opportunity to make a new friend. But Papa does offer a package that allows clients to select three exclusive Pals.
"We send that client's visits exclusively to those Pals, and only they can view them and accept them," Burch said.
For the most part, every day is a new beginning for Papa and its clients, and visits can take many turns. Papa Pals have accompanied clients to weddings, walks on the beach, and helped them with computers and smartphones so they can communicate with friends and family.
Mostly, however, Papa Pals work side by side with their clients through life's typical routines: medical visits, dog walks, grocery trips. Papa Pals are there — as the original "Papa's" companion was — to make life a little bit more pleasant.
On the horizon for Papa is reaching into more states and insurance plans, including health systems and nursing homes, and even into corporate employee benefits packages. Through that expansion, Papa can bring more seniors the benefits of real human companionship.
"We love what we do," Burch said. "We're part of something new and exciting that's filling a need."