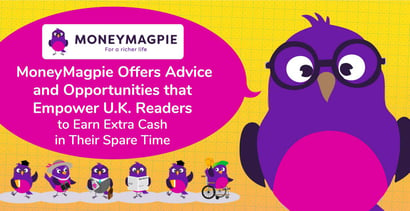 In a Nutshell: In the modern gig economy, many people are looking for quick and easy ways to earn a little extra cash. MoneyMagpie gives its readers an extra edge by providing ideas and opportunities to earn income on the side and score freebies. Founder Jasmine Birtles based the site on her experience as a freelancer, and she has plenty of advice for those trying to scratch up some spare cash. And MoneyMagpie's recent partnerships enable the site to help readers find some financial breathing room.
Since austerity measures took effect in the U.K. in 2008, many people have worked hard, budgeted, and set money aside, but haven't seen their savings accounts grow accordingly.
Plenty of advice is floating around the internet about wisely managing money, but what many people want is advice on how to make extra money that will supplement their incomes and help boost their savings. That's where MoneyMagpie can help.
"I've always been looking around for extra earnings to pay the bills in my downtime. I also like the idea of extra opportunities," said Jasmine Birtles, Founder and Editor of MoneyMagpie. "Saving money — if you're on a salary or a fixed income — is important. If we can spend less than we earn, then we have money left over to invest. But I always feel that there's more to life, there's more potential."
Watch on
MoneyMagpie's mission is to help everyone realize that potential. The website empowers readers to find opportunities to earn extra money in their free time using the skills and resources they already possess. All of this advice grows out of a lifetime of firsthand experience in freelancing and side gigs.
"It's based on my own philosophy and the way I have lived my life. I've always worked for myself. I was a freelancer from the start," Birtles said. "I try to expand people's ideas of how much they could potentially have, not just in terms of money, but also in terms of experiences."
Learning from the Wisdom of a Professional Freelancer
Birtles worked as a waitress while studying at Cambridge. But as a graduate student, and an adult, she has always been self-employed, relying on her talents, skills, and creativity to earn a living.
"Although I've enjoyed it, it's quite a volatile way to live, and there are times when there's no work," she said.
Birtles started as a journalist while also working as a comedian doing stand-up shows. Before long, she also found herself running a comedy club.
"I tended to think, 'Oh, that's interesting, I wonder how you do that,'" she said. "And then I'd go and do it."
That's how Birtles started writing joke books in her extra time. Already possessing the necessary expertise in comedy, she signed with an agent and began publishing — sometimes as many as seven books in a single year.
At the end of the 1990s, Birtles was approached by the BBC business unit, which asked if she was interested in doing some radio work. She was more than happy to accept the offer.
"There was one day I was working on a particular report, and I was reading stuff, and I had a light bulb moment. 'This money thing — it's not hard. How come I'm in debt? This is ridiculous.' I knew it was because nobody had ever taught me how to manage my money," Birtles said. "I've been well-educated, but not about money. I decided that, because of my background, I would make it my mission to explain money."
Birtles started writing newspaper columns, books, and doing TV segments on personal finance. But she found the space to be demanding and constantly shifting. New products, regulations, and news constantly popped up. In particular, book production moved too slowly to keep up with the pace of real life. Birtles realized that a website was the only efficient way to provide up-to-date information to readers. So in 2007, she launched MoneyMagpie to share her experiences, philosophy, and insights about money with an eager public.
Articles and Features Focus on Enhanced Earning
The real substance of MoneyMagpie lies in its articles. Whereas other sites focus on saving or budgeting and financial news, MoneyMagpie's content is for those who are looking for ways to supplement and increase their income — or take advantage of freebies.
"We're constantly trying to give them opportunities to get things for free or to make money," Birtles said.
Additionally, the Magpie Money rewards platform connects readers with opportunities to earn a little extra. After creating an account, users can browse a list of offers — including surveys and panels — choose the ones they like, and complete them. That earns them points, which they can redeem in the form of Amazon vouchers.
Another way MoneyMagpie helps people earn some extra cash is through its Clear Your Clutter Day campaign, which culminates on the final Friday of each May. This campaign encourages people to go through their cabinets, drawers, and closets and get rid of all the old items they don't need and use them to pad their bank accounts.


"We've all got far too much clutter. Just by sorting it out and selling quite a bit of it, you can make money," Birtles said. "I'd love if more people did this and then got into a habit of not buying more."
The Declutter Campaign's focus in 2019 is fashion. According to Birtles, the fashion industry is the second most polluting industry in the world, just after oil and gas, and produces more carbon dioxide emissions than all airlines and shipping combined. In America alone, people throw out an average of 85 pounds of clothing every year — which they could be selling or not buying in the first place.
"We're working on some ways people can sort out their clothes, the best way to sell them and get good money on them, and then also looking not to buy quite so many and buying good quality rather than quantity," Birtles said.
Birtles Offers Personal Tips and Tricks to Make More Money
Birtles' top tip for people looking to make extra money is simple: "Start with what you've got."
That may vary from person to person, but everyone has something they can leverage for cash. For example, if you have some unused space in your home, you can rent it out. That spare bedroom can be leased to a full-time tenant or rented out for shorter periods through Airbnb. You could even charge people to use it as a storage space. If you have a driveway or some spare space in your garage, you can rent that out as a parking space for people who commute to your area.
Maybe you find yourself with copious free time. You can use it to take on a part-time job waiting tables or working in a shop. If you prefer being your own boss, you can pick up gigs like babysitting or dog walking. Another profitable way to fill free time is by signing up for focus groups.
"That's where you go into a room, usually in the evening, and marketing people ask you questions about a particular product," Birtles said. "They tend to pay cash, and they also give you food. if you've got a bit of extra time, there's a lot you could do."
One of your best bets is to find a way to leverage your skills and passions. If you enjoy baking, consider selling cakes at local gatherings or even to small shops. If you're good at housework, offer your services to people who aren't good at it — or who just don't want to do it.
Also, consider ways you can monetize your pastimes. For example, someone who enjoys video games can set up a blog or streaming channel and create resources for others who share their gaming interests; MoneyMagpie even has a feature that can help you get started. You can also learn how to make money with your car or even earn cash by living on a yacht — a hard job, but someone's got to do it.
Expanded Content Will Help Readers Make the Most of their Time and Talents
Those with disabilities have been hit particularly hard by austerity measures in the U.K., which has had a noticeable impact on work and disability benefits. To offset this, the government has, in recent years, rolled out a new system of benefits called universal credit.
"The idea behind it is a good one, but the way it's been administered has been shockingly bad," Birtles said. "It has meant that, through no fault of their own, people on benefits have had to go into serious debt, even taking out payday loans."
MoneyMagpie has heard its fair share of reader complaints about universal credit in the last few years, and it has published articles in response to concerns in this area. The site strives to address other inquiries regarding ideas for making money, including starting a home laundry or oven-cleaning business and alerting readers to money-making opportunities that may not be legitimate.
To better serve its readers and meet these and other needs, MoneyMagpie continues to update its articles and videos. The site has partnered with brands possessing expertise in particular fields to accomplish that goal. Each brand sponsors its own section of the site and helps Birtles create new ebooks, articles, and videos.
These partners will add even more expertise to MoneyMagpie's offerings on personal finance and expands content for people seeking to earn some extra money on the side. Such new and improved resources will surely go a long way toward helping everyone stash a little extra cash.
Advertiser Disclosure
BadCredit.org is a free online resource that offers valuable content and comparison services to users. To keep this resource 100% free for users, we receive advertising compensation from the financial products listed on this page. Along with key review factors, this compensation may impact how and where products appear on the page (including, for example, the order in which they appear). BadCredit.org does not include listings for all financial products.
Our Editorial Review Policy
Our site is committed to publishing independent, accurate content guided by strict editorial guidelines. Before articles and reviews are published on our site, they undergo a thorough review process performed by a team of independent editors and subject-matter experts to ensure the content's accuracy, timeliness, and impartiality. Our editorial team is separate and independent of our site's advertisers, and the opinions they express on our site are their own. To read more about our team members and their editorial backgrounds, please visit our site's About page.