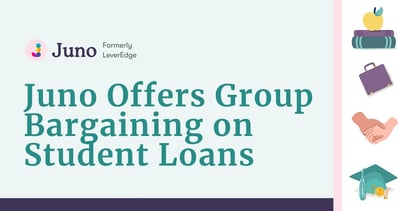 In a nutshell: As the student debt burden continues to grow, students are motivated to minimize the cost of their loans. That's why Juno takes a group bargaining approach to get better interest rates for its borrowers. Lower rates are especially important to students pursuing graduate degrees because those loans often cost more. Based on each borrower's profile, Juno groups applications and negotiates with borrowers to achieve the best rate for each member.
As of late September 2021, student loan debt in the United States had reached a total of $1.73 trillion, according to the Education Data Initiative. The national loan debt balance increased by 8.28% in 2020, and the average student loan debt increased by 4.5% to $39,351.
Given that trend in the cost of higher education, students are wise to seek the best possible rates on their loans upfront. But one enterprising group of students in Israel found a clever solution. They negotiated directly with banks as a group to get lower interest rates. And word began to spread about their accomplishments.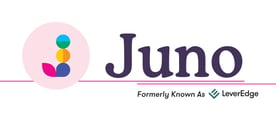 "Apparently, this happens every year," said Nikhil Agarwal, Co-Founder of Juno, a student loan group bargaining platform. "Students go to a bank, and get a group discount. My mind was blown. I just couldn't imagine something like that happening in the U.S., because, in my mind, someone gives you a rate, and that's it."
But Agarwal immediately set out to make that happen on a larger scale. He collected a group of 700 students in need of loans and managed to strike a deal with a bank. Over the life of their loans, those participants saved an average of $30,000 to $40,000.
"People were canceling existing loans and switching to ours," Agarwal said. "And that was the start. We didn't make any money or anything from a deal. But one year later, we repeated the process. This time we did it as an actual company."
That was in 2019. As of 2021, Juno has provided the same service to more than 80,000 students —a number that gives it plenty of leverage when negotiating with lenders. Juno helps members get the loan they need to pursue higher education while minimizing the debt they'll carry after graduation.
Students Save on Rates With a Lowest-Cost Guarantee
When Agarwal negotiated that first student loan deal in 2018, interest rates on federal student loans were 5.05% for undergraduate degrees and 6.60% for graduate programs. His borrowers have locked in rates closer to 4.3%.
Due to the significant savings, Juno has become popular with graduate students. MBA students often take advantage of the group rate to reduce their long-term costs.
"It's exploded in the MBA space," Agarwal said. "Where we started, it grew the fastest. Then we have expanded to all undergraduate institutions and their grad programs as well."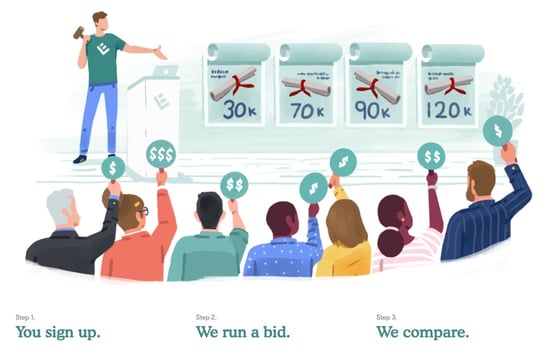 Juno has also expanded from loans for domestic and international students studying in the United States to covering U.S. students studying abroad. It doesn't cover every international program, but at select schools, it can significantly reduce the cost of education.
Juno's low-rate guarantee covers all students. If a borrower finds a lender who can beat the total cost of Juno's loan, Juno will reimburse them for the difference. Agarwal said that happens infrequently, which is a testament to Juno's group bargaining strategy.
"We still want you to come back to us," Agarwal said. "I'm going to write you that check, and I'm going to be happy to do it. We want everyone to be at ease when they share Juno with their friends."
Negotiating Bulk Lending Provides Expanded Eligibility
Juno's power is in the size of its member base because having more borrowers means more leverage with lenders. Finding ways to expand that base improves Juno's collective bargaining position and extends those benefits to more students.
"For each group, we're trying to optimize for the outcome of that group and maximize the savings per group," Agarwal said. "That means we fight for two things when we're negotiating."
One of those is establishing alternative qualification criteria outside of credit scores. That is especially important for international students who may not have a credit score. Instead, Juno advocates for lending to students if they have a cosigner on their loan.
Watch on
Juno also works with graduate students to eliminate the need for a cosigner and minimum income requirements. Instead, students can qualify if they have a credit score of 650 or higher.
Juno divides loan applicants into groups that particular lenders find attractive. Some banks are more inclined to lend to students who have high future earning potential based on the degree they seek or the school they attend.
Sometimes, Juno will split groups if lenders bid aggressively for a specific subset. The others go to lenders that will offer them a more competitive deal.
"When we are negotiating with lenders, we already know who the borrower is going to be and we can optimize for them," Agarwal said. "We're negotiating for as wide an eligibility pool as we can, and maximizing the savings for that group."
Financial Education Helps Borrowers Minimize Debt
Juno strives to get students the best possible deals on their loans to minimize their overall debt burden. Aside from negotiating rates, another way it minimizes debt is by finding alternative, interest-free funding sources.
"Usually, when we are having conversations with families and with students directly, they've already committed themselves to a particular institution," Agarwal said. "Our education is focused on making that affordable and getting out of school with as little debt as possible."
Before approaching a lender, Juno encourages students to apply for grants, scholarships, and federal student aid. When a student applies for a loan through Juno, that loan is most financially effective when it's filling the gaps left by other funding sources, not paying for an entire education.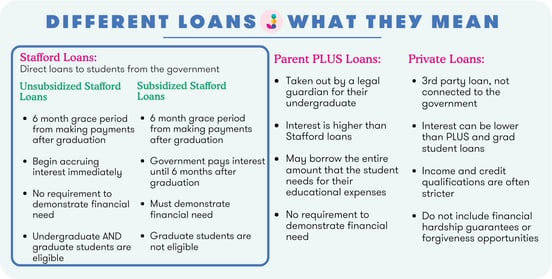 "You really should max those out or have some special reason why you don't want to use federal student aid before you touch private student loans," Agarwal said. "So we make sure that students are aware of that."
Juno also aims to educate borrowers about refinancing. Once students graduate and begin earning, their risk drops in the eyes of lenders. As a result, they can often negotiate a lower interest rate, which can save them a lot of money.
Juno also helps students weigh the risk of paying debt down quickly or investing early. Although it's hardly guaranteed, smart investments could lead to long-term gains that outweigh the money saved by paying more on their loans each month.
"You have this urge to pay it down," Agarwal said. "But then some are making so much more on their investment. That is a very fortunate position to be in, but it does come up for our members. We are a sounding board, and we help them."
Feedback Improves Products and Borrower Experiences
The Juno team engages directly with as many borrowers as it can to provide the best service. It also sends out surveys that help it stay in touch with its broader member base. That helps Juno better understand their needs, the obstacles they face, and ways those challenges can be overcome.
"Eliminating income requirements for graduate students came from listening to our members," Agarwal said. "Graduate students said, 'Look, I don't want to be poor, or have to ask for a cosigner. I only worked for three years. It's really weird for me to go back.' And that's why we fought hard for no cosigner, no income, very attractive rate options."
Borrowers may face other obstacles that cause friction along the way. That's why Juno also delivers feedback to lenders to help them improve the consumer experience.
"Because we are in touch, we can pass feedback on to them on how they can improve the product," Agarwal said. "It's small things sometimes, like people getting confused when you ask for the loan amount. They don't know whether it should be for the first semester, the second semester, or the full year."
A few words can remedy this problem and make the application process more seamless for borrowers. It's a small detail, but those details ultimately add up — like a few percentage points of interest — to create a more positive, less stressful student loan experience.
Advertiser Disclosure
BadCredit.org is a free online resource that offers valuable content and comparison services to users. To keep this resource 100% free for users, we receive advertising compensation from the financial products listed on this page. Along with key review factors, this compensation may impact how and where products appear on the page (including, for example, the order in which they appear). BadCredit.org does not include listings for all financial products.
Our Editorial Review Policy
Our site is committed to publishing independent, accurate content guided by strict editorial guidelines. Before articles and reviews are published on our site, they undergo a thorough review process performed by a team of independent editors and subject-matter experts to ensure the content's accuracy, timeliness, and impartiality. Our editorial team is separate and independent of our site's advertisers, and the opinions they express on our site are their own. To read more about our team members and their editorial backgrounds, please visit our site's About page.