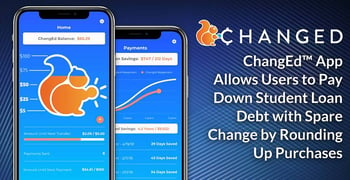 Experts share their tips and advice on BadCredit.org, with the goal of helping subprime consumers. Our articles follow strict
editorial guidelines
.
In a Nutshell: In today's professional job market, a college degree is all but mandatory, and, for many young professionals, student loan debt is also a fact of life. But ChangEd, an app designed to help borrowers pay debt down with their spare change, is showing people with student debt the light at the end of the tunnel. The app links to spending accounts, and purchases are rounded up to the nearest dollar with the difference deposited to a ChangEd account. Once the balance in that account reaches $100, it's used to make additional payments on student loans. ChangEd also provides educational materials within the app and will soon launch a goal center to help people save more. In the meantime, ChangEd has been partnering with banks and other financial institutions to integrate its services into their own services to reach even more people.
Dan Stelmach is one of those rare individuals who managed to balance full-time work and his studies during college. He graduated, kept his sales job, and, after a few years, began looking into a buying a house. The problem was that he'd taken out $70,000 worth of student loans to pay for school, and he knew he couldn't afford a mortgage in addition to his monthly loan payments. Like most of his friends and family who carried student debt, he had no game plan for getting out from under the debt faster.
So Stelmach and his older brother, Nick, brainstormed a solution. In late 2016, they began working on an app called ChangEd to help users pay off their student loans faster. They launched a beta in 2017, testing the product with about 1,700 users. Later that year, Stelmach and his team got the break all developers dream of — ChangEd appeared on the front page of the Apple app store.
"We had millions of impressions and thousands of downloads. Out of nowhere, we had to get out of our testing phase and get into a real product," said Stelmach, Co-Founder of ChangEd. "That was the signal that people need help with their student loans."
ChangEd is designed to help users save money by paying down student debt at an accelerated rate. The app links to the user's spending accounts — including banks and credit cards — and rounds each transaction up to the nearest dollar. The difference is set aside in a ChangEd account and used to make a student loan payment each time the account balance reaches $100.
"We sent over $100,000 in student loan payments within our first few months," Stelmach said. "This year, it's been a huge snowball. We've sent over $1 million in the last six months, and we send close to $250,000 every month now — and that number keeps growing month over month."
ChangEd is free to download and charges users $1 per month to contribute to the company's operating costs. For a mere $12 a year, the app can potentially save users thousands of dollars in interest on their loans. The app also has a $10 per day limit on change roundups, in case users go on a spending spree.
Stelmach said the company is also extending its reach by partnering with banks and other financial institutions to integrate the ChangEd technology into those institutions' own offerings. The company was also selected to participate in the FIS Fintech Accelerator this summer, which positions ChangEd to help many more people get out of student loan debt.
Changing Attitudes Toward Repaying Student Loans
Despite their apparent financial drawbacks, student loans are still a strong investment. Although graduates may leave school with tens of thousands of dollars of debt, or more, that debt pays off in the long run. Stelmach said that the average college graduate makes $2.5 million more than a non-college graduate. The difficulty lies in those first few years after leaving school, when graduates are finding jobs and building careers while living with significant debt.
"Student loans are a sour subject, but we're getting people excited to make loan payments with our app," Stelmach said.
Paying off loans faster means long-term savings, but people often assume putting more money toward payments means living lean in the short term. The ChangEd app proves that proactively tackling debt doesn't mean putting your budget in a vise grip. The app's purpose is to decrease the impact of additional loan payments.
"It's something that doesn't have to change someone's lifestyle drastically," Stelmach said. "People want to pay down their debt, but there's always a struggle of adjusting your lifestyle and setting up a strict budget — it takes a lot of time, determination, and encouragement. We try to make it as low-touch as possible, so you don't feel small transfers coming out of your day-to-day living expenses."
Watch on
ChangEd strives to have a positive effect on making student loan payments. Rather than letting debt repayment remain a depressing surrender of borrowers' hard-earned dollars, the app gives users a well-deserved morale boost.
"There's no encouragement or a pat on the back for debt repayment. If you went onto your student loan servicer's website and you paid an extra $100 on your $50,000 loan, all you'd see is $49,900 plus whatever interest charges are there," Stelmach said. "Our app shows, on every single payment you make, how much time and money you're saving if you stick with it."
ChangEd's projections are based on user payment history and habits. They also put interest accrual and savings into perspective by showing the positive impact additional payments can have. By illustrating how much users save over the long term when they dedicate spare change to paying off debt, ChangEd brings some much-needed positive reinforcement to the realm of repayment.
"These extra dollars you're using today are going to make a difference tomorrow, and we try to show that within our app," Stelmach said. "That's the most compelling thing we offer our users — encouragement that you don't get anywhere else."
Features Help Borrowers Achieve Financial Stability
Student loan debt is a unique type of debt because people take it on to better their lives and earning potential. It can also involve more family members than other types of debt, as parents often cosign for their children's' loans.
For that reason, ChangEd supports collaborative repayment. Family members and spouses can sign up under their own names and link their account to their loved one's student loan. The ChangEd experience is precisely the same for them as it is for the borrower; their transactions will be rounded up, and the difference goes toward paying down the debt. With multiple people contributing, the loan can be repaid even faster.
Other expense accounts, including credit cards, can also link to ChangEd. ChangEd does not bill the credit card; it only reads the transaction data to coordinate small transfers from the linked bank account.
Users carrying multiple student loans can target specific loans they want to pay off faster. They can choose the loan with the highest interest rate, the highest or lowest balance, or whichever criteria they wish to prioritize.
"We are serious about security. We deal with people's money, so we use bank-level encryption. We have FDIC-insured accounts to verify loan information. I'm a user of the app myself. I have student loans. I want to know where my money's going and how that money's being held securely." — Dan Stelmach, Co-Founder of ChangEd
"With some service providers, we have that ability. We have seen success stories where someone has tackled at least one or two of their smaller loans as they're tackling larger ones," Stelmach said.
ChangEd stores user information in secure databases, accessing it only for account setup and payments. Financial information is protected with an even higher level of security.
"We are serious about security. We deal with people's money, so we use bank-level encryption. We have FDIC-insured accounts to verify loan information," Stelmach said. "I'm a user of the app myself. I have student loans. I want to know where my money's going and how that money's being held securely."
Users Can Save Thousands of Dollars and Years of Payments
ChangEd payments are additional installments on student loans. Users must still keep up with the established monthly payments on their own. Making extra ChangEd payments, in tandem with standard payments, helps users reduce the term of their loan and the interest charged.
"The difference between these additional payments and strict principal payments is that they help achieve a little more savings on principal payments," Stelmach said. "You still save drastically as long as you stick with your regular monthly payments and have ChangEd add additional payments."
The savings ChangEd projects for users is based on these additional payments, not strictly on principal payments. The principal is the amount of money borrowed through the loan. Interest on that loan is a percentage charged on the principal not yet paid back, which is how lenders earn a profit.
Depending on user and loan circumstances, ChangEd payments may be used to pay off interest rather than principal. They may also be designated to first pay off late-payment penalties or other charges the borrower may have accrued. But with the interest and extra fees taken care of, regular payments can pay down the principal, thereby reducing future interest accrual and saving the user money.
Through this method, ChangEd can reduce the student debt burden on both an individual and a national scale. The app can also provide recent graduates with some financial breathing room as they begin their professional lives, expanding their ability to positively impact the economy.
Partnering with Financial Institutions to Help Even More People Pay Back Student Loan Debt
Stelmach is spending much of this summer in Little Rock, Arkansas because ChangEd was selected to participate in the 12-week FIS Fintech Accelerator.
"FIS stands uniquely poised to support your startup in ways that no other organization can," according to the FIS Fintech Accelerator website. "Startups chosen will participate in a 12-week on-site program, complete with curriculum that will help them plan strategically, address business and finance challenges, and provide mentorship from successful FinTech and entrepreneurial experts."
Stelmach said that, early last year, ChangEd began to see more general interest from financial institutions interested in providing the kind of services his company offers.
"Most financial institutions are looking to help people get out of student loan debt, which is our mission as well, so it aligns nicely," he said.
ChangEd has already partnered with a number of institutions to embed its technology to the institutions' offerings, and there are a lot of others interested in partnering as well.
This development is what led ChangEd to the FIS Fintech Accelerator program, Stelmach said.
"It's been great so far. They've kind of taken us under their wing and introduced us to many other banks, and they're really helping us look at how our company can even further align with other banks and work together to solve this problem." — Dan Stelmach, Co-Founder of ChangEd
Stelmach said that, ultimately, the accelerator will help ChangEd prepare to scale up, make important fintech industry connections, and guide the company in navigating funding issues. In the end, ChangEd will be prepared to partner with many more financial institutions, which will lead to its services helping many more people get out of student loan debt.
New Planning and Gift Features Offer More Ways to Pay Down Student Debt
The demand for college-educated workers is unlikely to decrease any time soon, and the same is true of the demand for student loans. To ease the financial burden on current and future borrowers, ChangEd is working on developing and implementing new features that will help graduates pay off debt quickly and efficiently, allowing them to move on with their financial lives.
"We started with rounding up spare change, but we're coming out with other features that help people save more aggressively if they want to," Stelmach said. "We recently launched more educational features within the app, including more information about the refinancing process and whether it is right for the user."
He said ChangEd is also working on making it easier than ever for a friend or family member to gift ChangEd users with money toward their student loans. And within the next few months, the app will include a goal center to help users save more aggressively and more easily visualize their financial objectives.
ChangEd is also currently developing user-requested features, including one-time deposits and scheduled transfers.
As long as education is a vital component to competitiveness and success in the labor market, help along the road to financial solvency and a debt-free life will be one of the best gifts anyone can give — or receive.