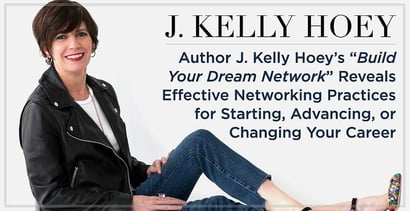 In a Nutshell: When J. Kelly Hoey decided to make a career change, it took 18 months of hard work to realize her goal. That time together with subsequent career experiences inspired her to write the book "Build Your Dream Network," in which she highlights networking practices that any professional can use to advance his or her career. Her guidance involves re-envisioning networks and how to leverage them, and she urges readers to broaden the scope of networking, listen carefully to feedback, and create personal value for others in a network. By following Hoey's example and advice, anyone pursuing a career change can put themselves in a strong position to achieve success.
J. Kelly Hoey, the author of "Build Your Dream Network," began her law career as an attorney following the traditional process of interviewing at firms and working her way up the corporate ladder. But in the early 2000s, she decided it was time for a change.
"I was looking for a management role in a law firm, which sounded really easy — you're a lawyer, you've worked in big law firms, you know lots of people in big law firms — but making that step to the other side of the balance sheet was tremendously difficult," Hoey said. "Even in the age of online applications, people want personal recommendations. I was searching for a word-of-mouth job, but I didn't have a word-of-mouth network. So I methodically set about building that, and it took 18 months to make the career transition."
To achieve her desired position, Hoey needed to establish relationships with the right people — the definition of networking. However, making those connections is often easier said than done, as Hoey's story demonstrates. Life in the digital era allows us to connect with people across the planet, but that doesn't necessarily make career networking easier. Instead, it can bring its own set of challenges.
"The digital world opens doors to possibilities you never had before. It has also made it more difficult because people have forgotten the old golden rules of making human connections," Hoey said. "We can request, like, and make online connections, but we're still human, and it still takes time."
Hoey's book is a guide to networking both online and offline. It includes case studies of people who, like the author, followed intentional, systematic approaches to building their careers through networking. Hoey teaches professionals to understand their networks so they can interact with them productively and succeed in their journeys — no matter where they are on the path.
Understanding the Characteristics of an Effective Network
Hoey says networks must be robust and diverse. By robust, she means that they must include people who will guide, mentor, and advise you. And they must also include all the relationships you have established and maintained. A network needs to have contacts across the boundaries of industry, geography, and professional standing to achieve diversity.
"It's a day and age where we don't know where our next opportunities are going to come from, and it's not necessarily going to come from a recruiter," Hoey said. "Your next great career opportunity may come from the person you worked alongside at Burger King in your summer job three years ago, or it may come from that intern who you helped out last summer. You just don't know."
The paperback edition of "Build Your Dream Network" features a foreword by Tom Peters, the best-selling author of "In Search of Excellence." Hoey connecting with Peters is a telling example of how her own networking efforts raised her profile as an author.
"I started following Tom on Twitter because of an interest in his management and small business development thinking," Hoey said. "He started following me. We started having conversations online. Seven years later, he bought and read my book, and we finally met in person. When I emailed to tell him the book was coming out in paperback, he emailed back to congratulate me and offered to write the foreword."
Social media networking proved effective for Hoey because she pursued the connection in a meaningful way. Contact on social media is an opportunity to build a network, but a beneficial relationship is not automatic. Hoey characterizes her relationship with Peters as seven years worth of cocktail party conversation that ultimately led to a break for the new author.
The story shows the time and effort often necessary to establish the important connections that create opportunities to advance a career.
"Social media is another touchpoint with an existing network, or it's a touchpoint to start a relationship. It is not the relationship," Hoey said. "Old-school relationship building approaches are still required."
Branding: You Are What Your Network Says You Are
A personal brand is based on what you present to others as well as how your network perceives you and your actions. This includes colleagues, business partners, acquaintances, and everyone else with whom you come in contact.
"Your personal brand is what your network says it is. People who say 'I have to start building a brand' are already off the mark," Hoey said. "Are you going to be a self-starter and a lifelong learner, or do you expect people to hand things to you? Do you open doors and help colleagues? That's how you build your brand."
A successful brand is about more than just a positive image. Branding depends on providing something valuable to your network. If you don't clearly delineate what you're offering, it can damage that professional image.
"See what your network is asking you for. Pay attention to that because you may be building the wrong personal brand. For me, if someone starts asking me for legal advice, I step back," Hoey said. "I stopped practicing law in 2002, and if there's something that's highlighting that I'm a lawyer, I need to fix that."
"Some people ask me the secret to all of this, and I look at them quite seriously and say, 'Don't be a jerk.' Live your life in a way that other people will want to help you." — Author J. Kelly Hoey
Hoey's book is the product of self-branding, listening to her network, and studying both. When the idea of writing "Build Your Dream Network" was suggested years ago by someone in her network, Hoey was initially reluctant.
"Why would anyone ever want to listen to me on that? I think, in some ways, I was right. It would have been too soon to write it then. This was the right time to step in and own that," Hoey said. "I finally listened to my network, and that's why I wrote the book. That's why I'm adamant when I tell people, 'Listen to your network. Observe and talk to them.' When I finally said to my network, 'I'm going to write a book about networking,' it was like a collective sigh of relief. They said, 'We've been waiting for you to do this.'"
At a fundamental level, networks are interconnected social relationships. How a person interacts with his or her network will determine whether their relationships are harmonious or discordant. The first dynamic can serve to advance a career, while the other can hold it back.
"Some people ask me the secret to all of this, and I look at them quite seriously and say, 'Don't be a jerk,'" Hoey said. "Live your life in a way that other people will want to help you."
J. Kelly Hoey Offers Tips for Career Advancement
As Hoey's 18-month journey from legal practice to management shows, establishing a brand and relationships is a lengthy and demanding process. It can also take time to shift the way your network perceives you to align with a new role.
For professionals serious about doing both, she offers three strategies to use immediately.
Build Your Expertise
Success seekers should always be in the process of acquiring a new skill that will contribute to their career goals. Whether it's coding, graphic design, or office management, ongoing education builds professional value, and the proactive attitude demonstrates a willingness to take the initiative and work for what they want.
"You can't wait for someone else to send you on that training program," Hoey said. "Being that lifelong learner has taken on more urgency in the current job market than ever before."
Build Your Network
People tend not to communicate all aspects of their lives to all corners of their network. While it's OK to omit the story of your mother's vacation to Alaska when talking to your regional manager, not talking about your career and professional goals with non-business acquaintances can be a drawback.
"Share your ideas and share what you're doing with a lot of people across those boundaries," Hoey said. "If nothing, the digital world has shown that most of us have interesting, complex networks."
Watch on
By drawing artificial boundaries that split a person's network into sectors like business, community, family, and others, a person can miss valuable connections. One of your Thursday-night poker friends may be close with the head of an accounting department, and he may give you a business referral and career opportunity.
Build Your Bank Account
Hoey offers two pieces of advice on investing. The first is a financial investment in your future through a "YES ME" fund. This is a buffer that will ease the transition when it's time to make a big career move. Hoey said this was critical when she switched from senior law associate to management.
"To say I took a pay cut would be almost laughable. It was like I started all over again at the bottom of the food chain in terms of salary," she said. "I had to be prepared to weather that."
The second investment is a metaphorical one: investing in the people in your network. When you're getting ready to make your career transition but are still struggling to get on your feet, that investment may pay off.
"Maybe somebody's going to give you office space you don't have to pay for. Or maybe someone will build your website for you if you babysit their kids," Hoey said. "If you haven't invested in other people who may want to barter or trade or help you out, you're putting yourself behind a bigger eight ball."
Social Support and Success Go Hand in Hand
"Build Your Dream Network" is about rethinking what networking does and what it entails, just like Hoey had to do when she decided to move on from practicing law. A better understanding of the relationships and dynamics that make up a network can help individuals leverage their network for career advancement.
"When people hear 'networking,' we think of a situation when we're in need and someone more powerful up the hierarchy can help us. We may think that it's that we're going to get job offers from strangers or that it involves cocktail parties and business cards. I push the time out button on that," Hoey said. "Networking is something you undertake daily, starting with people you already know. The people who are going to refer you for a job are people who already know you."
In this sort of everyday networking, focus can be crucial. Putting out a generic request for career help is not an effective approach because your network can't provide the necessary, precise support. Successful networking requires a specific focus on what you want to achieve and a carefully considered strategy on how to get there.
"Think of this like football. No one goes onto the field and wins a football game on their own. They always go on with the team," Hoey said. "Every once in a while, that random, wild shot — a piece of outreach, an unsolicited email, a ridiculously big ask of somebody you've just met — will land. But most of the time, we have to do things in incremental steps with the help of a whole lot of people. Incrementally moving down the field is more likely to get you a touchdown than thinking you have to throw a Hail Mary."
Hoey's metaphor emphasizes the importance of keeping your eyes on the other side of the interaction. Like a quarterback needs to lead the receiver with a throw, the networker needs to be proactive in meeting the needs and desires of the person with whom they're networking. What is meaningful to them? What will they respond to? What can you do to help them so they, in turn, can help you?
In 1624, John Donne told the world, "No man is an island." Nearly 400 years later, that still holds true. No network consists of a single node; networking exists in mutual interactions and exchanges. Knowing how to engage with others effectively can improve your career options and future possibilities. In the end, the social aspects of work and life are just as important as the purely professional aspects for anyone seeking to achieve career and financial success.
Advertiser Disclosure
BadCredit.org is a free online resource that offers valuable content and comparison services to users. To keep this resource 100% free for users, we receive advertising compensation from the financial products listed on this page. Along with key review factors, this compensation may impact how and where products appear on the page (including, for example, the order in which they appear). BadCredit.org does not include listings for all financial products.
Our Editorial Review Policy
Our site is committed to publishing independent, accurate content guided by strict editorial guidelines. Before articles and reviews are published on our site, they undergo a thorough review process performed by a team of independent editors and subject-matter experts to ensure the content's accuracy, timeliness, and impartiality. Our editorial team is separate and independent of our site's advertisers, and the opinions they express on our site are their own. To read more about our team members and their editorial backgrounds, please visit our site's About page.