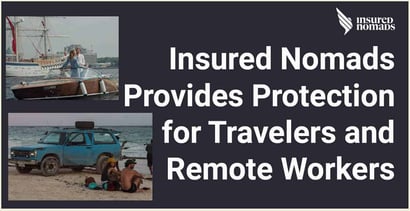 Experts share their tips and advice on BadCredit.org, with the goal of helping subprime consumers. Our articles follow strict
editorial guidelines
.
In a Nutshell: You might think only people with significantly higher incomes can enjoy the always-traveling, digital-nomad lifestyle. But the beauty of remote work is that you can match your earnings with a locale to suit your lifestyle. Unfortunately, sudden health and travel-cost snags can severely impact your bottom line and safety. Insured Nomads provides travel and health insurance when temporarily away from home or living abroad as an expat. If you're looking to travel or live abroad on a budget, Insured Nomads provides seamless coverage so you can enjoy the experience.
Digital transformation in the global economy means the work-from-anywhere lifestyle is more available than ever. Now that pandemic shutdowns and travel restrictions are mostly a thing of the past, there's never been a better time to take advantage of technological flexibility, move around, and live and work in places that may have seemed inaccessible only a few years ago.
But a lot can go wrong when traveling. Inconveniences such as lost baggage and trip cancellations can dampen your adventure. And health and safety issues can threaten bodily well-being and your bottom line.

When you're on a budget, thinking about the hazards and inconveniences of travel might be enough to discourage you from taking a leap of faith into a travel-based lifestyle. But with proper planning, the cost benefits of living and working in another country can easily outweigh the financial uncertainties.
Insured Nomads is a travel and health insurance provider that makes the math work out better for budget-minded digital nomads and travelers. For a small up-front investment, Insured Nomads provides protection and peace of mind to make the journey and the destination more than worth it.
Chief of Staff Chris Nam, a Korean expat who has lived in the US, Australia, and Singapore for decades, said Insured Nomads is an insurance company that understands the beauty, romance, and cost-effectiveness of the nomadic lifestyle.
"Our founders saw a need for a company to serve nomads, expats, and immigrants struggling to find health care and good insurance wherever they're traveling," Nam said. "When you're not bound by a need to work in a particular country, but you need to budget, travel and health insurance can prevent unexpected expenses."
Health and Travel Products Address Multiple Scenarios
The company's key to success is that it has products for everyone. World Explorer provides travel medical insurance to travel for a single trip from seven to 364 days. The product offers medical benefits between $250,000 and $2 million, 24-hour emergency care, and COVID-19 coverage. It covers acute onsets of preexisting conditions and provides emergency dental treatment.
Security features include local ambulance transport, natural disaster accommodations, and evacuation and repatriation services. On the travel side, World Explorer provides airport lounge access, lost luggage coverage, mental wellness care, and adventure and marine sports coverage.

World Explorer Multi extends these types of protections to multiple trips. World Explorer Guardian is more of a classic travel policy, covering trip cancellations and interruptions, pet insurance, and rental car protection with smaller amounts of health protection.
Insured Nomads also provides group travel benefits and World Explorer Hotspot, which offers protection in high-risk areas listed as Do Not Travel or level 4 in government advisories.
Individual health coverage under the CONNECT brand and group coverage under the JUVO brand is also available. CONNECT policies are a good fit for individuals intending to live the digital nomad lifestyle in a single country for more than six months. JUVO policies are customizable medical insurance benefits programs for group employee benefits.
Nam said before he took his role at Insured Nomads, he tended to overlook travel and health insurance, but his experience with clients had led him to regard protection in a new light. Coverages and costs vary widely, but depending on age, a World Explorer plan with a $500 deductible and a $500,000 medical maximum might cost $20-$40.
"It's not really an additional expense, I would say — it's more like you're taking care of yourself," Nam said.
Educational Resources Help Nomads Understand Costs
Insured Nomad's founders and employees, including Nam, are travelers, and the team considers itself part of the community of travelers rather than an insurance product provider. Naturally, the company goes to great lengths to provide news and resources to help travelers and digital nomads make the most of their journey, especially regarding costs.
"We don't want to encourage people to buy travel or health insurance because we want to make money from it," Nam said. "We want to be a resource for our community."
The Insured Nomads blog provides tips and tricks to understand insurance, health, safety, and nomad life. Readers will find information on choosing an airline, getting coverage, and knowing what airline to go with to travel to a particular destination. The site also recommends the best time for booking a cheaper flight or hotel.

Prominent on the blog are city guides that cover the globe. Nam said the city guides present recommendations for study and work locations, the best coffee shops and restaurants, and sightseeing destinations that don't appear in a typical Google search.
The highlight is that it's all original content curated for the community. Nam said that if you search generically for ways to travel more cheaply, the results have a cut-and-pasted quality that lacks originality. That's far from the case at Insured Nomads, where user preferences and expectations drive content creation.
Nam said city guides feature cost-of-living data to assess wifi expenses, average rental prices, and many other factors contributing to a stay abroad that fits within expected earnings. A podcast, The New Nomad, provides additional context and perspective from people who have lived the digital nomad lifestyle and have come away with positive (and negative) feelings about it.
"We want to provide resources people want, not generic Google recommendations," Nam said.
Built By a Team of Travelers To Enhance the Journey
Nam said that while a typical digital nomad might need $5,000 a month to make ends meet, living in Mexico City or Croatia, to name two examples, might reduce monthly living expenses to no more than $2,000. Living in an Asian nation such as Taiwan, Thailand, or the Philippines could reduce monthly outlays to as low as $500.
That means it's more than possible for people with the right mindset to live the digital nomad lifestyle on a reasonably tight budget. Traveling becomes even more feasible with Insured Nomads taking care of unexpected travel and health expenses in return for a small monthly investment.
Travelers and nomads can save even more if they put the resources on the Insured Nomad website to good use.
The team prides itself on promptly responding to insurance claims and going above and beyond to see clients through to a positive resolution. Insured Nomads is transparent about documentation and provides ample opportunity for clients to make things right.
Through the INC Membership App, Insured Nomads grants policyholders access to services and features available for an entire year, regardless of the length of the policy.
A virtual concierge within the app can recommend dining options, for example, and a perks section provides discounts at restaurants and retail establishments. The app also offers unlimited mental health therapy and virtual healthcare.
Meanwhile, the team at Insured Nomads incorporates a values-based approach to travel, partnering with Not for Sale, an anti-human-trafficking nonprofit dedicated to eliminating human trafficking from the globe. No matter your travel or lifestyle budget, Insured Nomads provides a complete package for reducing travel stress and uncertainty, making the most of travel and the work-from-anywhere lifestyle, and contributing to making the world a better place.
"You can travel significantly well with the salary you have now," Nam said.