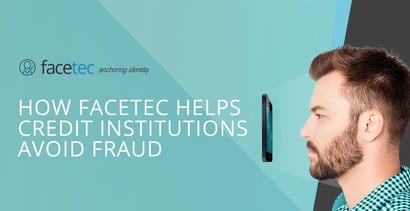 In a Nutshell: Individuals and companies continue to increasingly conduct more business in the digital realm. Although security technology has advanced, so too has fraud and identity theft technology. FaceTec is a company that understands that passwords and even device fingerprinting and 2D facial recognition technology is no longer good enough to keep all criminals at bay. That's why it has developed its security platform that uses proprietary AI to implement 3D face verification. It detects whether the correct user is alive and present, to deter criminals from spoof attempts using a photo, mask, or even more sophisticated methods. FaceTec's top-level security technology helps financial institutions — and businesses in many other industries — around the globe protect sensitive information.
The physical world and the digital realm continue to become more interconnected on a daily basis. From keeping up with friends to buying a house — it can all be done on the internet.
While the COVID-19 pandemic disrupted companies and lives across the country, it also demonstrated just how much business can be conducted remotely online. Businesses of all sizes pivoted to offer products and services via the internet. And businesses that were already well-positioned in the digital space were able to thrive.

But as more sensitive information is shared online and the number of digital transactions grows each day, digital attacks have also grown in number and level of impact. Fraud and identity theft have been legitimate challenges to financial institutions and other businesses since the internet's earliest days.
And as security technology has become increasingly sophisticated, so too have the tactics employed by fraudsters.
In fact, as people were focused on protecting their own physical and financial security through the pandemic, online criminals ramped up their activity.
"These criminals used phishing, spoofing, extortion, and various types of Internet-enabled fraud to target the most vulnerable in our society — medical workers searching for personal protective equipment, families looking for information about stimulus checks to help pay bills, and many others," according to the FBI's 2020 Internet Crime Report.
Traditional passwords are no longer considered safe for protecting sensitive information, and even data protected by two-factor authentication can fall prey to fraudulent activity.
Thankfully, companies like FaceTec stand at the cutting edge of digital security. The company helps businesses that deal with sensitive information, such as credit-issuing institutions, determine that the correct user is physically present via its 3D face matching technology. Not only does FaceTec identify the correct user, but it also detects dozens of uniquely human liveness traits to ensure someone isn't attempting to enter an account using a photo or mask, or a previously recorded video and playing it back with a virtual camera program, like ManyCam.
Establishing World-Leading 3D Face Authentication Tech
Early in its development, FaceTec understood the critical importance of ensuring that only the legitimate user should only ever have access to their sensitive personal account information. As the company focused on honing this technology, it was able to identify key challenges within the realm of digital authentication. One of the big problems was that, if a company is trying to authenticate a person digitally, there wasn't an effective way to determine if the correct person was in fact alive and present.
FaceTec set out to solve that problem.
The company's philosophy was that 3D face authentication was a superior security measure because token and fingerprint readers only identified the device, not the actual person.
That's when the company began focusing heavily on what it calls 3D liveness aspect as well as high-accuracy 3D face matching.
The FaceTec team developed its own in-house AI to identify those two main components of user authentication, according to the company. And that technology serves as the groundwork for the company's security products.
"The FaceTec interface makes 3D Liveness Detection and 3D Face Matching fast, easy, and incredibly secure for everyone, regardless of their device," according to the company website. "During onboarding, FaceTec's two-second video-selfie verifies 3D Liveness, matches the user's 3D Face to their Photo ID, OCRs the Text on their ID, and sets up their new account."
Each time the user returns, FaceTec's ongoing user authentication will again prove 3D liveness and compare the new 3D Face Map to the one stored during onboarding.
"If they match, they get instant access. And no password is ever required!" according to Jay Meier, SVP of North American Operations.
Boosting Security for Financial Institutions
Here at CardRates, we understand how important it is to financial institutions that their customers' sensitive information be kept confidential and secure from criminals.
FaceTec understands this as well, and turned its focus to credit institutions and financial services early on. The company's team began consulting and worked with banks all over the world, according to the company.
At the time, banks and other credit issuers were exploring Face ID and fingerprint sensor technology. The challenge was that using the technology of the time, the institutions were stuck with whatever the user had in their phone, and those features did not detect liveness and ensure that the correct user was present, and not an artifact, or non-human representation of the user. Of course, FaceTec's AI uses 3D Face Maps to detect that the correct user is alive and present.
Watch on
Some of FaceTec's earliest banking clients were institutions outside of the U.S. where fraudulent activity and identity theft tends to be even higher than in the states, according to the company.
Those early adopters helped the company further refine its technology and understand multiple use cases.
Gaining a foothold in the credit and financial industries early on helped FaceTec make headway into other markets, according to the company. Basically, other industries saw that FaceTec's innovative security technology was effective for one of the most targeted industries in the world so they understood that it must be worth serious consideration.
Today, FaceTec not only continues to work with banks and credit issuers, but it partners with a wide range of industries, including border control agencies, national ID programs, mobile driver's license programs, and e-commerce companies.
Just one example that demonstrates FaceTec's effectiveness is when it partnered with a European telecom company that was facing major challenges when it came to SIM card fraud. Once FaceTec was implemented, the company saw their incidences of SIM card fraud drop to zero immediately.
Taking a Deep Dive Into Anti-Spoofing Tactics
Security is right at the top of the list of priorities for both companies and individuals who conduct business on the internet. Understandably, some remain skeptical about security technology, but we took a closer look at just how FaceTec works.
"Obviously, selfies are easy to take. But the real question is, can they provide effective access security? Typically they can't," according to Meier. "But FaceTec's patented process isn't just a selfie; it's a 3D FaceScan with a strong, Certified Liveness Check, and a secure 3D FaceMap ensuring the user is physically present, and preventing masks, dolls, photos, or video deepfakes from fooling the system."
Within two seconds of the authentication process, the company's Liveness Detection algorithms observe dozens of uniquely concurrent human traits that spoofing artifacts cannot recreate all at once.
"FaceTec's 3D Face Matching then compares the user to their previously-enrolled 3D FaceMap, and if the two FaceMaps highly match (being able to accurately identify 1 in 12.8 million people correctly), the verified user is granted access," according to the company website.
FaceTec understands that some may remain skeptical. But to prove how secure its technology is, the company operates their own $100,000 Spoof Bounty program that encourages hackers to do their best to attack the technology.
Meier added, "The goal of the bounty program is to uncover potentially unknown vulnerabilities in the Liveness AI and security layers so any issues can be patched and the anti-spoofing capabilities and overall platform security elevated even further."
FaceTec has been tested against tens-of-millions of digital and physical spoof artifacts, including hi-res photos and videos, life-like masks, and mannequin heads, the company states. With more than 50,000 spoof attempts made, according to FaceTec the solution stands at a Liveness accuracy rate of more than 99.998%.
"Efforts like the Spoof Bounty Program and relentless improvement have been paying off. FaceTec 3D Face Authentication is now adding more than 15 million new accounts every month, and the company has more than 65 integration partners on six continents," said Meier. "To date, more than 174 million unique users have used our technology to secure their important accounts. All of this exposure has also attracted a lot of new talent to our ranks, including Dean Mericka, a 25-year identity industry veteran who has helped steer billion-dollar companies."
Advanced, biometric AI technologies have a difficult, but critically important, job to do as hackers become more sophisticated and resourced. With companies like FaceTec already successfully combating online fraud and theft on six continents in banking, cryptocurrency, national ID systems, social networking, and ecommerce, the future of online security looks pretty good.
Advertiser Disclosure
BadCredit.org is a free online resource that offers valuable content and comparison services to users. To keep this resource 100% free for users, we receive advertising compensation from the financial products listed on this page. Along with key review factors, this compensation may impact how and where products appear on the page (including, for example, the order in which they appear). BadCredit.org does not include listings for all financial products.
Our Editorial Review Policy
Our site is committed to publishing independent, accurate content guided by strict editorial guidelines. Before articles and reviews are published on our site, they undergo a thorough review process performed by a team of independent editors and subject-matter experts to ensure the content's accuracy, timeliness, and impartiality. Our editorial team is separate and independent of our site's advertisers, and the opinions they express on our site are their own. To read more about our team members and their editorial backgrounds, please visit our site's About page.