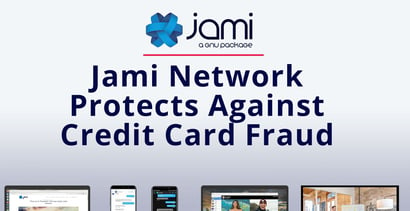 In a Nutshell: Jami is a free, peer-to-peer communications platform dedicated to protecting user privacy and safety. The platform uses a decentralized network to transmit information, and data is fully encrypted from transmission to delivery, ensuring end-to-end protection. Signing up for Jami is also secure; it does not require an email address, a phone number, or even a credit card, making it completely private and free to use. The company is committed to a free business model, both in terms of cost and allowing users to converse digitally without compromising personal security.
Digital communication is similar to daily travel in a major metropolitan area. When people want to travel across a city, they may need to pass through a central hub, whether on the subway, bus, or train. Data on the internet often passes through centralized hubs, too, and someone's name, address, driver's license number, and various other information may be recorded there.
The central authority can use that information however it wishes, and if a malicious actor gets access to the central authority's database, it can do the same. That isn't some dystopian future; it is how most major online communications systems function.
As working from home and teleconferencing have become more prevalent, so have the problems in that everyday communications architecture.

"It's always a question about security," said Christophe Villemer, Advocacy Vice President at Jami, a peer-to-peer communication platform. "You can use a solution for communication, but if you want to protect data, you need to rely on a sure thing. That's especially true if you want to share an important contract, a debit or credit card account, or make sure that something is going to the right person."
Jami is an open-source platform that enables person-to-person calling, group conferences, and screen sharing. The platform features end-to-end encryption with no centralized server, which provides an extra layer of protection for personal data and privacy — including sensitive financial information.
Unlike many other communication tools, Jami does not monetize its service, but still makes it free for everyone to use — safely and securely.
Serverless Service Enhances Security of Online Calls
The COVID-19 pandemic forced many employers to rethink the workplace and how they do business. For many workers, that meant telecommuting and taking previously in-person interactions into the virtual realm. Companies had plenty of technology options and demand led to improvements and economization.
However, not all platforms are suited to every task, especially those involving sensitive data, personal details, or credit card information.
Some platforms even sell user information to third parties, which is how they earn their profit. Others may encrypt data as it's transmitted but not encrypt it when stored on its server. That strategy increases the potential for severe consequences — including theft of credit card information — in a data breach.
"You have no assurance that others will not be able to look at it," Villemer said. "If somebody wants to hack one of the servers, they will all get access to all of the materials."
With Jami, which is available on a wide range of devices, there is no server and no risk of stored data being hacked and stolen. Communications are completely encrypted from both ends, and if a conversation is intercepted during transmission, it's still protected.
And Jami isn't monetized, so it doesn't use the data for its own purposes, either. It has no in-app advertisements, no limits on use, and the platform does not sell personal data to third parties. Jami offers safe, decentralized communication that protects its users and their sensitive information.
Distributed Network Offers Transparency and Accessibility
Jami developers built such an innovative alternative communications platform using P2P connections. That distributed, blockchain-based model requires no central server to route information through.
In the example of a commuter in a metropolitan city, people (and their data) can drive however and wherever they want. There's no one tracking the places they go or the people they visit as they travel through a centralized hub.
In technological terms, that means there is no central server through which conversations pass. Instead, communications route through a network of peers. Jami is fully encrypted, so none of those peers can access any conversation or information.
Signing up for Jami is also easy and secure. Enrollment does not require an email address, phone number, or credit card number. Users simply create a username, and they're free to begin using the platform.
Jami is also open-source, meaning anyone can review the platform's source code. That ensures that nothing untoward or malicious resides in its code.
"We had to build it from our own as an open-source service company," Villemer said. "We have long-term expertise in research and development, especially in the field of voice over IP (VoIP). We had a lot of tools that were already open-source that we'd already developed that could be the base of it. It has been a long journey because it has been a tremendous technical challenge to face."
End-to-End Encryption Protects Users from Bad Actors
Many digital communications platforms, Jami included, received a burst of interest at the start of the COVID-19 pandemic as employers and workers scrambled to safeguard their health while still keeping day-to-day operations up and running.
"That's the reason why the economy is not that down. Everybody was able to use tools," Villemer said. "But there is a question about what kind of services people use. The issue is about privacy."
Jami encrypts all data moving through its network from the moment it leaves an individual computer or device to the moment it arrives at the other end of the conversation. That is a powerful security feature in a variety of fields because it effectively protects all users' privacy. However, it is vital for doctors and their patients or lawyers and their clients.
Watch on
Jami's end-to-end encryption protects all financial, personal, and medical information from prying eyes and malicious exploitation. Even professionals and clients can communicate freely without worry of exposure to third parties.
Additionally, Jami stores account information on the personal devices that users access the platform with. That adds the most critical layer of safety when dealing with sensitive information — users have control of it at all times.
"There is no way to steal your identity if someone doesn't physically steal your device," Villemer said. "All the information is encrypted and locally stored on your device whether it's a smartphone or a laptop."
Jami: Committed to Free Communication in the Digital Age
Jami is dedicated to protecting the open byways of the digital environment. The platform's mission is to keep the lines of communication free, both in terms of liberty and cost.
The company recently expanded its capacity for multiuser group conversations to accommodate emerging needs.
This service, called JAMS, is available as a business solution for internal and external communications. Enterprises can use JAMS to ensure that their proprietary information — and that of their clients and partners — remains secure.
"That allows a company to install a Jami user directory linked either to their enterprise directory or through a local database," Villemer said. "So all the employees will have their own Jami user accounts. They will be able to contact people themselves, and also create a user account for one of their clients or patients."
JAMS, like standard Jami accounts, are free. Paid services, including subscription accounts, sustain the ecosystem. That freemium model allows Jami to avoid advertisements and selling data to keep the service up and running, enabling it to continue providing quality, open-source service to security-minded users.
"There is no free beer. This is a way for us to monetize the platform as, for sure, there will be no monetizing Jami itself," Villemer said. "It will remain open-source, remain free to use, with no data collection."
Advertiser Disclosure
BadCredit.org is a free online resource that offers valuable content and comparison services to users. To keep this resource 100% free for users, we receive advertising compensation from the financial products listed on this page. Along with key review factors, this compensation may impact how and where products appear on the page (including, for example, the order in which they appear). BadCredit.org does not include listings for all financial products.
Our Editorial Review Policy
Our site is committed to publishing independent, accurate content guided by strict editorial guidelines. Before articles and reviews are published on our site, they undergo a thorough review process performed by a team of independent editors and subject-matter experts to ensure the content's accuracy, timeliness, and impartiality. Our editorial team is separate and independent of our site's advertisers, and the opinions they express on our site are their own. To read more about our team members and their editorial backgrounds, please visit our site's About page.