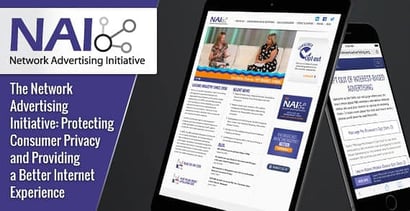 In a Nutshell: The Network Advertising Initiative (NAI) is an association of third-party digital advertising companies committed to protecting the privacy of consumers on the internet. It is a self-regulated organization that promotes best practices for data collection and use among its more than 100 member companies. Championing a robust set of standards and a strict code of conduct for the online advertising industry, NAI is helping to balance the privacy rights of consumers with the responsible and relevant advertising that enables the internet to remain free for all to use.
While it can be an annoyance sometimes, most web users realize online advertising is sort of a necessary evil. Consumers who pay close attention to pop-up and sidebar ads likely recognize that advertisers seem to be knowledgeable about what we're interested in. (If you've ever had the experience of looking up something, like mortgage interest rates, only to be presented with ads for home loans for the next three weeks, you know what I mean.)
Targeted or interest-based advertising represents the marriage of big data and online marketing. No longer do advertisers need to guess at the likes and dislikes of their target audience; they now have the ability to know exactly what those interests are, based upon browsing activity data. They can also use technology to accurately group us into demographic categories.
Along with these advances in advertising technology comes a growing concern about the online privacy rights of consumers. How do we ensure that these ad-tech companies are not violating our privacy by gathering and sharing personally identifiable information about us? This question prompted the formation of the Network Advertising Initiative (NAI).
Formed in 2000 in response to the growing concerns about online privacy, the NAI is a self-regulating association of third-party digital advertisers. The organization is committed to responsible data collection and use, along with promoting consumer privacy and trust. We recently spoke with Anthony Matyjaszewski, VP of Compliance and Membership for NAI.
"NAI puts out codes of conduct and guidance documents that specify the activities our members can — and can't — engage in, such as what kind of notice or consent is necessary in order to protect consumers," he said. "These codes of conduct are put together as a joint effort on the part of our staff, as well as member companies and stakeholders, with input from government regulators and privacy advocates."
For the more than 100 member companies that comprise NAI, this commitment to transparency and maintaining consumer privacy simply makes good business sense. That's because advertising revenue is necessary, and helps to keep internet content free for us to access. Consumer trust is therefore crucial to the business model of the ad-tech companies that make up the NAI.
NAI: The Most Important Consumer Protector You've Never Heard Of
When the NAI formed nearly 18 years ago, the technology to target individual consumers based upon their online activities was in its infancy. However, concerns over what was possible with future technologies led the FTC to call for standards to be drafted that would protect online privacy. Some of the major online advertisers of the day, including DoubleClick, AdForce, and 24/7 Media, responded by creating the NAI and publishing the first set of guidelines for ad-tech companies.
The concerns the FTC had at the time were related to cookies, or the bits of data that identify your computer when you visit a website. These days, however, companies can collect data without using cookies. So, considering the rapid pace of change in technology, a self-regulated trade organization, like NAI, is really the only way to keep up with, and create guidelines for, all of the possible ways to collect data.

As part of its effort to protect consumer privacy, NAI maintains a regularly updated Code of Conduct for its member companies. This code helps to guide members, and provides best practices for gathering data. Organizations must adhere to the code to remain in good standing with the NAI.
"As a requirement of membership, our members go through a compliance review process of their data collection practices, disclosures, contract language, privacy policies, etc.," Anthony explained. "Once it's been established that they are compliant, they can become members. After they join, this review becomes an annual process."
He went on to talk about how the NAI standards and Code of Conduct are enforced.
"Our goal is getting our members to be compliant, rather than punishing them for minor or inadvertent infractions," he said. "We help them to identify areas where they can make improvements, and notify them of these. We go through a mandatory annual review, in addition to monitoring throughout the year. We also check for disclosure policy changes."
If a company fails to cooperate with NAI staff, a variety of enforcement measures are available, including termination of membership and referral to the Federal Trade Commission.
There are a number of limitations on the potential uses of the data collected by these companies. NAI member companies are not permitted to use the data they collect, and cannot allow others to use that data, for any sort of credit or insurance decisions. As a result, NAI members can only use the data they collect for marketing and advertising purposes.
Ad Tech Companies are Improving Our Internet Experiences
But why collect data on consumers at all?
The goal of targeted or interest-based advertising is to present consumers with specific and relevant information on products and services that they care about. The responsible collection and interpretation of online consumers' data allows advertisers to offer ads that are relevant to you. By using technology to understand an individual consumer's needs, advertisers can get their message out in a more efficient and effective way.
The promise of the internet has always been easy access to anything we want or need. The problem is the sheer volume of product information out there. Interest-based or relevant advertising can save time by showing us ads for products and services we want. Advertising is a necessity, but it should also be beneficial.
Let's just say you've got a favorite blog site that you get recipes from. We all have them — and we all take for granted that the information we get from these sites is free. So, what allows those sites we love to keep operating and giving us what we want? In a word: ads. And knowing this is the case, wouldn't you rather see special promotions for something you actually care about? That's how ad-tech companies are working to offer up a better internet experience for us all.
Will Consumers Have A Choice in Targeted Advertising?
The real question many of us have is about the future of targeted online advertising. Currently, there are ways to get around receiving many of the ads — some as simple as changing the settings on your browser. But this can often be tedious or impractical, depending upon a consumer's level of technical knowledge. That's why NAI is working to make this process easier to use.
Anthony let us know about an NAI project that is nearing completion. An online opt-out tool available on the NAI website will soon be ready to give consumers more choice over their online ad experience.
Watch on
"We're offering a tool that will be a one-stop shop for consumer choice," Anthony said. "So rather than going to 109 websites to opt out, consumers can go to our website and click a single button. In doing so, all 109 of our members will be notified that this consumer doesn't want to be contacted with targeted advertising."
It's this commitment to consumers — and their privacy concerns — that has made NAI the gold standard for self-regulation of third-party advertising, ad-tech, and related businesses. Empowering consumer choice and balancing the needs of both business and individuals remains priority number one.
Advertiser Disclosure
BadCredit.org is a free online resource that offers valuable content and comparison services to users. To keep this resource 100% free for users, we receive advertising compensation from the financial products listed on this page. Along with key review factors, this compensation may impact how and where products appear on the page (including, for example, the order in which they appear). BadCredit.org does not include listings for all financial products.
Our Editorial Review Policy
Our site is committed to publishing independent, accurate content guided by strict editorial guidelines. Before articles and reviews are published on our site, they undergo a thorough review process performed by a team of independent editors and subject-matter experts to ensure the content's accuracy, timeliness, and impartiality. Our editorial team is separate and independent of our site's advertisers, and the opinions they express on our site are their own. To read more about our team members and their editorial backgrounds, please visit our site's About page.