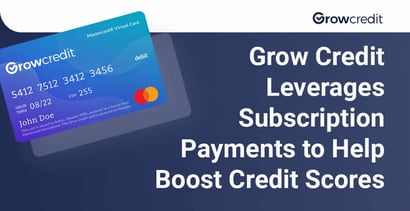 Experts share their tips and advice on BadCredit.org, with the goal of helping subprime consumers. Our articles follow strict
editorial guidelines
.
In a Nutshell: The path to building good credit isn't always clearly marked. Even consumers with the best of intentions can make missteps as they attempt to improve their financial standing. Grow Credit offers a solution that helps consumers boost their credit scores by simply paying their monthly subscription service bills. Grow Credit's CEO and Founder, Joe Bayen, is passionate about breaking down barriers to growing credit and improving overall consumer financial health.
One of the benefits of watching old movies is the many invaluable life lessons they impart. These lessons may not always be applicable to everyday life, but they're useful to file away in my mind's "just in case" file. One of the more important lessons I've placed in that file is how to prolong my access to oxygen should I ever find myself trapped in quicksand. If I struggle to extricate myself, I'll sink into the sand quicker. If I stand as still as possible, I'll still sink into the sand, but at a slower pace.
The extra time that affords me could save my life. But where am I to turn if there isn't a branch, rope, or vine dangling conveniently nearby to pull myself out of the quicksand?

Having bad credit, or no credit, can feel like you're sinking in quicksand. Those looking to improve their credit may find that many of the steps associated with doing so can actually make a bad situation even worse. The good news is that people with bad credit needn't waste time searching for their lifeline. Grow Credit offers a solution that can help consumers boost their credit scores without changing their financial habits or going deeper into debt.
"Many people with bad credit, or no credit at all, are living paycheck to paycheck," said Joe Bayen, the Founder and CEO of Grow Credit. "The notion of them having to get deeper into debt, as a method of building or improving their credit, just doesn't make sense."
Grow Credit's solution allows individuals to improve their credit scores, and their overall financial health, by simply paying their current monthly subscription bills through the Grow Credit platform. 
Credit Improvement Strategies to Suit Unique Situations
Bayen was born in Cameroon and raised in Paris. He emigrated to the United States on a Division I track scholarship from the University of Miami.
As a first-generation immigrant, Bayen is passionate about developing financially inclusive products and services that help individuals improve their money management skills and financial literacy. This passion drove him to create Grow Credit.
Grow Credit's innovative model allows consumers to grow their credit score by following a few simple steps.

The first step, onboarding, asks consumers basic questions to determine the most suitable credit line to meet their needs. The onboarding tool then fast-tracks consumers into the appropriate plan for them, based on whether they have a bank account, their bank account balances, and recurring deposit history.
From there, consumers apply for a Grow Credit interest-free virtual MasterCard and link the card to their bank account. Consumers can then use their credit card to pay their monthly subscriptions, choosing from a list of over 100 available subscription services that partner with Grow Credit. 
Grow Credit will report on-time payments to the three major credit bureaus each month, which helps consumer credit scores grow.
"Even by starting small, the impact to your credit score can be substantial," Bayen said. "Our data shows that people who've made 12 consecutive months of payments using Grow Credit see an average credit score growth of 48 points. Of course, credit scores can grow higher for people with no prior credit history who enroll in one of our plans."
The base membership, called Build Free, is free and offers a monthly credit line of $17. Grow Credit reports the monthly payments to the three major credit bureaus. For example, Build Free members will have an annual tradeline of $204 —  or $17 multiplied by 12 for the number of months in a year.
Simplifying Monthly Subscription Payments
Grow Credit also offers paid memberships, although customers are not obligated to upgrade their account. The paid plans can accelerate credit score growth. The highest level of membership, aptly named Accelerate Membership, is available for $9.99 per month and provides members with a $150 monthly credit line. Accordingly, consumers enrolled in an Accelerate Membership have an $1,800 trade line — or line of credit — reported to the credit bureaus.
Grow Credit makes the accounts available to individuals who do not have a banking relationship. 
"Commitment to financial inclusion drives our entire philosophy," Bayen said. "So we provide an option, called Build Secured, for people who haven't established a bank account yet. It has the same $17 credit line as the Build Free plan, and it's available for only $2.99 per month plus a one-time $17 security deposit."
Each membership tier offers different benefits, and every Grow Credit plan includes free financial literacy education and free access to FICO scores.
The subscriptions Grow Credit supports range from streaming services, such as Hulu and Netflix, to gaming platforms like PlayStation. Consumers enrolled in higher tiers of Grow Credit membership have the option to pay more expensive monthly subscriptions, including cellphone service and insurance bills.
"We've been expanding the list of subscriptions we can pay over the years," said Bayen. "Our intent is to cover the majority of subscriptions people use. If there's a new subscription that needs to be added to the list, then we encourage customers to let us know. We'll look into that quickly."
Grow Credit: A Long-Term Partner for Financial Health
Grow Credit customers enroll in the service for 12 months. Customers who have built their credit and improved their credit scores with Grow Credit can renew and continue with the service indefinitely. The tool allows customers to set up their subscription payments once to have their payments withdrawn automatically from that point on.
"There's certainly a set-it-and-forget-it component that customers enjoy," Bayen said. "We take care of both the subscription payments each month and paying ourselves back from your linked bank account each month. Once you set it up, it works as advertised."

Grow Credit does not perform a hard credit check when customers enroll, and applying for membership does not negatively impact credit scores. This aligns with Bayen's vision of creating financial products that help people who have been overlooked by traditional financial institutions.
Having a variety of different tradelines, including personal loans, credit cards and other lines of credit, can increase credit scores if managed responsibly. Individuals looking to qualify for larger loans, such as auto loans and mortgages, benefit from having relationships with multiple creditors. Customers are encouraged to stay with Grow Credit after their initial 12-month plan ends because the length of credit history matters, too.
"Our stance is that customers should stay with Grow Credit," Bayen said. "Especially if you only have a few other tradelines. If you get to a point where you no longer need micro loans for subscription services, that's a success story for us. But, particularly if you're on the Build Free plan, keep this as one of your tradelines for as long as you need to."